DaVinci Resolve allows as maximum resolution in your projects Ultra HD (4K), so exporting is also limited to that size. Ultra HD is 3840 pixels horizontal by 2160 pixels vertical. We can share a 4k project from iMovie on iPhone, iPad, or Mac. iMovie shares 4K projects at a resolution of 3840 x 2160 in the 4K UHD format at 30 fps. If you plan to edit your Lumix GH5 II 4K video in DaVinci Resolve or iMovie, you will be in trouble. You can't import the 4K H.265 MOV video into your editing software. Even if you import the video into them, you still can't edit it normally. Don't worry about these things anymore. The following contents will provide you with effective solutions.
Why we can't load Lumix GH5 II 4K footage into DaVinci Resolve 17, 16, 15 and iMovie? Although the official parameters show that DaVinci Resolve and iMovie supports H.265 video, the 4K video of Lumix GH5 II finds out the maximum support range of the two editing software. You need to downscale 4K to 4K or other resolution that they can handdle. As for whether the video can be edited smoothly on the computer, I think two aspects are more critical: on the one hand, whether the coding format of your video material is the best editing format, and on the other hand, whether your computer hardware configuration is high enough. Obviously, it's too expensive to buy a new computer to edit video, so I'll share with you to solve the problems of resolution and format coding.
As video editing enthusiasts and film enthusiasts, the necessary work before editing and watching movies still needs to be done. The Video Converter Ultimate for Mac from Acrok will give you a hand. With this software, you can transcode Lumix GH5 II 4K H.265 files to 4K H.264 MOV, 4K H.264 MP4 easily, you'll import and edit Lumix GH5 II recordings in DaVinci Resolve and iMovie smoothly. In addition to the conventional video format conversion, it also has the function of disc cracking. You can convert your favorite Blu-ray and DVD movies into any format you want so that they can be freely played on your electronic device. So it is a best 4K Video Converter and Mac Blu-ray Ripper. If you are Windows user and want to convert your video, rip your Blu-ray or edit own footage, please try Acrok Video Converter Ultimate for Windows.
Free download Lumix GH5 II Video Converter
Convert Lumix GH5 II 4K H.265 MOV for DaVinci Resolve and iMovie
1
Add 4K Video Files
Install an run Acrok software as the best H.265 Video Converter, click "Add file" icon to load Lumix GH5 II 4K .mov files into this program.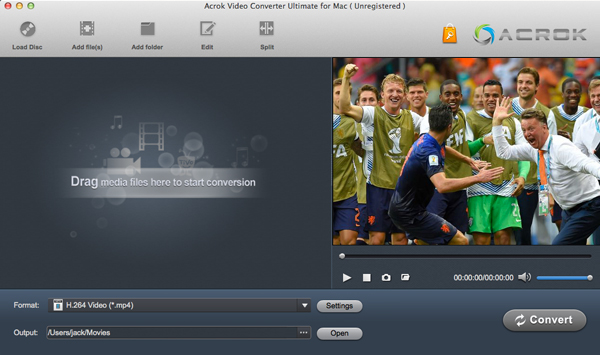 2
Set Output Format
Click "Format" bar, you will see many provenance options for you to choose from. To import and edit 4K H.265 MOV in DaVinci Resolve (17, 16, 15) and iMovie, you can select 4K MP4 as output format. Of course, you can also choose AIC MOV format for iMovie.
For DaVinci Resolve: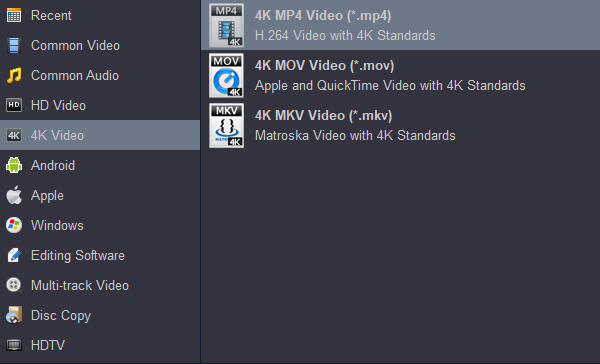 For iMovie: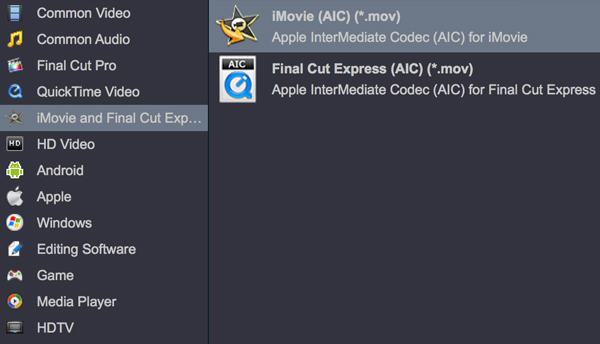 Tip: For editing Lumix GH5 II footage in Final Cut Pro, Avid Media Composer and Vegas Pro smoothly, you can convert the H.265 footage to these editing software best editing format with this Panasonic Video Converter.
3
Start Video Conversion
After finish the above steps, click the "Convert" button to start converting Lumix GH5 II video for DaVinci Resove and iMovie. When the conversion is done, you could enjoy the high-quality video file as you will.
Finished. Just with simple steps you can in a very short time convert the Lumix GH5 II H.265 footage to any format. With this program, you can enjoy not only converting H.265 to H.264, but also other videos format. You will no longer get troubles by audios or videos incompatible problems.
So from above, we perfectly solve the problem of Lumix GH5 II videosthat cannot open on DaVinci Resovle or iMovie, and describe briefly the information of other fuctions. Acrok Video Converter Ultimate for Mac is really useful and convenient either for work or for entertainment, and it is the best converter that meets all you converting files need. Now are you ready to try this wonderful 4K Video Converter? Just free download and enjoy your videos with this program.
Free download and try Acrok 4K Video Covnerter