The RED KOMODO 6K cinema camera has a new 19.9MP S35 global shutter sensor that captures video in incredible detail and clarity. The KOMODO 6K is capable of recording 6K at 40fps, 5K at 50fps, 4K at 60fps, and 2K at 120fps. Not only does 6K look pristine, but 6K footage opens up many creative possibilities in post-production. The format can be broken down into two key options – R3D, or RED RAW files, and ProRes. Resolution seems very straightforward, but you need to know that the KOMODO will actually crop in on the sensor if you choose a lower resolution if you are shooting R3D.
"I just bought RED KOMODO 6K and tested 6K/40p vs 4K/60p. But the problem is that my KOMODO 6K videos wouldn't play in Premiere Pro CC on Windows 10. After searching online and my multiple testing, some possible solutions turn up. Now I will share the methods to import and edit R3D videos in Premiere Pro CC flawlessly."
"Hi, there, I have a lot of 4K files recorded on a RED DIGITAL CINEMA KOMODO 6K camera. They are encoded with ProRes 422 codec in MOV wrapper. I want to open and edit the ProRes 422 footage in Vegas Pro 19 so that I can create my own home video. Unfortunately, the latest version of Vegas Pro doesn't recognize RED KOMODO 6K 4K footage at all. I've been looking for a workflow for importing 4K ProRes clips to Vegas Pro since last two weeks, but there is no go. Can anyone advise what should I do to make Vegas Pro 19 accept RED KOMODO ProRes videos? Many thanks in advance!"
As a RED DIGITAL CINEMA camera user, you may need to edit the recorded footage in some editing software such as Premiere Pro CC, Vegas Pro, Avid Media Composer, DaVinci Resolve, etc. However, the RED RAW .r3d and ProRes format is not ideal for editing on Windows. You will encounter problems like this: your editor handled the RED KOMODO 6K footage so slowly and some files even couldn't be recognized or you couldn't edit you videos smoothly. Fortunately, there are always solutions there. To solve those problems, the easy and quick workaround is to convert RED KOMODO 6K R3D and ProRes to a more editing-friendly format, such a Adobe Premiere Pro/Vegas Pro's MPEG-2. Along with some help from third-party software, it can be done effortlessly.
To solve the problem, the easy solution is to rewrap before importing. Actually, it's not as difficult as you imagine. What's need is a just common video converter like Acrok Video Converter Ultimate, which can easily rewrap and transcode RED KOMODO 6K R3D and ProRes files to the best editing format for Premiere Pro CC and Vegas Pro 19 on Windows, which ensures the best result when working with your editing software. This will save you both time and trouble, and all you need is to drag the result videos for prompt editing. Just download it and follow the steps below to learn how to convert and import RED footage to Premiere Pro CC/Vegas Pro 19 for smooth editing.
Free download RED KOMODO 6K Video Converter
How to Convert R3D and ProRes to Premiere Pro CC/Vegas Pro 19 with Acrok?
1
Load R3D and ProRes files to the RED Video Converter
Go to the folder where you have saved the .r3d and ,mov videos, and then directly drag and drop the video files to the RED Video Converter. The files will be imported automatically.
Alternatively, you can click the "Add Files" button on the main interface to import RED KOMODO video files or folder to this RED R3D Video Converter (R3D/ProRes to Vegas Pro/Premiere Pro converter).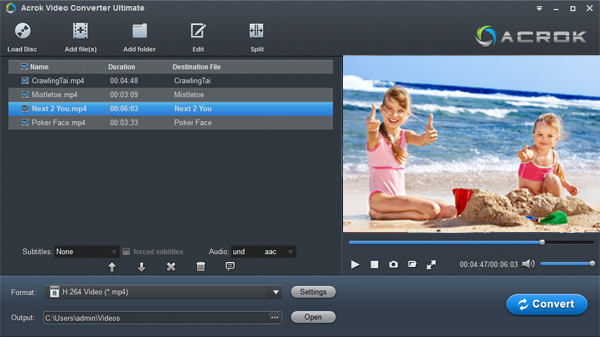 2
Select MPEG-2 as output video format
In the output format tray, go to "Editing Software" and select "Adobe Premiere/Sony Vegas MPEG-2 (*.mpg)" in the format list. Or you can also select Windows supported format such as MP4 from the Common Video tab. By clicking the Setting icon beside, you could also modify encode settings like bitrate, frame rate, quality, etc. according to your need.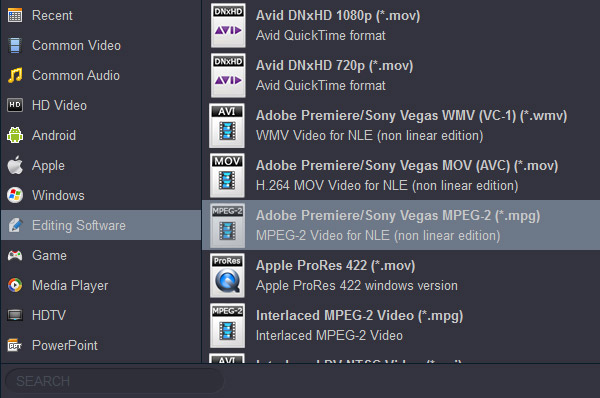 3
Start video conversion
Click the "Convert" button, and this smart RED KOMODO 6K camera R3D and ProRes footage to MPG converter will do the rest for you! When the conversion is done, you can import the output files to Vegas Pro 19 and Premiere Pro CC without any trouble. Congratulations! You have successfully taken the first step to make your own masterpiece. You can free download the RED video converter to your Mac or Windows PC, and try to convert video to other format yourself. You will find it interesting!