How to convert XAVC to AVI format? Follow this article you will get the best XAVC to AVI converter, it will help you to convert Sony XAVC video files to AVI format on Mac and Windows with best quality.
XAVC Video Compatibility Problem
If you have used Sony latest 4K camcorder, you may be familiar with the XAVC format. XAVC format is introduced by Sony at the end of the year 2012, this format is mainly for high-definition recording. After the XAVC format introduced, Sony has released several camcorders that used this format, like Sony PMW-F5, Sony PXW-Z100, Sony PMW-F55, Sony PXW-180, etc. maybe you have bought one of the XAVC camcorders, and have recorded some XAVC footages. As we know, the XAVC is good for storing high quality videos, but you will find the XAVC has many compatibility problems with other software and devices, such as video editing software, players like QuickTime or VLC, and Sony/Samsung/Panasonic Smart TV, etc.
From Sony XAVC white paper you will know that XAVC uses level 5.2 of H.264/MPEG-4 AVC, it is this video standard's highest level supported. The XAVC format supports color depths of 8-bits, 10-bits, and 12-bits. And the MXF format can be used for the digital container format of XAVC. As the XAVC is an advanced format, so many software and devices can't support it.
XAVC Compatibility Solution
In order to solve the XAVC compatibility problems, you may want to convert XAVC video to a more universal format like AVI, and then you can get rid of the XAVC importing, editing and playback issues. This article, we will take XAVC to AVI conversion for example, to introduce you a top XAVC converter, which will help you convert XAVC files to HD video formats like AVI, MOV, MP4, ProRes, etc. for further usage.
How to convert XAVC to AVI with best XAVC converter?
Acrok Video Converter Ultimate for Mac and Windows is the best program to convert XAVC to AVI format, this software has been optimized by video specialists, it has full support for Sony camcorders recorded XAVC files, supported camcorders include Sony F55, F5, PXW-Z100, PXW-180, etc. besides, it also supports other recording format, such as MXF, AVCHD, MTS, MOV, MP4, etc. you can get all the HD videos to import and export.
Free download XAVC Converter from www.acrok.com
Now please follow the brief steps below to use XAVC Converter to convert XAVC to AVI format. The conversion process is extremely easy, with this XAVC to AVI converter, you can get HD videos converted at top quality and speed.
1
Install XAVC Converter
Download this XAVC to AVI converter from our website's product page, both Mac version and Windows version are available to download for installing. Install this XAVC to AVI converter app on your Mac/Windows computer.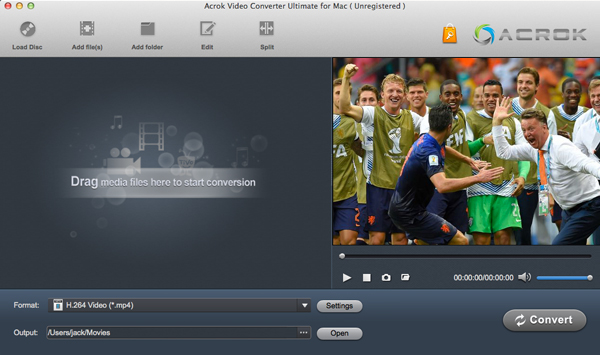 2
Add XAVC video
Import Sony XAVC files into this XAVC converter. Please click "Add file" button at the upper left corner of the main interface to add your XAVC video files. Besides this method you can also drag and drop the footages.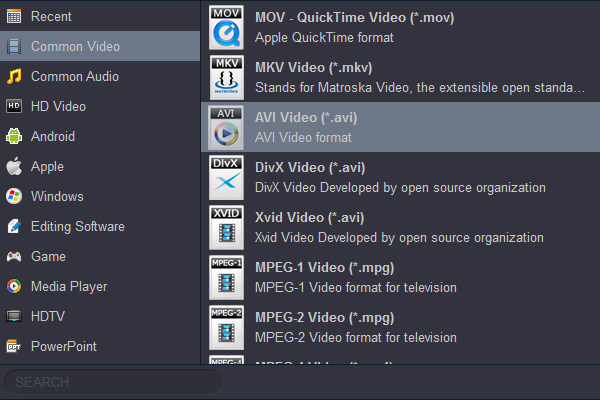 Tip: You can Adjust the video and audio parameters, including the Bitrate of Video&Audio, Video Size, Sample Rate, Frame Rate, Audio Channels, etc., by clicking the Settings button on the XAVC video converter main interface.
3
Choose AVI format
Choose AVI format for output. To convert XAVC to AVI format, just click the format column it will shows rich output formats, please choose AVI as output format. If you also have the need to convert XAVC to MP4, convert XAVC to MOV, etc. just select corresponding format.
Tip 1: This step is optional. If you want to customize the output parameters, please click "Settings" button, and then you can adjust bitrate, frame rate, video codec, etc.
Tip 2: Edit function is also available to use, you can crop, trim, add 3D effect, add subtitle to XAVC video, or remove/replace audio from XAVC files.
4
Start conversion
The last step is to press the convert button to start XAVC to AVI conversion, the conversion process will begin immediately.