The removal of Blu-ray drive from the Windows range has been so ruthless that one would have thought the optical storage format was dead. True, video streaming subscription has surpassed physical media as a more popular choice for home entertainment. Of course, you probably still have a Blu-ray collection, but you are restricted to enjoy watching them only when there is access to a Blu-ray player or watch these Blu-rays on modern Windows 11 with a third-party Blu-ray drive. So to make your Blu-ray videos compatible with Windows Media Player 12 and other media players/devices, you can convert Blu-ray to WMV.
Having your files in digital format after Blu-ray to WMV conversion not only prevents them from physical damage but also facilitates them playing anywhere, anytime or Android devices or editing them in Windows Movie Maker, Premiere Pro CC, DaVinci Resolve, Vegas Pro, Avid Media Composer, etc. on your Windows. In this article, we will show you an easy way to rip Blu-ray to WMV format on Windows 11 with good quality-size tradeoff.
Best Tool to Convert Blu-ray to WMV Flawlessly – Fast Speed and Optimal Quality
If you don't want to held back by slow processing and copy protections, Acrok Video Converter Ultimate will be your best choice. This software is available to cope with both home-made and all store-bought Blu-ray discs without hassle. With it, you can effortlessly backup and rip Blu-ray to WMV, MOV, MP4, M4V, MKV and other mainstream video formats on Windows 11 and lower with best balance in speed, quality & size. If you're a Mac user, simply turn to Acrok Video Converter for Mac, which lets you turn Blu-ray to WMV format on Mac (macOS 12 included).
Any Blu-ray: Convert homemade and bought Blu-rays with almost all Blu-ray encryptions.
Ultra-fast ripping speed: With support of multi-core CPU and Hyper-threading technology, you can digitize Blu-rays on Windows 11 with super-fast speed.
Backup Blu-ray without any quality loss: Main title content copy, full title copy and backup Blu-ray to a MTS/M2TS file in less than 5 minutes.
From 32GB Blu-ray to ~1GB WMV: Aadjust resolution, bit rate, codec, etc to produce optimal file size. Specifically, the ripped file is 1GB-1.5GB for a full movie, a 90% space saving. Plus, there're 350+ ready profiles for AVI, WMV, MOV, tablet, smartphone, smart tv.
Can MakeMKV rip Blu-rays to WMV on Windows?

Quick answer: No. When it comes to ripping Blu-ray, MakeMKV is always the first to recommend. However, it can only rip Blu-rays to MKV within a few steps and no WMV output profile is there. Moreover, if you use MakeMKV to rip read-only Blu-rays, you will probably end in failure. Only with the help of libdvdcss, MakeMKV can rip some read-only discs. But the annoying thing is that libdvdcss doesn't always work.
[Tutorial] How to Convert Blu-ray to WMV in 3 Steps with Acrok?
To begin with, you need to download and install Acrok Blu-ray Ripper on your PC or Mac. After this, you can move to the following steps to digitize your old or new Blu-rays to WMV. The guide below takes the Windows Blu-ray to WMV Converter version for example.
1
Load Blu-ray Movie
Insert a Blu-ray into your Blu-ray drive, and click the Load Disc button. The program will add the Blu-ray to the program and list all the titles. It also supports Blu-ray Folder and ISO Image. The Windows 11 Blu-ray ripper supports advanced encryptions like navigation algorithm used in multiple titles. It will easily detect the correct title hiden in Blu-rays from Disney, Sony, Paramount, etc.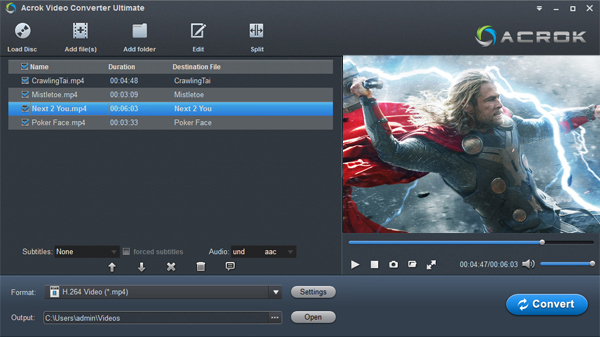 2
Select WMV as output profile
Click Format bar, move mouse cursor to Common Video category and then select WMV3 (WMV9) (*.wmv) as the output format. If you want to convert Blu-ray for playback in Windows Media Player, you can browse to find any video preset from the correspoding category as the output format.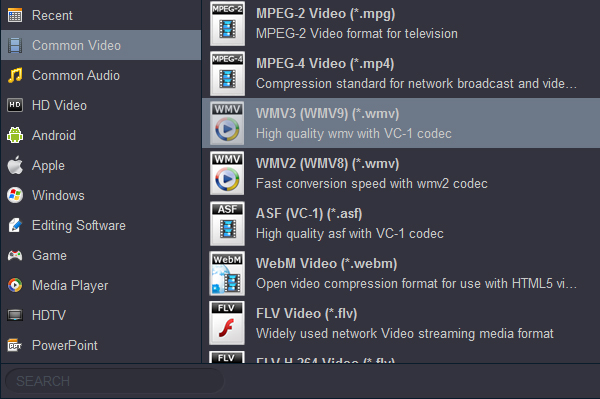 Tips: Generally, the result WMV files produced by Acrok Blu-ray Ripper can provide a good balance between file size and image quality. If the video quality and file size doesn't match your needs, there are flexible options out there to help you adjust them. You can Click the Settings button beside the profile and enter into the parameter settings page. A slew of other variables such the video/audio codecs, pixel dimensions, frame rate, bit rate, audio sampel rate, etc. will help convert a Blu-ray at 32GB to a smaller WMV file.

Recommended video size settings for ripping Blu-ray to WMV Windows Media Player File:

① You're not suggested to adjust the frame rate and aspect ratio, if not necessary.
② Lower the bitrate to a lower level for smaller files. Adjusting the original Normal quality to bitrates of around 1800-2000 is acceptable and can make your ripped WMV movie around 1-1.5GB in size, 90% smaller than the original Blu-ray movie, and to the naked eyes, it's highly unlikely to distinguish the difference between the original movie and the re-encoded video.
③ Lower the resolution. Typical Blu-ray videos are1920×1080 and 3840×2160. Adjust the resolution to 1280×720 won't make any quality difference.
Please note: Adjusting these variables have some effect on the re-encoded video quality. You can go smaller, only at the cost of quality loss. Generally, If you keep the original Blu-ray quality, you can set the bitrate to Keep original and the result file will be as large as the original Blu-ray video size.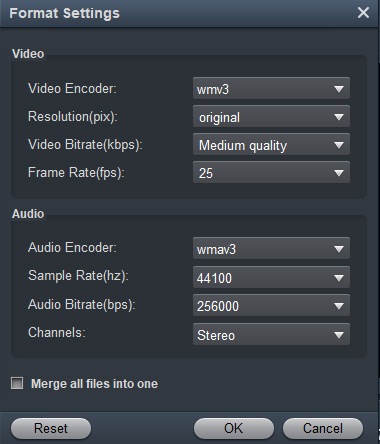 4
Start converting Blu-ray to WMV on Windows 11
Check to make sure all the settings are OK and then click the Convert button to begin the Blu-ray video to WMV conversion on your Windows 11.
After the Blu-ray is converted into WMV video, you can freely transfer the result file to Windows Media Player, iPhone, iPad, Android, game consoles, tablets, and computers that don't have a hard drive. And you can easily play them on your Windws 11 using Media Player 12 without hassle.