VENICE is equipped with a 36x24mm full-frame image sensor, designed specifically for the demands and performance of high end cinematography, and can capture images up to a maximum resolution of 6048 x 4032. By switching imager modes, VENICE can natively support Super35 24.9 x 18.7mm, 4096 x 3024 resolution and Super35 24.9 x 14.0mm 4096 x 2160 resolution. VENICE can exceed Rec. 2020 colour space. This means the colour range is wider than DCI-P3 and can beautifully reproduce the true colour of the scene in front of your lens.
XAVC, a recording format introduced by Sony, has been developed as an open format, providing a license program for other manufacturers in the broadcast and production industry to develop their own high quality and high frame rate products. Can we edit Sony 4K XAVC in all Final Cut Pro X version directly? The answer is NO. I'll share two ways to edit Sony VENICE 4K XAVC .mxf video in Final Cut Pro (FCP X, FCP 7, FCP 6).
About VENICE XAVC Video
XAVC 4K Class480: 23.98p, 24p, 25p, 29.97p
XAVC 4K Class300: 23.98p, 24p, 25p, 29.97p, 50p, 59.94p
XAVC QFHD Class480: 23.98p, 25p, 29.97p
XAVC QFHD Class300: 23.98p, 25p, 29.97p, 50p, 59.94p
Two ways for you to import Sony VENICE 4K XAVC into FCP X for editing
Install a plug-in for Apple's Final Cut Pro X
Sony have just released a plug-in for Apple's Final Cut Pro X. The plugin allows you to work with HD and 4K XAVC material in FCP X. As well as the plugin you will need to first update FCP X to at least version 10.0.8. The handling of HD and 4K XAVC in FCP X is very impressive with smooth 4K playback on my iMac and Retina MBP. It even handles scaling to HD for SDI output in real time with ease.
As you see, Sony's XAVC did not work with FCP X 10.0.7 or later version. On the other hand, the Camera Import plugin is only suitable for Sony VENICE, something called Content Browser sold by Sony might help. However, many folks gives feedback that they can see the VENICE 4K XAVC footage and play them in the Content Browser it doesn't allow me to import them into FCP X while getting the Error message "A Clip that cannot be imported to Final Cut Pro is included. There may be no codec for FCP X. Please confirm the Update information of FCP X." Can wen edit Sony VENICE video in FCP X without installing plugin? Just keep reading, you will get a better solution.
Convert 4K XAVC footage for Final Cut Pro X
Some of you may say that, the FCP X can support Sony VENICE XAVC (.mxf) now and when import them into the FCP X, no rewrapping is needed. It's true that FCP X now with its 10.4.1 and Compressor, you can do any edits with the 4K files. However, since this XAVC may not well supported by relevant devices, and if you don't want to update to FCP X, for some users prefer FCP 6 and FCP 7. That would be another thing. So is there any powerful tool which can help trans-code Sony VENICE XAVC to FCP 6/7/X without any quality loss? Acrok 4K Video Converter (Mac Version | Windows Version) is your best Choice, which is an easier and more effective way to solve the Sony VENICE XAVC and Final Cut Pro X importing problem regradless of the FCP X version or Mac System. With this top XAVC Converter, you can transcode XAVC to Final Cut Pro X native editing codec – Apple ProRes.
Free download Sony VENICE Video Converter
How to coonvert Sony VENICE 4K XAVC video to FCP X ProRes codec?
1
Add Video
Launch the Sony XAVC Video Converter on your Mac, then click the adding button to import your .mxf flies from Sony VENICE or HD drive directly.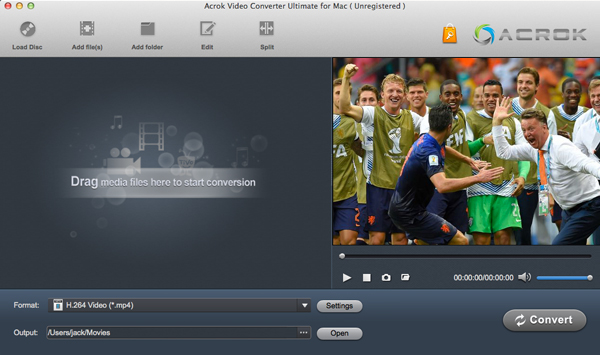 2
Choose FCP native editing foramt
To edit Sony VENICE 4K recordings in Final Cut Pro X, you need to select "Apple ProRes 422 (*.mov)" as output format under "Final Cut Pro" column. The ProRes codec is also workable in its former version FCP 6 and FCP 7.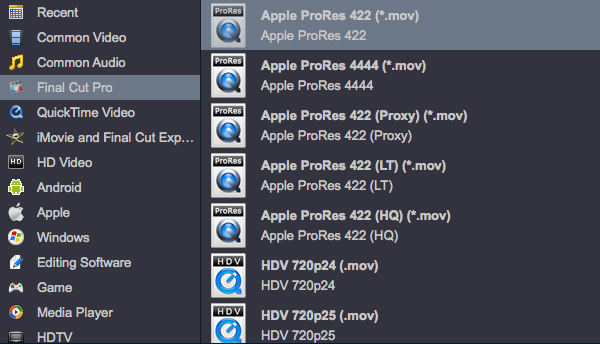 3
Start Vdieo Conversion
When ready, click "Convert" to start format conversion. Once the conversion process is complete, you can click "Open" button to get the generated ProRes MOV files for editing in FCP X, FCP 7 or FCP 6 with optimum performance.
P.S. If you record 4K files with Sony VENICE and meet troubles in editing 4K MXF in  Premiere Pro CC, Sony Vegas Pro, Avid Media Compress this Mac 4K XAVC Converter can be also used to transcode Sony VENICE 4K XAVC and RAW files to H.264 MOV for Premiere Pro CC, MPEG-2 MPG for Sony Vegas Pro 15, DNxHD MOV for Avid, etc which ensures a smooth workflow.