Though Instagram announced to upload MP4 and MOV files, sometime we still fail to upload recorded 4K MP4 and MOV videos to Instagram. So what is the reason? How to successfully upload all kinds of 4K and 1080P recordings to Instagram? The following article will list the often encountered symptoms in uploading video to Instagram, and then explain the reason as well as provide a simply solution.
Part I: Why Instagram Failed and Can't Upload Videos?
Part II: Instagram video specifications: All Required Instagram Video Sizes and Dimensions
Part III3: 3 Video Converter to Convert/Resize/Compress video for Instagram
I failed to upload MP4 videos to Instagram, who can help?

You have just created a Instagram channel and you are excited to upload an MP4 video on Instagram. However you will notice that the MP4 may take long to upload or Instagram may fail to recognize the file. In this case the file could be too long or its audio and video is encoded in other formats. If this happens you don't have to fret. This article shows you how you to convert the MP4 and upload it directly to Instagram using Video Converter for Instagram.
Why Instagram Failed and Can't Upload Videos?
Instagram does offer a great way for the public to share our favorite, personal, or interesting videos with a wide variety of your friends. To upload videos on Instagram is very easy. But there can be some trouble uploading a video on Instagram. Chances can be that your video is in a format that Instagram doesn't support, your video is too large or too longth, and you are not using the latest version of browser. So before we continue the tutorial how to upload a video to Instagram , we should pay attention to the Tips and Warnings below:
1. Ensure your video is in a Instagram supported format. Instagram support almost all video file types, but it recommends H.264 MP4. If you want to upload the unapproved file type, please convert your video to H.264 MP4.
2. File size isn't specifically limited by Instagram, but we recommend keeping your videos under 50MB. Schedugram has a 150MB file size limit when you are uploading files. For reference, most 60 second videos uploaded to Schedugram are around 30MB. If it is too large, please use some editing software to shorten it.
3. Make sure the video is shorter than 60 seconds; the best Instagram videos are short – less than 60 seconds.
4. Play the video on your computer to see if it plays normally before you attempt to upload it to Instagram .
5. Please don't try to upload the same video multi-times in order to speed up the process. It won't help.
Instagram Video Length for 2019? It Varies Like This
It depends. But, short answer: the Instagram video time limit is 3-60 seconds.
It breaks down by post type like this:
Live Video: 1 hour
Video Post to Your Instagram Profile: 1 min
Video Post to Your Instagram Story: 15 seconds
What Is the Supported Video Format of Instagram Story?
Instagram (not include IGTV) allows you to share videos that last for less than 60s. But it requires a supported format. To help you make sure whether your videos get accepted by Instagram, we list the following format settings of Instagram supported format.
Support Video Format: MP4 and MOV
Support Video Codec: H.264
Audio: AAC
File Size: 15MB
Frame Rate: Below 30fps
Bitrate: 3,500 kbps Video Bitrate
Maximum Dimensions: 1080px Wide
Length: No more than 60 seconds
From the above information, we've know the best format for Instagram uploading. If your video parameters doesn't match any of these specs, you'll need to convert, resize and compress the videos, change it to the right value before posting it on Instagram. And, this requires a tool to finish. Here we would like to recommend you some useful software. Go to next part to know how to use it.
3 Video Converter to Convert/Resize/Compress video for Instagram
1. Acrok Video Converter Ultimate
Acrok Video Converter Ultimate is really an all-in-one solution to convert Blu-ray/DVD, and convert popular 4K video files to Instagram supported video/audio formats. with this software, you can easily convert any video to best supported formats for editing software or portable devices too, like Premiere Pro CC, Sony Vegas Pro, After Effects CC, DaVinci Resolve 16, Avid Media Composer, Windows Movie Maker; Android tablet, iPads, iPhones, all Smart TVs and other Android smartphones, etc. There are many optimized formats for popular devices and software, with this best BD converting software, you can play Blu-ray, DVD and other media files on any devices easily.
This all-in-one Blu-ray/DVD/4K/Full HD Converter provides lots of useful functions. You can choose the language or subtitle from the movies, and output video with 5.1 Dolby surround sound. Besides, you can trim, crop, add watermark, add subtitle, convert 2D to 3D, or adjust effect to the video, you can also extract audio from Blu-ray/DVD/4K/Full HD files and convert to AAC, AC3, MP3, WAV, WMA, M4A, OGG, FLAC audio formats.
Free download Instagram Video Covnerter
20% OFF Coupon Code: ACRO-LD93-NLID
Main interface of Video Converter for Instagram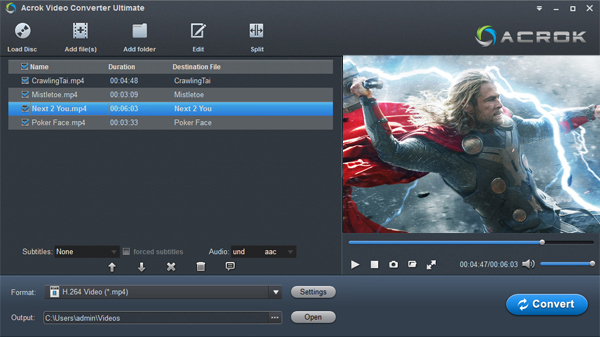 How this Instagram Video Converter works?
1. Load the videos into this Instagram Video Converer.
2. Choose Instagram best supported video format – H.264 MP4
3. Set the output video resolution
4. Edit videos – Trim video, add watermark, add effects, crop video, replace background music and add new subtitles
5. Start converting you videos for Instagram
The Good: Acrok Video Converter Ultimate excels at converting video to a wide range of file formats that are viewable on anything from televisions to mobile devices. This video converter software can read and write nearly all file types we looked for. The video editor included with this program is one of the best we saw during our evaluation. It makes it very easy to trim, crop and flip videos. You can also personalize the final video with a watermark and embed subtitles in your output video. An effects menu gives you control over brightness, contrast, saturation and volume. Additionally, you can convert 2D videos into 3D, but you shouldn't expect to get Hollywood quality out of this simple application.
The Bad: ITS NOT FREE
The Bottom Line: Have you noticed sometimes you try to play a high-end 4k video and it lags somewhere? Due to this, you might not be able to play or watch it properly. You can solve this problem with the help of a video converter. You can convert high resolutions videos to a small size so they can be played on any platforms or devices.
---
2. Convert video for Instagram (Online)
If you want to upload a file like a video to Instagram, a certain format is required. With this free file converter for Instagram, it is easy to convert your video to be uploaded for Instagram. Just select one of the Instagram presets below that meets your quality requirements and click on "Convert file".
Free trial link: https://webservice.online-convert.com/convert-for-instagram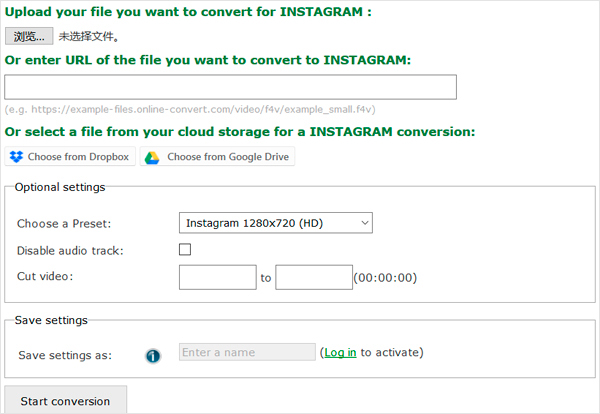 How it works?
1. Upload your file you want to convert for INSTAGRAM
2. Choose a Preset – Instagram 1280×720 (HD), Instagram 1920×1080 (Full HD) or Instagram 640×360
3. Disable audio track or use orginal audio
4. Cut video
5. Start conversion
The Good: IT'S FREE
The Bad: We can't edit the loaded videos, such as we can't replace background music, add watermark. Most users like visual editing, but it can't. The video quality after conversion is not as good as expected.
The Bottom Line: With Convert video for Instagram, wen can convert some common video for uploading to Instagram. It can basically meet the needs of low-end users
---
3. Freemake Video Converter
Freemake is a free and all-in-one video converter suite that has the ability to modify and convert videos, extract audio from video clips, rip and  burn DVDs and Blu-ray, and embed videos to websites or blogs. Simple and fast, Freemake can be used in converting video clips to be played on various mobile devices and gadgets.
The more is, the software can convert videos between more than 500 video file formats and supports multiple audio and image  file formats for creating photo slideshows and video clips. Freemake will also automatically upload visual and audio files to iTunes and iOS when the conversion is completed.
Free trial link: https://www.freemake.com/download?id=FreemakeVideoConverter.exe
Main interface of Freemake Video Converter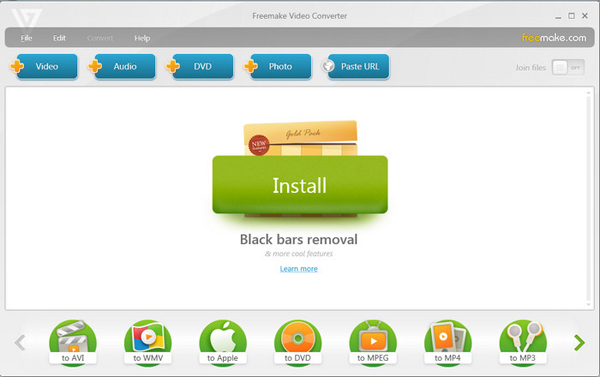 How it works?
1. Download Freemake Video Converter
2. Add your video files
3. Choose the format
4. Set WhatsApp video parameters
5. Convert video for WhatsApp free
Teh Good: Freemake Video Converter converts nearly any video file to popular formats while supporting a massive amount of input file formats. It can convert video files directly to a DVD or Blu-ray disc, and it provides an option to make a DVD menu when burning files to a disc
The Bad: Conversion isn't speedy. Hasn't been updated since 2017. We can't convert camcorder or camera 4K/1080P MTS, MP4, MOV, MXF videos. This software does not support the cracking and conversion of commercial Blu-ray/DVD discs.
The Bottom Line:It is one of the best convertors out there for converting your video an DVD into over 30 different types of formats. The good thing is, it can even convert videos to play on iOS and windows devices this means you can carry and watch your videos on the go.