As time passes and more people decide to upgrade to a smart TV. Today, most major television manufacturers offer smart TVs, including Samsung, Panasonic, Sony, LG, Sharp and Vizio. These companies are constantly developing and innovating, striving to provide us with a better use experience. Compared with the smartphone world, which is dominated by Google and Apple, the nascent market for software for smart TVs has already become fragmented. I think this kind of state is good for the consumers. Innovation comes from competition.
The digital technology, which has infiltrated into all segments of film production, exerts a far more influence on film than that of only an instrument. We can buy or download new movies from intenet, or play movies/tv shows on intenet directly. But the way to play the Blu-ray disc never changed.
Watch Blu-ray discs on Smart TV with Blu-ray Player
If you plan to enjoy Blu-ray movies on old tv, the Blu-ray Player is essential. We can play Blu-ray discs on old tv and smart tv with Blu-ray Player. If you have a smart TV, below content will be helpful. I'll show you how to connect a Blu-ray Player to a Smart TV.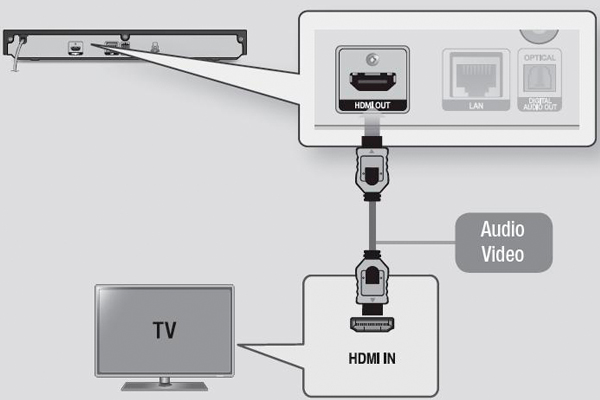 HDMI (In/Out)
1. Connect an HDMI cable from the HDMI output on your Blu-ray Player, to the HDMI input on your TV.
2. Make sure the both the Blu-ray Player and the TV are powered On.
3. Set the Input on your TV to match the input you plugged the HDMI cable into.
4. That's all there is to it! You're done.
Open your Smart TV, Power on the Blu-ray Player then insert Blu-ray disc into Blu-ray Player. That's all. You can enjoy you purchased or rented Blu-ray disc freely.
Please note: Depending on your TV, certain HDMI output resolutions may not work. Please refer to the user manual of your TV. To view video in the HDMI 720p, 1080i or 1080p output mode, you must use a High speed (category 2) HDMI cable.
If your TV won't take a HDMI connection, you can use a HDMI-DVI cable to connect your Blu-ray player to the TV, but you will need a separate Audio cable to transmit the audio signal. DVI connections are only capable of transmitting video signals.
USB is a common connection type used for external hard drives/flash drives, cameras, and smart phones/tablets. Media files from these devices (videos, pictures, or music) can be played on most Blu-ray Players.
Play Blu-ray movies on Smart TV via USB Stick
With the release of smart TV, we have more diversified ways to watch movies at home. Meanwhile, it will offer services such as program requests, searches, downloads and viewer comments. If you like, you can also play videos by installing the video playback App. Of course, we're talking about Blu ray discs here. If your television set has a USB port, you may be able to use it to watch movies that you have downloaded or copied from your computer. Exactly what movies you can watch depends on your set, the video files and possibly even the USB drive itself.
How do we Play Media Files in USB Devices?

1. Please plug a USB storage device into a USB port at the back of your TV or the Mini One Connect of your TV

2. Press the Source button on your remote Then select USB Device USB. Or Press the "HOME" button on your remote, navigate to "Source" and choose "USB Device / Connected Device"

3. Select the media file you want to play

4. Press the Enter button to show the control panel

If you want to play another media saved in your USB device, press "Return" button on your remote and it will return to the "MY CONTENT" page. 
You must have masted this skill, some users meet other troubles: Can't play some Blu-rays on the Blu-ray player due to the Blu-ray region code, other copy protection, etc. Can we watch Blu-ray movies on Smart TV via USB Stick/USB Flash Drive? Do you want to replace another Blu-ray player? I have to say it's expensive. Why not try to rip Blu-ray disc movies?
There are many ways to rip a Blu-ray to a common format on your computer, but if you're looking for the most straightforward option, Acrok Video Converter Ultimate (For Windows | For Mac) is easy and powerful. This software tops the list of best Blu-ray ripping software for that it provides the most timely and comprehensive Blu-ray ripping solution for movie lovers. With this software, you can rip and convert Blu-ray disc, Blu-ray ISO, Blu-ray folder to any smart tv supported video format. It isn't free, but you get a lot for your money, and can even handle discs that are encrypted, region-locked or unplayable. Besides, you probably already have Blu-ray Ripper on your computer. Here, we'll show you the quick and easy way to rip Blu-rays to your computer using Acrok Blu-ray ripping software.
Free download Blu-ray Ripper for Windows and Mac
Rip and convert Blu-ray to Smart TV supported format
1
Load Blu-ray movies
Download, install and launch the Blu-ray to Smart TV Converter tool. Then click the "Load disc" icon on the interface to upload Blu-ray files. Blu-ray disc, Blu-ray ISO, Blu-ray folder are supported here as well.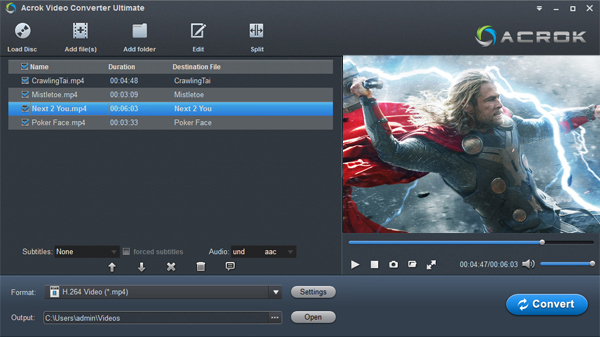 2
Choose Smart TV supported format
Click "Format" bar and just select H.264 MP4 as output format. You can get it under "Common Video", "HD Video" and "4K" categories. If you like, you can choose output format under "HDTV" category.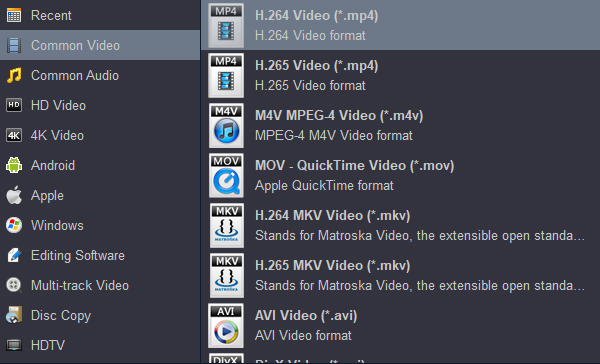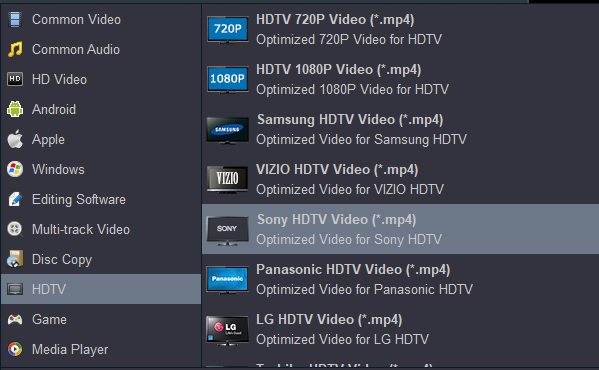 3
Start ripping Blu-ray movies
When you're ready for the conversion, click the "Convert" button to start the Blu-ray to H.264 MP4 conversion. In a few minutes, you'll get the ripped H.264 files. Just enjoy your movie! After that, click "Open" button to get the output video clips and transfer them to you USB Stick. You can play Blu-ray movies on Smart TV without Blu-ray player now.