"Hello, can Sony MASTER Smart TV play H.265 files from USB stick? Several weeks ago I bought a new Sony Z9G TV from Sony, and I like watching downloaded movies on this new TV, the 85 inches big screen makes me excited, and now I want to play 4K MP4 (h.265) files on Sony Android TV from USB port, I have copied the MP4 videos from computer to USB stick, but the Android TV failed to recognize and play them, does Sony Android TV support MP4 file format? How can I play MP4 files on Sony Android TV from USB? Please help me, thank you very much!"
Video content has evolved over the years and is one of the major sources of entertainment these days. Gone are the days where videos were only available in 3GP and MP4; many new formats have surfaced now to support high-quality videos.
For playing such videos on an Android Smart TV, you would need a video player that supports different video formats. If you are Hisense, TCL, Sceptre, Phillips, Sony, Android TV user, then you must have suffered at the hands of incapability and lack of features of the inbuilt video player.
Thankfully, there are plenty of third-party video player apps for Android TV that is feature-rich and enhance your video watching experience. If the number of options is making it difficult for you to choose the best video player app then here is a list you can refer to. We have compiled a list of 10 best Android TV video player apps that offer seamless video watching experience.
Best Video Player for Android TV
MX Player
VLC Player
KM Player
AC 3 player
X player
PlayerExtreme
FX Player
N Player
Kodi
VL Video Player IPTV
Want to find the best video player for Android TV free, stay updated. Here the above-given list of players is heavily recommended because of highly appreciated by the users. Bring the benefits of enjoying a Android TV experience using the top-rated Android free TV players available online. The functions of the players listed above are roughly the same, because they are based on the same design framework, but the interface is different.
Can we play 4K MP4, 4K MOV and 4K MKV movies on Android TV? How to play 4K MP4, MXF, MOV and 4K RAW recordings on Android TV from USB? A 4K video player software is deemed essential. You can free download and install the following 10 4K video player onto your Sony, Hisense, Skyworth, Philips, TCL and Sharp Android TV.
Best 4K Video Player for Android TV
MX Player
VLC Player
Plex
FX Player
X Player
BS Player
Elmedia Player
KMPlayer
VIMU
LIME PLAYER
These are all the top 10 best Video Players for Android TV free in 2023, and best 4K video player for Android TV of 2023. To install the media player on your Android TV you just open the Google play store and install it directly on your Android Smart TV.
After testing, the compatibility of these Android video players is good, but they still can not meet the needs of many users, and some users cannot install it on Android TV successfully. Is there other ways to play MKV, MP4, MOV, AVI, MOV movies on Android TV freely? The answer is YES. Now I'll give you a detailed introduction.
Another way to enjoy movies on Android TV
Can we play video collections on Android TV with the player that comes with the TV without compatibility problem? You can convert the unsupported formats to Android TV playable format. By using this solution, you can play all your video formats on Android TV without install a new Android video player app.
Best Video Converter for Android TV
Acrok Video Converter Ultimate can easily help you convert DivX, XviD, H.265, MPEG4, MPEG, DNxHD, Apple ProRes, XAVC, XAVC S to H.264 codec for Hisense, TCL, Sceptre, Phillips, Sony, Android TV with simple clicks. This Android TV Converter also can rip/convert Blu-ray and DVD to Android TV supported video format for Android TV playback via USB.
Different Android TV modules have different supported video formats. To know whether your specific module support the formats, you should check out the format list on the manual, or go to the official website, find your Android TV module and check out the detailed information. That being said, most of Android TV sets do support video like MP4, AVI, WMV, unless the user manual says otherwise. So you can convert your video to H.264 MP4 for your Android TV via Acrok software.
How convert video, DVD and Blu-ray to Android TV video player supported format?
This guide uses Android TV Converter for Windows (Including Windows 11) screenshots. The way to convert video on Mac is almost the same. Just make sure you've downloaded the right version.
1
Add video files
Download and launch Acrok Video Converter Ultimate. There are two ways for you to import your AVI file into the program. One is to click the "Add Video" button and then browse and locate your video file, the other is to drag and drop the file directly into the center of the program interface. For converting Blu-ray and DVD for Android TV, please click "Load Disc" icon to import video resources.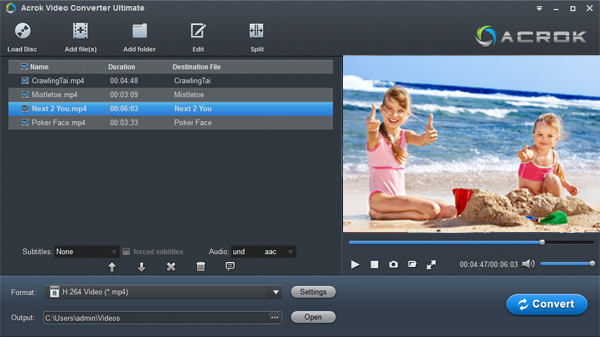 2
Set output format
Click "Format" bar to set output format. As we know, all the Android TV supports H.264 MP4 video playback, so you can select MP4 as output format.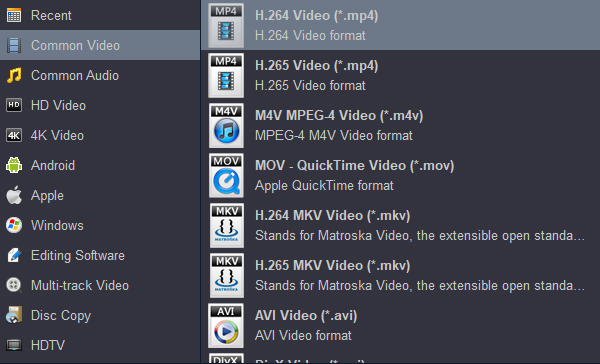 3
Start converting
Finally, click the "Convert" button below to start the video to Android TV supported format conversion.
How do I cast downloaded movies to Android TV?
Connect your device to the same Wi-Fi network as your Android TV.
Open the app that has the content you want to cast.
In the app, find and select Cast .
On your device, select the name of your TV.
When cast. changes color, you're successfully connected.
How to play own movies on Android TV from USB?
On your TV remote, press the Home button, go to Source.
Select USB Device USB or USB Device or Connected Device (or anything similar to these).
Next, locate and select the video file that you want to watch on your Android TV.
Press Enter on your remote to play movies on Android TV from your USB flash drive.
Conclusion
Android TV has a huge user base all across the world, and a lot of people are suffering the video playback issues with their Android TVs. When you encounter video playback issue, you should firstly identify the cause of the issue. Is it the file damage, or is it the media format compatibility? Install a new video player onto Android TV is a good idea. If the problem lies in the compatibility, then you can either convert your video to another compatible format with Acrok Video Converter Ultimate for a more reliable result. Either way, your video playback problem should be perfectly solved.