Sony launched a new shoulder camera at NAB, the PXW-Z450. On the inside though this is a UHD, single chip (I believe), 2/3" CMOS camera. It records to SxS cards using the XAVC codec in UHD and HD at up to 60fps as well as MPEG2 HD422 up to 30fps. The PXW-Z450 Camcorder provides a variety of AV and IT interfaces including four 3G-SDI outputs, as well as RJ-45, and USB 3.0 connection ports. We can record 4K and 1080P MXF footage by PXW-Z450, but wen can't edit the recordings in some popular editing software, such as edit MXF in Cyberlink PowerDirector.
Neither PowerDirector 19 nor PowerDirector 365 supports directly importing Sony PXW-Z450 XAVC-I (10-Bit and 8-Bit) and MPEG-2 4:2:2 files for further editing. Fortunately, there is an easy way to fix this issue.
Questions:

"Hi all! I'm new and I am looking for help with converting Sony PXW-Z450 MXF files for editing in PowerDirector 19? What do you use that works?"

"I need to be able to edit clips from Sony PXW-Z450 in PowerDirector 365. So i need to convert the movie into a file format that PowerDirector understands. what software is best for converting the MXF footage?"
Why should this happen? Let me explain it. Firstly you get to learn a bit about the Sony PXW-Z450 footage format. MXF is a video format which contains captured audio and video data as well as metadata that describes the media stored in the file. They can be created by cameras like Sony (OP1a) and Panasonic (OP-Atom, OP1b). MXF files became popular in around 2005 thanks to the Panasonic cameras with their high-capacity and high-speed P2 storage and the DVCPRO format. MXF file can contain several different compression formats in a single file. So it's not a good format for editing in PowerDirector. As we know, H.264 is Cyberlink PowerDirector native edinging video codec, PowerDirector's most compatible editing codec is H.264 Video (*.mp4) instead of MPEG HD 422 and MPEG HD 420 MXF.
Thus, here we recommend Sony users to transcode PXW-Z450 MXF to PowerDirector best editing format before loading into PowerDirector. Acrok Video Converter Ultimate (Windows Version | Mac Version) can do this job easily.
Free download Sony MXF Video Converter
Supported Devices
Sony PXW-Z450, Sony PXW-X400, Sony PXW-Z750, Sony PXW-Z320, Sony PXW-Z280, Sony PXW-Z190, Sony PXW-Z150, Sony PXW-Z90, Sony PXW-X70, HXR-NX5R, HXR-NX100, HXR-NX80, HXR-MC88, Sony PDW-850, Sony HXR-MC2500, Sony VENICE, Sony PXW-FX9, Sony PXW-FX6, Sony PXW-FS7, Sony PMW-F55, Sony PMW-F5, etc.
How to losslessly convert Sony MXF videos for further editing in PowerDirector?
1
Install MXF to PowerDirector Converter
Set up the Sony MXF to PowerDirector Converter on Mac and run it. Click "Add files" icon on the main interface to load your MXF recordings.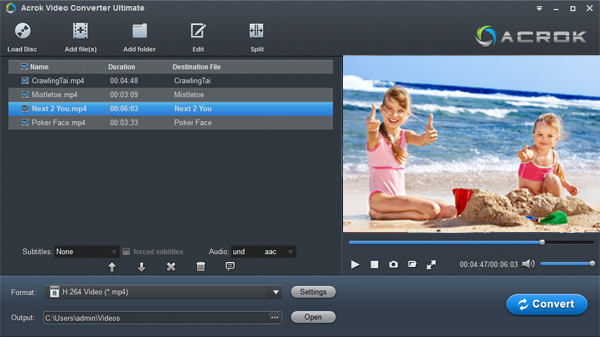 2
Set output format
Click the format bar or the pull down menu of "Format" to select output format. For editing Sony MXF video in PowerDirector, you need to choose "Common Video" then "H.264 Video (*.mp4).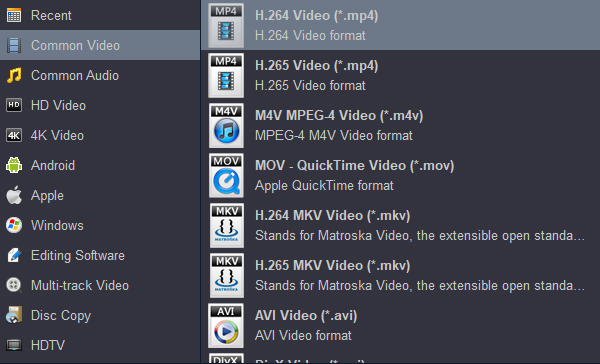 3
Start conversion
Tap the "Convert" button on the main interface to start transcoding Sony MXF videos for PowerDirector 19, 18, 7, 16 and PowerDirector 365. You can check the conversion process at any time.
When the conversion is done, please click "Open" button to locate the converted video files. Run PowerDirector, you can load the converted videos into PowerDirector for smoothly editing now.