Lightworks is a professional non-linear editing system for editing and mastering digital video in various formats, including 2K and 4K resolutions, and television in PAL, NTSC, and high-definition formats. The free and the pro version of Lightworks are identical in terms of functionality. The only thing the free version of Lightworks limits are your output formats, so for projects that are not intended for YouTube or Vimeo, you'll need to upgrade to the $24/mo* subscription.
Here I'm talking about H.265/HEVC videos your got. We can download many H.265 MP4 or MKV movies form video sharing websites, and record 4K HEVC footage with new cameras, camcorders even smartphones. As you may find it's hard to edit H.265 files with Lightworks, in this article, I will show you the tools and easy steps you'll need to edit Full HD and 4K H.265 videos in Lightworks in just few minutes.
Part 1. Tools You'll Need to Edit H.265 files in Lightworks
H.265 will surely become the mainstream video codec soon. Nowadays H.265 is widely used to shoot 4K recordings by many professional cameras. Video editing is a complicated job. To begin with, you need to have a Windows or Mac Computer. A mobile phone or tablet simply won't work since they are not powerful enough. Second, you need to have the Lightworks free and the pro (paid) version on your computer. Finally, you need an H.265/HEVC Video Converter too.
You may think it is as easy as editing other common video formats you shoot in Lightworks, but it is not the case for H.265/HEVC videos. It is officially stated that H.265 is not supported by Lightworks, so many people are encounter problems when working with H.265 files in Lightworks. Don't worry. You can simply install Acrok Video Converter Ultimate which is the most advanced video conversion tool for any video format amd codec. With this smart software, you can easily transcode H.265/HEVC footage and import the video to Lightworks for editing. For Mac user, pleasr download Acrok Video Converter Ultimate for Mac to do the H.265 to Lightworks supported video format conversion.
H.265/HEVC to Lightworks Converter
– Supports to add H.265/HEVC movies or recordings
– Convert H.265/HEVC videos to Lightworks supported MP4, MOV, MPG etc
– Keep original quality, including AC3 5.1, closed caption, AD, subtitles, etc
– Rip and convert Blu-ray/DVD to any format any device
– Transcode H.265/HEVC to all editing software
– Convert MKV, MOV, MP4, WMV, AVI to smartphone/tablet playable video
Lightworks Pro/Free Supported Video Formats – Import
You can import and handle the following video file formats in Lightworks.
Lightworks Free:
MXF OPAtom – P2, MXF OPAtom – native Avid support, Quicktime, AVI, .mts, m2ts, .m2t; .mpg, .mp4, .ts, .m2v, .asf, .vob
Lightworks Pro:
MXF OPAtom – P2, MXF OPAtom – native Avid support, Quicktime, AVI, .mts, m2ts, .m2t; .mpg, .mp4, .ts, .m2v, .asf, .vob
Part 3. Step by Step Instruction to convert H.265/HEVC for Lightworks
After downloading and installing H.265/HEVC to Lightworks to your computer, you can simply follow the tutorial here and begin to convert videos to Lightworks supported video format in 3 basic steps:
1
Add H.265/HEVC videos
Please make sure you have copied the H.265/HEVC videos completely to your computer first, then you can drag the H.265/HEVC videos to the software main screen. Another way is to click the "Add file" icon from the top left to open a pop up window, you can open you folder and select the videos you want to covnert.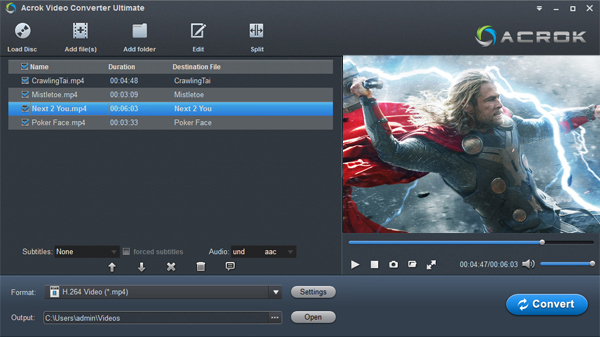 2
Select output format
Lightworks is a professional level video editing tool, it supports many formats, so usually you can just need to keep default format MP4 to convert directly. In this way, the converting speed is the fastest and the quality will be the same. For get 1080P videos, plesae choose "HD Video > HD H.264 Video (*.mp4)" If you have some specific requirements for your output video, you can click the "Settigs" button to customize the bit rate, frame rate and you can also customize the subtitle and audio track.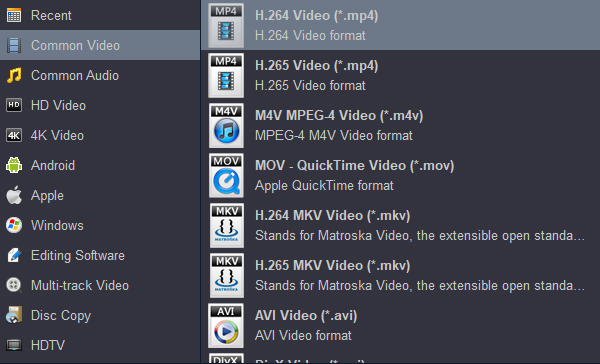 3
Convert H.265/HEVC for Lightworks
When you finish the settings, you can click the "Convert" button in the main UI to begin the H.265/HEVC to H.265 conversion. Please wait a few minutes until it is done completely. You can see your converted videos by clicking "Open" button.
Part 4. How to Import Videos to Lightworks
As you can see, it is a simple task to convert your H.265/HEVC videos. With the right converter tool, you can quickly and easily convert your video files using the preset optimized settings. Bear in mind that it can also convert many of the other regular videos such as Blu-ray, DVD, AVI, VOB, MP4, WMV, FLV, TS, MOV, MTS, MXF, MKV, and more to Lightworks editable format with high video quality. Now, you are able to import and edit your H.265/HEVC videos in Lightworks with ease and at your convenience.
Below is the video tutorial on how to load your videos into Lightworks: