Q: Why I can't load Panasonic Lumix GH6 4K MOV into Vegas Pro for editing? The machine is Asus ROG Strix G17 G713RM-RTX3060, it is running Windows 11. If you have a solution, please share it with me as soon as possible.
A: The description of your problem is not clear enough, because there are many other parameters besides video coding. There are more than a dozen different versions of Vegas Pro. I suggest you convert mov format to the format supported by Vegas Pro (including audio and video coding, bit rate and resolution). Read this guide "How to edit any MOV files in Vegas Pro smoothy" to get details.
Q: I have a question regarding importing Lumix GH6 4K MP4 files into DaVinci Resolve … What I do is, transcode it to DaVinci Resolve format with Handbrake but this procedure takes ages … I was wondering if there's a simpler or another way of doing it quickly?
A: You can use Handbrake to convert them into DaVinci Resolve editable codec. However the process is very slow and sometimes you may failed to get the job done. For an simple and quick transcoding, you cna try the easier-to-use yet powerful video converter and decoder – 4K Video Converter.
About Lumix GH6
The Lumix GH6 essentially looks like a GH5 and an S5 got together and spawned a new model. It still has some of the design elements of the older GH models, but it's bulkier, more angular, with bolder protrusions. GH6 offers 4:2:2 10-bit DCI 4K/60p, 10-bit 5.7K at 60p and 4K at 120fps, as well as unlimited recording times in every video mode. The video packaging formats are MOV and MP4. If you use h.265 or apple prores codec to record video, and plan to edit them in Vegas Pro or DaVinci Resolve, you'll have a dilemma.
As it happens with H.265, ProRes is not for editing in old PCs, is for delivery. Plus, the old version of Vegas Pro, DaVinci Resolve can't support 120P 4K footage well. To edit Lumix GH6 5.8K, C4K and 4K video in Vegas Pro/DaVinci Resolve flawlessly, an ultimate solution we found would be to transcode/compress GH6 files for smoothly editing.
With a professional 4K Video Converter – Acrok Video Converter Ultiamte, you can get the work done easily. This software is able to convert MP4 and MOV files from Lumix GH6 to Vegas Pro, DaVinci Resolve, Avid Media Composer, Premiere Pro, After Effects CC fully compatible format and keep original quality at the mean while. Download the software and follow the guide to finish the conversion task.
Free download and try Lmix GH6 Video Covnerter
How to convert Lumix GH6 4K MOV/MP4 for using in Vegas Pro/DaVinci Resolve?
The guide below shows how to Lumix GH6 videos in Windows 10/11. The steps to convert ProRes and H.265 files for Vegas Pro/DaVinci Resolve on Mac are the same. Just make sure you download the right version according to your computer's operating system.
1
Add Lumix Gh6 videos
Download, install and run the Panasonic Video Converter, click "Add file " icon to load your source MOV, MP4 videos from Panasonic Lumix GH6.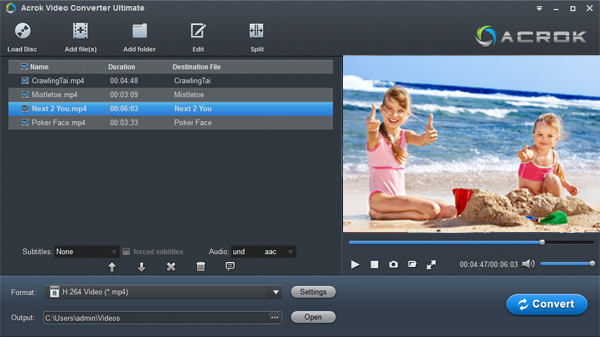 2
Choose output profile
Click "Format" bar and choose Editing Software > Sony Vegas MPEG-2(*.mpg) as output format for editing Lumix GH6 4K MOV/MP4 in Vegas Pro 19, 18, 17, 16 with natively supported video codec.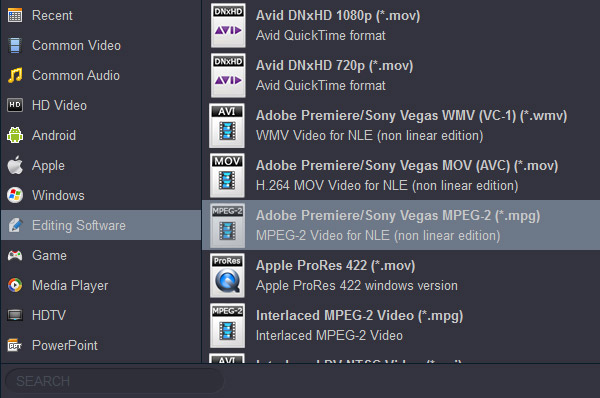 For DaVinci Resolve users, please select Common Video > H.264 Video (*.mp4) as output format. You can edit the converted files in DaVinci Resolve 17, 16, 15 smoothly.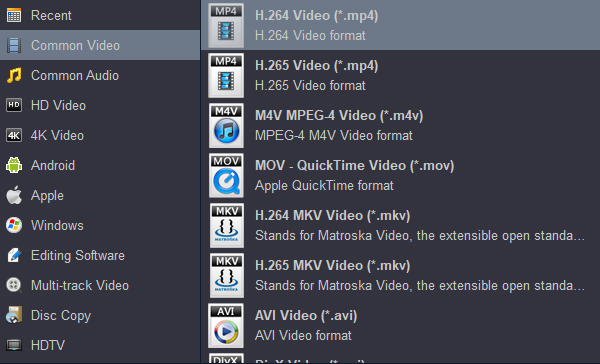 3
Edit your Lumix GH6 videos (Optional)
Select the video that you plan to edit, click "Edit" icon then you'll see Trim, Crop, 3D, Effect, Watermark, Subtitles and Audio 7 video editing functions as follows. You can trim your favorite part from the video to convert for more fun.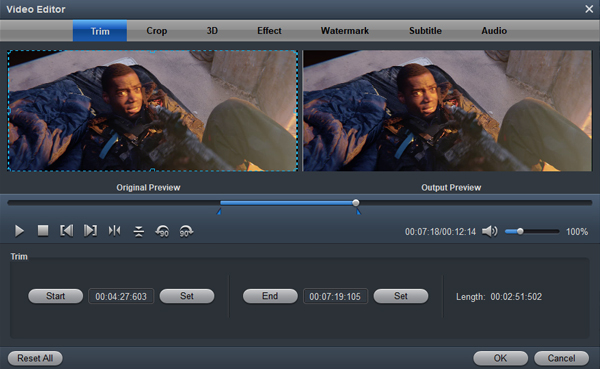 4
Start video conversion
Hit the convert button, this best 4K video conversion software will start converting Lumix GH6 H.265 and ProRes files for importing to Vegas Pro and DaVinci Resolve.