This article helps you to solve the problems of importing and editing the Sony FX3 XAVC HS file in DaVinci Resolve 18/17 on Windows 11.
Sony FX3 is an incredible camera when it comes to image quality. Obviously we have a brand new sensor and zooming in at 100% is the most beautifully crisp images. I even showed him. I stopped in my tracks editing these photos and I was like, 'Jim, you gotta come look at this.' It's a lot because I require a lot. And obviously Sony lenses are great too paired along with this camera but this camera's quality for the price it is and what it is, is absolutely amazing. I'm using a Sony FX3 and DaVinci Resolve 18/17 on a Windows 11 PC. I would like to know the best workflow so I can get XAVC HS .mp4 footage from the camera, into DaVinci Resolve 18/17 I can start editing.
My attempts so far: Importing the XAVC HS file directly into DaVinci Resolve 18/17.
Result: It shows import failed at last. Then I changed the formats and try one more time, although, when dropping the clip onto the timeline, only the audio appears. Again, the audio and video appear on the time line, but the audio is shorter than the video and skips and jumps.
Many DaVinci Resolve users all have this problem, because the MP4 format which isn't compatible with DaVinci Resolve 18/17 on Windows 11. Although, DaVinci Resolve offers much better native MP4 support than its predecessor, Sony FX3, Sony a1, Sony a7S III and Sony a7 IV XAVC HS MP4 footages still can't be supported by DaVinci Resolve 18/17. It means if you want to work Sony MP4 file in DaVinci Resolve on Windows, you'll need to convert XAVC HS video files to something usable for DaVinci Resolve, mostly likely H.264 which is one of the most compatible format for DaVinci Resolve on Windows 11, 10, 8.1, 7.
So, we need to find a converter to convert Sony FX3 XAVC HS footage to DaVinci Resolve on PC. For an simple and quick transcoding, you can try the easier-to-use yet powerful video converter and decoder – Acrok Video Converter Ultimate. With it, you can fast convert XAVC HS .mp4 H.265/HEVC to H.264 codec. The result H.264 file ensures the maximum editing quality and efficiency when working with DaVinci Resolve. Besides H.264, you can also encode any video to other professional codecs like Apple ProRes, Apple Intermediate Codec, MPEG-2, DNxHD for for fast and fluid workflow with Final Cut Pro, iMovie, Premiere Pro CC, Avid Media Composer and more.
Apart from being a universal converter that supports more than 200+ file formats at the time of this writing, Acrok is extremely lightweight and can render the files 30 times faster than other post-production tools. With the ability to apply effects, add watermarks, and include subtitles to the videos, XAVC HS to DaVinci Resolve Converter can be considered a one-stop-shop for all your media-related tasks to come up with industry-standard outputs on Windows 11 and Windows 10. This software also comes with a Mac version. You can transcode XAVC HS on macOS Monterey and macOS Big Sur with fast speed too.
Download the Sony FX3 XAVC HS Video Converter:
Guide on converting Sony FX3 XAVC HS clips to DaVinci Resolve friendly videos for editing
1
Import Sony FX3 Videos
First connect your Sony FX3 to a computer and transfer .mp4 to hard drive. Then click "Add file" to import Soy FX3 XAVC HS files to this Sony Video Converter. You can click on the preview on the right.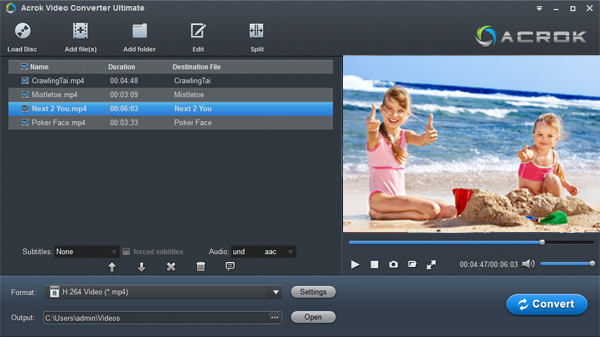 2
Choose Output Format
Click "Format" drop-down bar to select a proper video format. To edit Soy FX3 XAVC HS videos in DaVinci Resolve, then Common Video > H.264 Video (*.mp4) is the suitable one.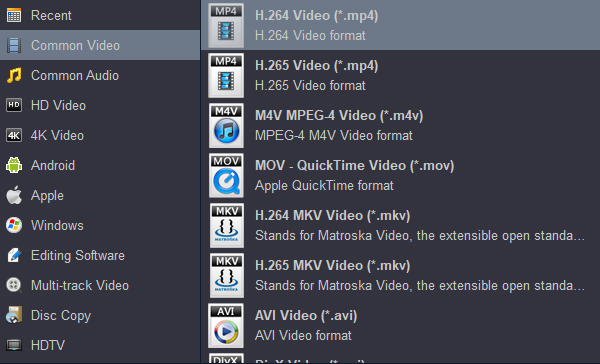 Tip: The product can not only convert XAVC HS to H.264 MP4 for editing in DaVinci Resolve, but also has more editing functions that you can click the "Edit" to do some editing incidentally, such as trim, crop and change the effect.
3
Convert XAVC HS for DaVinci Resolve
Click the "Convert" button to start transcoding Sony FX3 files to DaVinci Resolve best editing format. After the conversion, click the "Open" button to locate the output files and transfer the converted XAVC HS files for editing in DaVinci Resolve 18/17 on Windows.
Finally, the problems of XAVC HS to DaVinci Resolve 18/17 on Windows have be solved. You can edit your Sony FX3 video in DaVinci Resolve arbitrarily, or share with your family and friends.