The Osmo Action 4's image sensor size leapfrogs the market leader. The camera also extends horizon balancing to useful resolutions and frame rates, and the waterproofing can go deeper. The camera can capture video in 10-bit D-Log M, opening access to billions of colors for image editing, and the battery offers up to 2.5 hours of recording time and fast charging.
Question:
I've recently recorded with the Osmo Action 4 and I'm having weird distortion in my DLOG-M footage, this plays fine on the camera itself and also plays fine on video players on my computer however in Davinci Resolve it has this weird distortion effect every so often in the clips I'm colour grading, any help would be much appreciated.
From: DJI Forum
The camera features a 1/1.3" sensor to record up to UHD 4K120 video and capture experiences in dynamic, smooth detail. The camera compresses ultra high-resolution video into manageable chunks of data using H.265. After the shooting, a lot of people try to work the Osmo Action 4 MP4 with DaVinci Resolve 18 which has claimed native editing support for H.265 format with a resolution up to 3840 x 2880, however, some people complain that DaVinci Resolve 18 doesn't work with H.265 well, there are still other people complain that the decoding H.265 brings a lot of CPU taxing to your computer. The following article will explain why DaVinci Resolve not work with Osmo Action 4 H.265 footage and how to get a high quality and high performance workflow of Osmo Action 4 4K footage with DaVinci Resolve.
Why fail to import DJI Osmo Action 4 4K MP4 to DaVinci Resolve?
Although DaVinci Resolve can now handle 4K MP4 file format, however, it doesn't mean that you can successfully load the DJI Osmo Action 4 MP4 recordings into any versions of DaVinci Resolve since only DaVinci Resolve 16 and later versions have the ability to handle QuickTime H.265 in MOV format. So you will fail to load your Osmo Action 4 4K H.265 (.mp4) videos into any vesions of DaVinci Resolve.
How to get the best workflow of Osmo Action 4 4K MP4 with DaVinci Resolve 18?
As we have mentioned above, the process of decoding H.265 codec is very CPU intensive and especially for 4K H.265 codec, if your computer is old or slow, you won't get a fluent editing process. The solution to this problem is to create proxy files directly with DaVinci Resolve 18. In other words, you need to convert H.265 to DaVinci Resolve supported format.
To successfully load Osmo Action 4 4K H.265 to DaVinci Resolve 18, 17, 16, etc, you will need to perform a codec transcoding process. Here, you can easily complete the job by downloading Acrok Video Converter Ultimate, which can assist you to convert and compress the unsupported 4K H.265 to DaVinci Resolve native preset H.264, ProRes, DNxHD file formats with the optimal editing settings.
Free download and try this best DJI Video Converter
Apart from converting the 4K H.265 video, the program can also work as a splendid H.265 video editor to assist you to complete some basic editing task with its built-in editing functions. You can trim or cut Osmo Action 4 video to remove the unwanted parts or segments, crop the video to remove the black bars or unwanted size area, add watermark, apply special rendering effect, etc. In addition, you convert your doenloaded mvoies to any format any device, rip and convert Blu-ray/DVD to common formats to fit your smartphone, tablet, tv, etc.
Guide on converting Osmo Action 4 4K MP4 for DaVinci Resolve Editing?
Step 1: Load MP4 video.
Download the free trial version of the H.265 to DaVinci Resolve Converter. Launch it on your computer. Click "Add File" menu r to import DJI Osmo Action 4 4K MP4 video files into the program.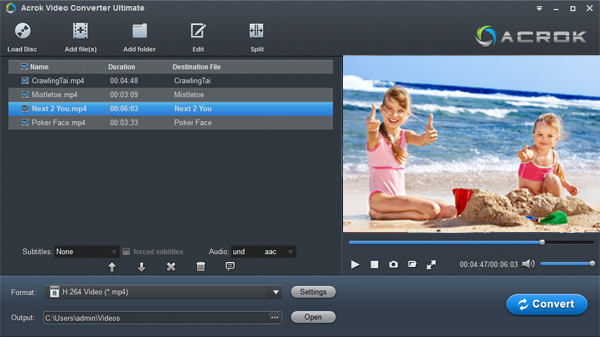 Step 2: Choose output file format.
Clicking the Format bar, from its drop-down list, scroll the mouse pointer to "Editing Software" option, select DaVinci Resolve best editing codec "H.264 Video (*.mp4)" under "Common Video" main category. If your computer configuration is powerful enough, you can also transcode H.265 video to Apple ProRes 422 MOV.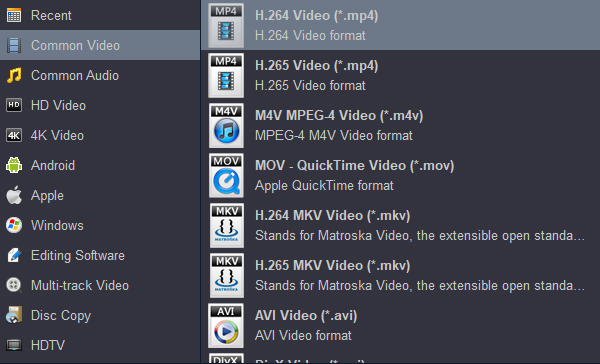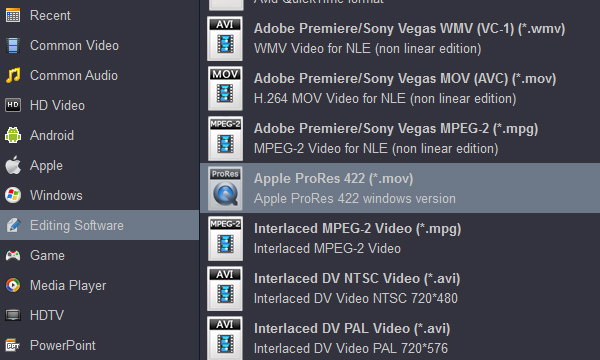 Tip: For Mac users: Please follow "Format> Final Cut Pro > Apple ProRes 422 (*.mov)".
Step 3: Edit Osmo Action 4 footage.
On the top tool bar on the main interface, click the "Edit" icon to open "Video Editor" window, you can trim Osmo Action 4 footage to remove the unwanted parts by setting the start and end time, crop to remove the black borders or unwanted area by dragging the dash line around the video frame, flip video, add text/image/video watermark, change video picture effect, replace/remove audio in video, add external subtitles, etc.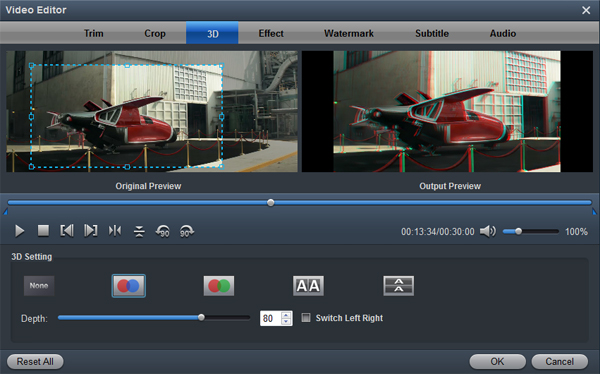 Step 4: Start the conversion process.
After all setting is over, go back to the main interface and hit right-bottom "Convert" button to start to convert Osmo Action 4 H.265 video to DaVinci Resolve specially optimized editing formats encoding process.
When the conversion is completed, launch DaVinci Resolve on your computer to import converted video to DaVinci Resolve for smooth post editing workflow.