If you are puzzled with the problem that you can't edit your 4K footage recording from Panasonic AG-DVX200 in Final Cut Pro, you'd better convert your Panasonic AG-DVX200 4K MOV or MP4 video files first to resolve the incompatible problem. – Anthony Bitalvo
The AG-DVX200 is a handheld camcorder of largely conventional layout (albeit in somewhat unconventional packaging), with a fixed 13x zoom lens, side handgrip, pull-out 4.3″ LCD, and rear-mounted EVF. Appealing to schools in particular, the DVX200 does not record in a proprietary format. One simply chooses .mov or .mp4 (or AVCHD) and that's it.
As you see, the Panasonic AG-DVX200 gains great respect for its 4K ability. While, you will find it's a painful experience to import and edit Panasonic Panasonic AG-DVX200 MOV and MP4 in Final Cut Pro. Although FCP X supports 4K, while most editing programs including FCP 7 and FCP 6 still use 1080p as primary delivery format and will continue to do so for a long time. How to import and edit Panasonic AG-DVX200 4K video in Final Cut Pro smoothly and without rendering?
You may tried several conversion software, but couldn't find one that could do what you wanted with good quality. Some of them produced files with terrible image, and others converted the audio a few frames behind the video no matter what settings you tried. So your question is, is there a very easy to use 4K Video Converter that could work perfectly for me (convert seamlessly)? Any recommendations?
This tutorial will show you how to easily convert Panasonic 4K MP4 and MOV footage so that you can import the Panasonic AG-DVX200 4K footage to Final Cut Pro X, FCP 7 and FCP 6 for editing. Acrok HD Video Converter is the best 4K Video Converter which can help you transcode Panasonic AG-DVX200 4K MOV and MP4 video to Apple Final Cut Pro native editing codecs-Apple ProRes 422 and Apple ProRes 4444.
Downloading the App – Acrok HD Video Converter (Windows | Mac)
Convert Panasonic AG-DVX200 MOV or MP4 for editing in FCP X/7/6
1
Add Video
Launch the Panasonic 4K Video Converter on your Mac, then click the adding button to import your MOV or MP4 flies from Panasonic AG-DVX200 or HD drive directly.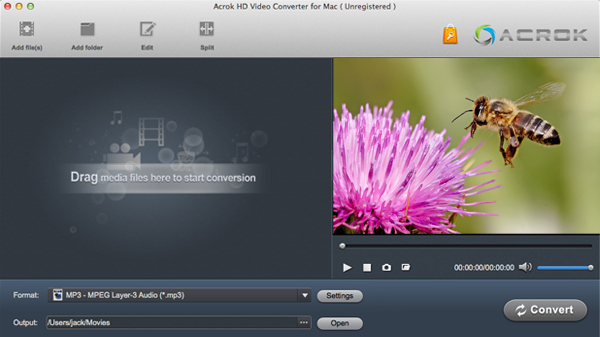 2
Choose FCP best editing foramt
To edit Panasonic AG-DVX200 4K recordings in Final Cut Pro X, you need to select "Apple ProRes 422 (*.mov)" as output format under "Final Cut Pro" column. The ProRes codec is also workable in its former version FCP 6 and FCP 7.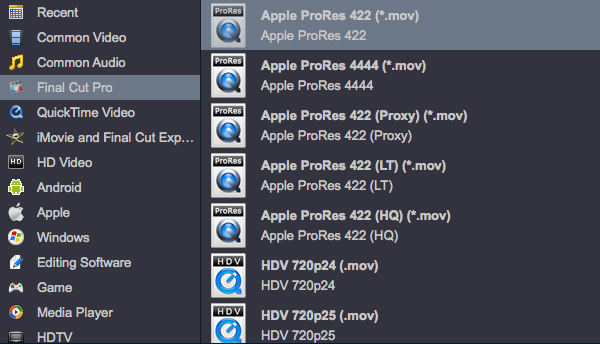 3
Start Vdieo Conversion
When ready, click "Convert" to start format conversion. Once the conversion process is complete, you can click "Open" button to get the generated ProRes MOV files for editing in FCP X, FCP 7 or FCP 6 with optimum performance.
P.S. If you record 4K files with Panasonic AG-DVX200 and meet troubles in editing 4K MOV/MP4 in Premiere Pro CC, Sony Vegas Pro, Avid Media Compress this Apple ProRes Converter can be also used to transcode the videos to H.264 for Premiere Pro, MPEG-2 for Sony Vegas Pro, DNxHD for Avid, etc which ensures a smooth workflow.