Q: HEVC .mp4 won't play on Xbox Series X, why? Xbox Series X can't read the 4K H.265 movies. Please help me.
A: Xbox Series X only is only compatible with MP4 encodeing with H.264 or MPEG-4 codec. So you can't view the HEVC movies on Xbox Series X from USB or DNLA. There is no other solution but you will need a H.265 to Xbox Series X converter to convert H.265 files to Xbox Series X supported format.

Q: Will Xbox Series X play Blu-ray and DVD discs?
A: Yes, the Xbox Series X will be capable of playing discs, including games and 4K Blu-rays, due to its internal 4K optical drive. Your collection of games and movies that you play on Xbox One will be okay and if you aren't yet ready to go all-digital, you have the option of still buying your games on discs. In order to avoid abrasion and damage, you still need to back it up to PC. Of course, a Blu-ray backup software or Blu-ray Ripper is essential. Acrok Blu-ray Ripper (Acrok Video Conveter Ultimate) is a good idea.

Q: Can we play downloaded movies on Xbox Series X from USB-A?
A: Yes, If your videos does not meet the requirement, your Xbox Series X will refuse to open and play. The premise is that these video formats are supported by Xbox Series X.
2020 is a special year, It's also a sad year. COVID-19, Kobe died, plague, etc. However, we have to face the realities. With appreciation in mind, we should live positively, no matter how tough the life could be. We can fly so high, fire in my heart is never die, we have to believe everyday will be a Newsdays. As a gamer, there will be some surprises this summer. Xbox Series X and PlayStation 5 will meet us. Here are some important parameters.
Xbox Series X VS PlayStation 5
| | | |
| --- | --- | --- |
| | Xbox Series X | PlayStation 5 |
| Processor | Custom AMD Zen 2-based CPU (8x @ 3.6 GHz) | AMD Zen2 8 core @ 3.4 GHZ (Sony is working on boosting to 3.7GHZ) |
| Graphics | Custom AMD Navi-based GPU (12 TF RDNA 2.0) | 13.3TF Custom RDNA 2 GPU @ 1.7GHZ with 60 Compute Units |
| Memory | 16GB GDDR6 RAM (13GB guaranteed for game developers) | RAM 16GB GDDR6 + 4GB DDR4 |
| Storage | NVMe SSD | SSD@5.5GB/S @ 1TB |
| Video output | 8K, 4K @ 120Hz | 8K, 4K @ 120Hz |
| Optical drive | 4K Blu-ray | 4K Blu-ray |
| Ports | 3x USB-A, HDMI 2.1, and possible CFexpress expansio | USB Type-C (x3 ) |
| Color | Matte Black | White |
| Price | $499 | $489 |
| Size | 30cm x 16cm x 16cm (estimate) | 11.61in x 12.87in x 2.17in |
| Release date | Holiday 2020 | Holiday 2020 |
OK. Now, let's talk some business. Sony and Microsoft has launched their own heavyweight products in the 2020 holiday shopping season. The PlayStations 5 is amazing, exquisite appearance, super configuration. Not to be outdone, Xbox Series X achieved 8K resolutions, or 4K at up to 120 frames-per-second, complemented by ray-tracing, variable refresh rate support, and more. If you got the Xbox Series X, you may want to play downloaded movies on Xbox Series X from USB. But how can we play the unsupported videos on Xbox Series X from USB smoothly? Maybe you have some 4K movies downloaded from movie sharing websites, in this article we will share the simple ways to watch any moives on Xbox Series X with native supported codec.
Xbox Series X Video & Audio
Video
HDMI Resolution &
Framerate
2160p (4K) @ 120Hz; 4320p (8K) @ 60Hz; HDMI VRR & AMD FreeSync
HDR
HDR10; Dolby Vision Low Latency
HDMI 2.1 Features
Auto Low Latency Mode; Variable Refresh Rate; Fixed Rate Link
Content Protection
HDCP 2.2
Video CODECs
VP9, H.265 HEVC/MSP, H.264 AVC/MVC/SVC, MPEG-2, MPEG-4 Part 2, VC1/WMV9
Audio
HDMI Audio,
Encoded
Dolby Digital 5.1, DTS 5.1, PCM 2.0, 5.1, & 7.1; Dolby TrueHD w/Atmos (from
games)
HDMI Audio,
Pass-through
Dolby TrueHD (opt. Atmos), DD+ (opt. Atmos), DTSHR/MA (opt. DTS:X)
CODECs Decoded
AAC, MP3, MPEG1, WMV
How to play your movies on Xbox Series X?
Install the Xbox Series X Media Player App
This app isn't installed by default, so you'll need to install it yourself from the Xbox Store. To launch the Xbox Store, head to My Games & Apps > Apps > Find more in the Xbox Store. Search for "media player" and install the Media Player app.
Method 1: Play Videos and Music From an USB Drive
If you have a USB flash drive or external drive, you can use it to play videos on the Xbox Series X. The Xbox Series X supports USB drives. The drive must be formatted. If you have a Windows PC, your USB drive will work on your Xbox Series X as long as your Windows PC can read it. If you have a Mac, be sure to format the drive as exFAT and not with a Mac-only file system like HFS+.
Connect the drive to your computer and copy your video, music, or picture files onto it. Eject it from your computer and connect it to one of the USB ports on your Xbox Series X.
Open the Media Player app and you'll see your connected drive as an option. Select the drive and you can browse all the media files on it and play them, controlling the playback with your Xbox controller.
To make your downloaded movies compatible with Xbox Series X, the best way we've worked out yet is to convert the unsupported format to Xbox Series X supported format. Acrok Video Converter Ultimate (Windows Version | Mac Version) is highly recommended. With Acrok software, you can lossless transcode MKV, MP4, MOV, AVI, WMV, FLV, MTS to Xbox Series X playable MP4, AVI, MOV and WMV with fast speed. In addition, more than 250+ profiles listed to ensure you can get the desired devices, iPhone, Galaxy S Series Smartphones, HDTVs, Smart TVs, iPad, etc. Most importantly, you can use this software to rip and covnert Blu-ray and DVD discs to any device for more enjoyment.
Free download Xbox Series X Video Converter
You can play any video after converting to Xbox Series X supported format with Acrok Video Converter Ultimate. This is video converter that does a number of functions, including acting as a professional video editor. It also gives you a number of ways to customize your videos. You can not only trim, rotate or crop your video before conversion, but also add watermark and subtitles. If you are not satisfied, you can also convert your videos to formats supported by third-party software for further editing.
How to convert movies to Xbox Series X supported format?
1
Add Video Files
Install and run Acrok software as Xbox Series X Video Converter on your PC. Click "Add file" to load your downloaded movies into it. You can play the loaded videos via this video conversion program. Double-click the preview window to view the imported material in full screen.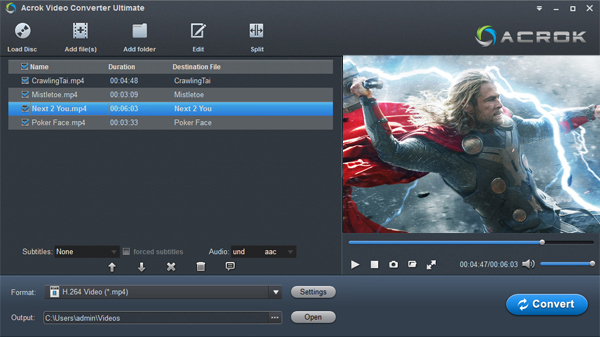 2
Select Output Format
Click "Format" bar and choose Xbox Seris X compatible formats. For converting 1080p or 720p movies, you need to choose "Game > Xbox One HD Video (*wmv)".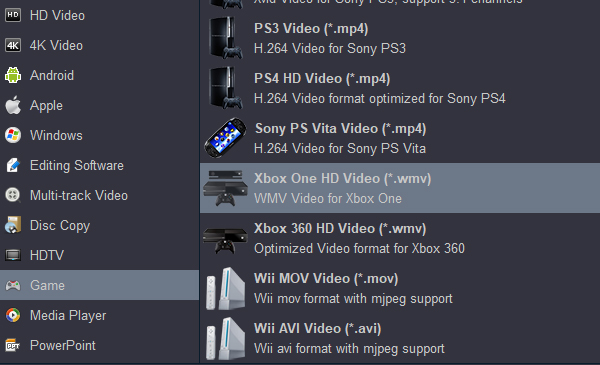 For converting 4K H.265 MP4/MKV/MOV, please choose "4K Video" then select "4K MP4 (*.mp4)" as output video format.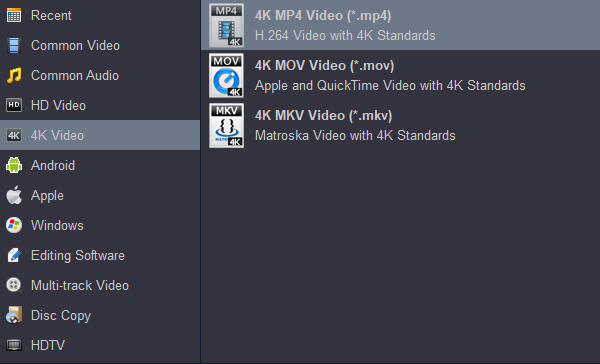 This software offers kinds of preset profiles for media devices including Galaxy S20, iPhone 11 Pro Max, iPad 2020, PlayStation 5, OnePlus 8, Huawei P40, Sony Smart TV, Panasonic Smart TV, etc to meet your different needs.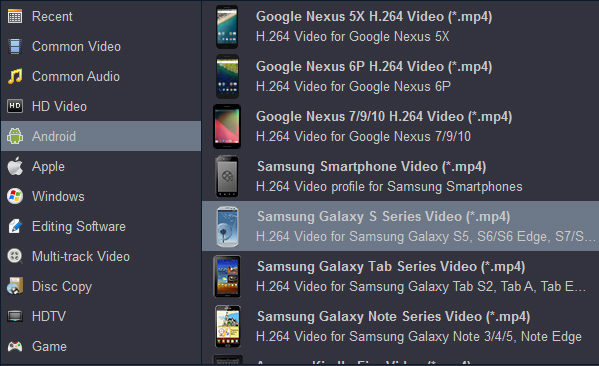 Tip: You can click "Settings" button, you are free to tune/customize the parameters based more on personal requirements.
3
Start Video Conversion
Last, click the "Convert" button to start Unsupported video format to Xbox Series X supported codec and format conversion. When the conversion is done, you can click "Open" button to get the generated files effortlessly. Afterwards, you can transfer the movies to your USB drive then play these movies on Xbox Series X from USB.
Method 2: Play movies on Xbos Series X using DLNA
Alternatively, you can skip the USB drive entirely and stream a video from your computer to your Xbox Series X using DLNA. You could also use a network attached storage (NAS) device as a DLNA media server if you have one.
To do this, you'll need to set up a DLNA server on your PC or Mac first. Microsoft recommends–and officially supports–Windows Media Player as a DLNA server. This feature was introduced in Windows 7, and it still works on Windows 8, 8.1, and 10. If you use a Mac, you'll need to find a third-party DLNA server like Plex.
Once you have a DLNA server set up, it will appear in your Xbox Series X's Media Player app as an option alongside any connected USB drives, allowing you to browse and stream media files stored in your media libraries.
Note: Before playing movies on Xbox Series X using DLNA, you have to convert the movies to Xbox Series X supported video format via Acrok software.
Conclusion
Based on our sharing above, you should understand how to play downloaded movies on Xbox Series X. First of all, Xbox Series X does not support all the video formats natively, so you have to convert your movies to another video format and then watch them. Acrok Video Converter Ultimate is a good option if you want to decide the audio and subtitle tracks of your movies. For more questions, please contact us.
Free download Xbox Series X Format Converter