DaVinci Resolve is the world's first solution that combines professional offline and online editing, color correction, audio post production and now visual effects all in one software tool. Blackmagic have announced on Friday the 13th the immediate availability of DaVinci Resolve 18, which adds universal app support for M1 powered Macs. It includes over 300 new features and improvements.
XAVC S is a consumer-grade subset of the pro-level XAVC video codec, which was developed primarily to retain better image quality for 4K resolutions, high frame rate video, and 10bit video. XAVC S has a higher maximum data rate (around 50Mbps). XAVC S video is wrapped in the MP4 file container format to enable viewing and editing on the vast majority of devices, so conversion from XAVC S to MP4 is not required – all XAVC S files should automatically be stored as MP4s.
Although Blackmagic claims that the last couple of release updates of DaVinci Resolve 18 full supports XAVC S including export, it's not suitable for all frame rates. That's why you always get the "generic error" message when you tried to get DaVinci Resolve 18 to recognize XAVC S files from Sony AX43, Sony AX53, Sony FDR-AX700, Sony a7S III, Sony ZV-1, Sony a6100, Sony a6600 and more XAVC S cameras. Below are the frequently asked questions quoted from Blackmagic official forum:
"Can you import Sony 4K XAVC S movies to DaVinci Resolve 18 to edit XAVC S footage in DaVinci Resolve 18? I have some 4K XAVC S collections and would like to import these XAVC S videos into DaVinci Resolve 18 but I was told that DaVinci Resolve only accepts video files. Can I import the MP4 files from Sony AX53 to DaVinci Resolve 18 for editing? If not, how can I import XAVC S to DaVinci Resolve 18? Please help me with this. Any advice would be appreciated."

"A client gave me footage last minute shot by the Sony a7S III. I am using DaVinci Resolve 18 and when I go to import the footage I get the error "codec missing or unavailable". What am I missing? How do I get the footage to read properly?"
Solve the XAVC S to DaVinci Resovle importing ERROR
As you see, when importing 4K XAVC S to DaVinci Resolve 18, 17, 16, 15, it shows codec missing or unavailiable. To quickly solve the issue, you'd try transcoding XAVC S to someting you're comfroatble with editing using DaVinci Resolve.
According to the official DaVinci Resolve site, you need to make sure your source video files are in the below file formats and codecs:
Supported video formats and codecs include but are not limited to: avi, r3d, m2ts, mp4, mxf, prores, dnxhd, mxf, dpx, cin, exr, mov, etc.
Some of the most commonly processed image file formats are: .tif, .psd, .png, .dng, .jpg, .exr and .dpx.
It also allows FCPXML/EDL/AAF files.
Popular audio file formats (file extensions) supported by DVR: wav, aiff, mov, mp3, mp4, mxf, r3d, aac etc.
Therefore, if you need to edit video files in DaVinci Resolve, make sure you have your source video files in these file formats and codecs. Obviously, your XAVC S videos are not accepted by DaVinci Resolve natively. For importing and edit any XAVC S files in DaVinci Resolve, you'd better transcode XAVC S to DaVinci Resolve supported video format.
Best XAVC S to DaVinci Resolve Converter
Acrok Video Converter Ultimate is a professional yet easy-to-use tool to help users to make the XAVC S to DaVinci Resolve editable format conversion on Windows (including Windows10). With it, you can easily convert 4K and 1080P XAVC S to a format such as MOV/MP4 H.264, DNxHD MOV or Apple ProRes MOV. These formats can be well compatible with DaVinci Resolve. H.264 files can preserve image quality with the smallest file size. Both DNxHD and ProRes can preserve the best image quality and provides better performance when editing in DaVinci Resolve 18, 17, 16, 15. For Mac OS X users, please get Acrok Video Converter Ultimate for Mac, you can transcode XAVC S to any video format on macOS (including macOS Sonoma).
Free download XAVC S Converter for DaVinci Resolve
How to convert XAVC S for editing in DaVinci Resolve?
1
Add XAVC S video files
Install and launch the best XAVC S to DaVinci Resolve Converter and load source .mp4 clips to this best 4K Video Converter. This is a smart tool specially designed for 4k users to preview and convert 4K recordings to your wanted video and audio formats, so as to smoothly add them into Premiere Pro CC, iMovie, Final Cut Pro X, Avid Media Composer and Vegas Pro to do further editing.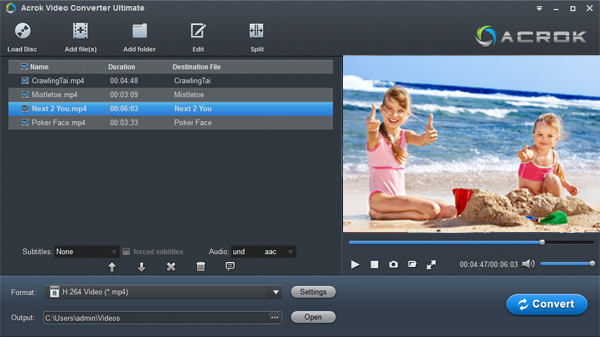 2
Choose a proper output format
Click on the "Format" bar and choose a best editable format. For editing in DaVinci Resolve, choose 4K > 4K MP4 (*.mp4) or 4K MOV (*.mov) as output format. If you like, you can choose ProRes MOV or DNxHD MOV as output format here.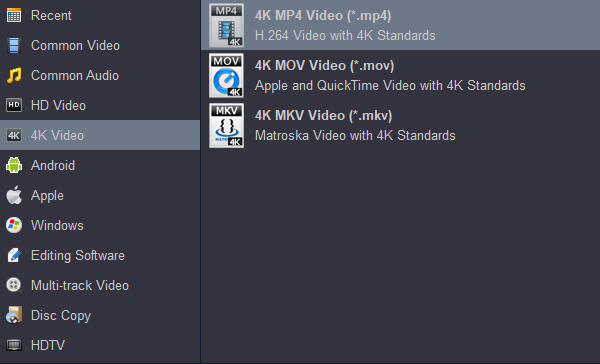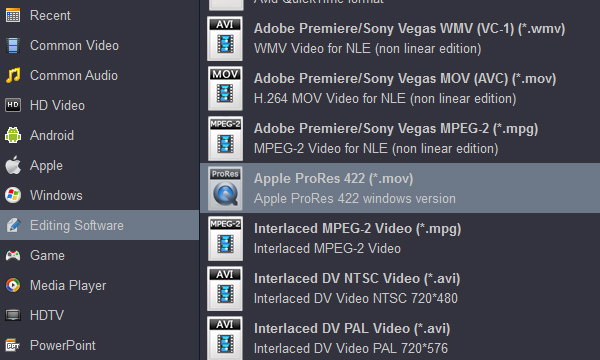 Important Note: The output H.264 MP4 files can preserve image quality with the smallest file size. The DNxHD and ProRes files can preserve the best image quality and provide better performance when editing in DaVinci Resolve Please not that ProRes files typically need ten times as much storage of H.264-based files.
3
Edit and settings
You can cut and trim and cut your 4K XAVC S video, crop, merge, rotate, etc. to make some easy video edits in a linear manner with XAVC S to DaVinci Rsolve Converter. In case the default settings do not fit your requirement, you can click "Settings" button and enter "Profile Settings" panel to adjust video size, bit rate, frame rate, sample rate and audio channels. 1080p would be the best settings. Of course, if you wanna get 4K XAVC S workflow in DaVinci Rsolve, you can keep the original video resolution.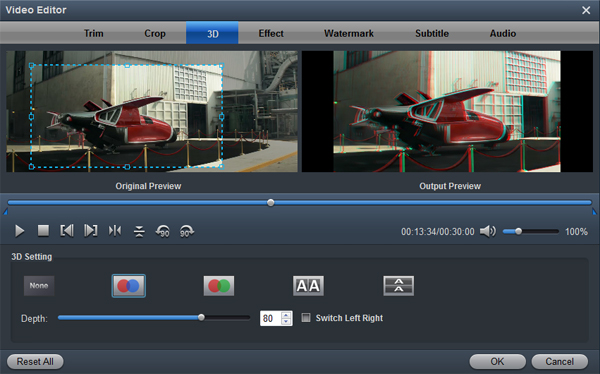 4
Convert XAVC S for DaVinci Resolve
After that, tap "Convert" button to start converting XAVC S files to H.264 MP4 or H.264 MOV for DaVinci Resolve 18, 17, 16, 15 under Windows or Mac. Once the conversion is done, click "Open" button to locate the converted videos. You can simply import converted footage into DaVinci Resolve for further editing.