"Is there a good way to import MP4 files into Vegas Pro 19 at 5.3K resolution as the original filles (or close to it)?  I've copied the MP4 files from a GoPro Hero 10 camera onto my Asus All-in-One PC running Windows 11. I want to edit these H.265/HEVC MP4 files in Vegas Pro 19, but it won't recognize them. In the import dialog box the files are grayed out. What should I do to go about this? I'm working with Vegas Pro 19 on a PC running Windows 11. Any suggestions? Thanks."
The GoPro Hero 10 is a worthy new flagship, offering everything the GoPro Hero 10 did but with a slew of extras, some merely nice to have, others more fundamental. Faster, more powerful, lighter and with a vastly better hydrophobic lens, the GoPro Hero 10 might be iterative, but it is best. This newest model provides high-detail 5.3K60, 4K120, and 2.7K240 video and 23MP photos with updated professional settings and practical functions from its predecessor, the Hero 9. It's a pity that we can't import and edit GoPro Hero 10 MP4 files in Vegad Pro 19 smoothly. So what to do if you capture a number of H.265 MP4 videos while traveling and want to edit GoPro Hero 10 contents in Vegas Pro 19? Is there a good way to bring GoPro Hero 10 MP4 files into Vegas Pro 19?
All you can do is convert the MP4 files to an Vegas Pro 19 friendly editing format, such as H.264, MPEG-2 codec with third party solutions. If you want to preserve the original quality of the MP4 files, we do recommend using Acrok Video Converter Ultimate – Best 4K Video Converter, which works well as an MP4 to Vegas Pro 19 Converter, being able to convert GoPro Hero 10 MP4 videos to H.264 .mov giving results that will closely match the original MP4 files.
Free download GoPro Video Converter here
How to convert MP4 files to Vegas Pro 19 MOV with H.264 codec?
Step 1: Run Acrok Video Converter Ultimate as a professional MP4 to Vegas Pro 19 Converter. When its main interface comes up, click "Add File" to load source GoPro Hero 10 video to it.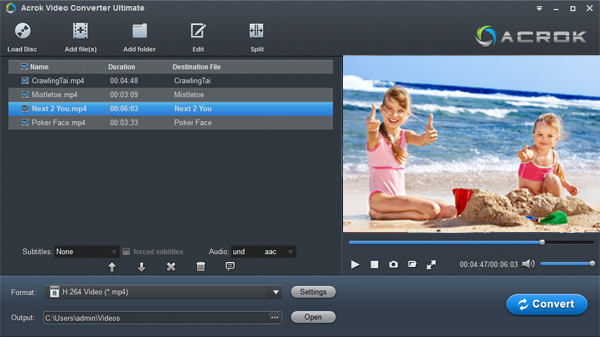 Step 2: Select output format for Vegas Pro 19
For the purpose of converting GoPro Hero 10 MP4 (H.265/HEVC) files for use in Vegas Pro 19, from "Format" list, select "Sony Vegas MOV Video (AVC)(*.mov)" as output format under "Editing Software" column. This format is also suitable for use in the discontinued Premiere Pro CC.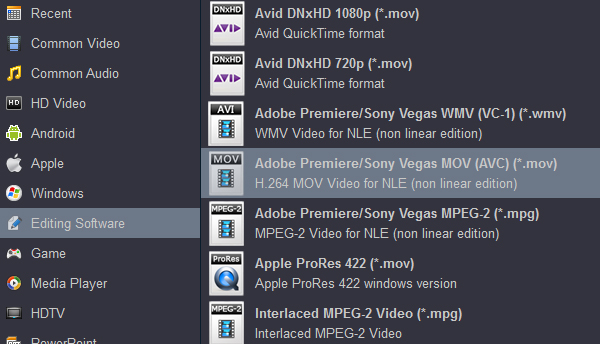 Step 3: Adjust video and audio settings (Optional)
If necessary, you can click "Settings" button and go to "Profiles Settings" panel to modify video and audio settings like video encoder, resolution, video bit rate, frame rate, aspect ratio, audio encoder, sample rate, audio bit rate, and audio channels.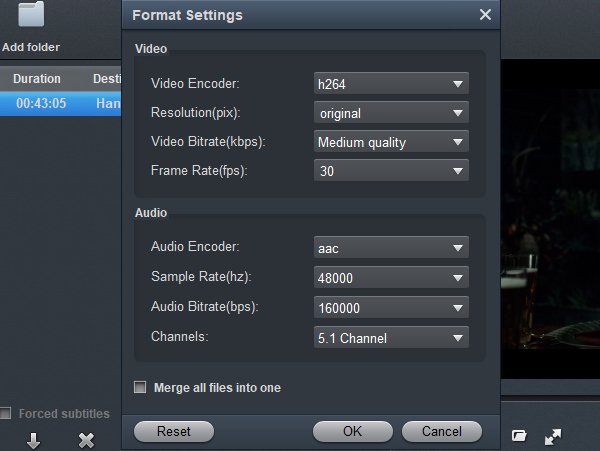 Steop 4: Edit GoPro Hero 10 MP4 video (Optional)
Before the MP4 to Vegas Pro 19 supported format/codec conversion, you can celect the video you plan to edit then click "Edit" icon to activate editing function. There are main seven functions available: Trim, Crop, 3D, Effect, Watermark, Audio, Subtitle.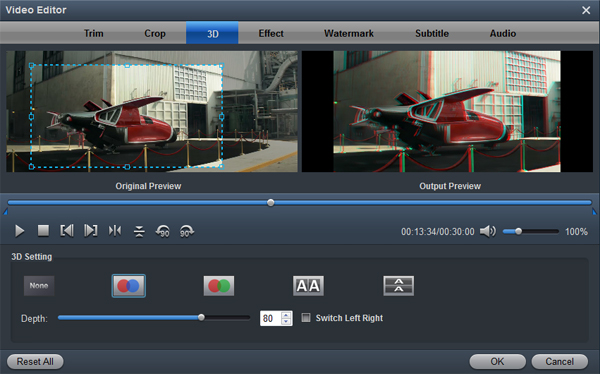 Step 5: Start video covnersion
Click "Convert" button to start GoPro Hero 10 MP4 to to H.264 MOV conversion. When the video conversion is done, click "Open" to get generated MOV files for using in Vegas Pro 19 with optimum performance.