There are so many tablets and smartphones on the market, but a real audiophile will choose Nokia N1 over any Android tablet out there. The Nokia media players offer highly-detailed sound quality that beats the competition any day. In this guide, you will learn how to watch Blu-ray movies on Nokia N1 tablet.
Nokia announced its N1 Android Lollipop tablet. The Nokia N1 is the first tablet from the Finnish manufacturer since the Lumia 2500, and by the looks of it, it has quite a lot to offer for your money. This new Android tablet has a 7.9in screen, 2048×1536 heigh resolution. What's the Processor and hardware? It is powered by a an Intel Atom Z3580 (Moorefield) quad-core 2.3GHz 64-bit processor. This is a top of the line processor with similar performance to current flagship solutions such as the Snapdragon 805 and NVIDIA Tegra K1 processors.
So far, Nokia has made a great contribution on multimedia enjoyment. The Nokia T20 is a fantastic tablet, from it's excellent design, great battery life, speedy user interface, innovative software features and outstanding camera, it has almost all bases covered. Besides these, the big and stunning 10.36 Inch, Quad HD 1080 x 1920 resolution display makes Nokia T20 a great portable media player to watch movies. However, same as other Android and iOS tablets, one the few drawbacks is that the new Nokia T20 cannot play Blu-ray movies (Blu-ray disc, Blu-ray ISO, Blu-ray folder) directly. If you have favorite movies on Blu-ray discs and you want to get them on your 10.36-inch Nokia T20 for amusement while on the go, you will find some useful information in the tutorial below to convert Blu-ray to Nokia T20 best playback format.
HMD Global launched the Nokia T10 tablet on July 12, 2022. An 8" device with entry-level hardware and promises for three years of updates. The Nokia T10 runs on Unisoc T606 which has an octa-core CPU. A resolution of 1280 x 800 pixels and is certified for Netflix HD. RAM is either 3GB or 4GB, and storage is 32GB or 64GB with the option for further expansion through a hybrid microSD slot.
Nokia T10, Nokia T20 and Nokia N1 are a very useful tablet providing nice tablets user experiences. You can surf online, take photos, listen to music, read books, and watch all kinds of videos online. If you are Nokia tablet user, you may plan to watch your Blu-ray collection on this popular device. How to do this? Please follow this article.
For watching Blu-ray disc on computer, a BD room is indispensable. But the Nokia tablet doesn't have the BD drive, and the Blu ray Disc format is not supported by Nokia T10/T20/N1. Should I download a Blu-ray player for Nokia tablet? How to watch Blu-ray movies on Nokia Android tablet freely? To watch Blu ray Disc on Nokia tablet, you need to use a Blu-ray ripping software that can rip and convert Blu-ray to Nokia tablet supported formats on Windows or Mac. Then transfer the ripped videos to Nokia tablet for playing on the go. Here, Acrok Video Converter Ultimate is your best choice.
This Blu-ray to Nokia Tablet Converter has both Windows and Mac versions. With this best Blu-ray Ripper, you can rip Blu-ray and DVD disc to any video format for Nokia T10/T20/N1 easily. This app offers an easy way to transcode virtually all video and audio types, camcorder HD footages and TiVo recordings to desired media format for portable multimedia devices.
Free download Blu-ray Ripper for Nokia Tablet
Note: An external Blu-ray drive is required for ripping Blu-ray disc.
How to rip Blu-ray to Nokia Tablet via best Blu-ray Ripper?
Here the detailed way to convert Blu-ray movies to Nokia T20/N1 video on Windows (Windows 11) is showed. The way to rip Blu-ray for Nokia T20/N1 in Mac OS X (including OS X 10.7-12) is the same. Just make sure you've downloaded the right version.
1
Add Blu-ray files
Install and run Blu-ray to Nokia Tablet Converter on your computer. Insert Blu-ray disc into BD room. Click "Load Disc" to add the Blu-ray files you want to convert.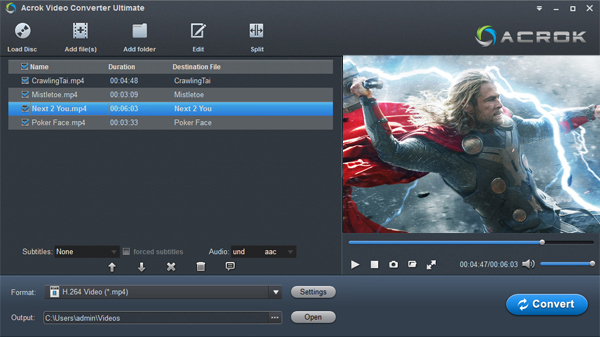 .
2
Choose a subtitle
Make sure you have selected the main title, and then choose desired subtitle track from "Subtitle" drop-down box.
3
Choose output format
If you want to convert Blu-ray to Nokia N1 video format for playing, you can directly click Format and choose "Android 720P Video" or "Android 1080P Video" in "Android" column as the output video format with the best settings. And if you want to convert Blu-ray movies for playback on Smart TV/HDTV, just click HDTV and set the icon of your device as the output file format to convert Blu-ray videos to fit your TVs.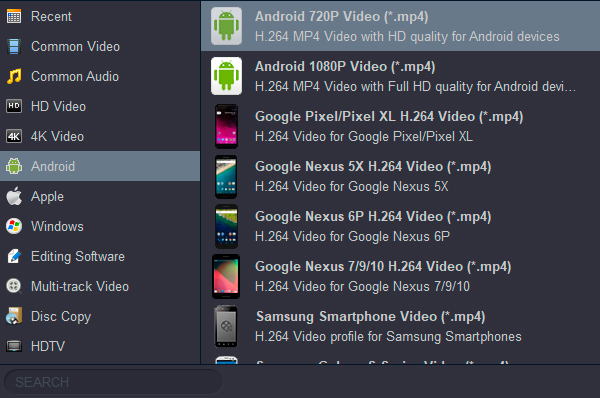 4
Start conversion
When all the settings are OK, click the Convert button to start ripping your Blu-ray movies to MP4. When the conversion completes, you will get Nokia T20/N1 supported playback videos. Connect your tablet to computer, and transfer converted movies to Nokia T10, Nokia T20 or Nokia N1 via USB cable. After that, you can play the video files with Nokia tablet freely.