If you're looking for a solution that can play FLAC, M4A, MP3, APE, WAV, etc., music in your Cadillac CT4, Cadillac CT6, Cadillac XT5 or other Cadillac cars/SUVs, you've come to the right place. I'll share the simple and free way to enjoy any music/audio/songs in Cadillac cars/suvs with you.
By reading the manual, we get the information that Cadillac supports MP3, WMA, AAC, OGG, AIFF, 3GPP audio formats playback from USB port. Although Cadillac is compatible with hot audio formats, it also requires the file to be encoded in the way that is recognized by your car or suv. We can get music of different formats in different ways. Obviously, WAV, FLAC, M4A, APE, AC3, MKA and MP2 are not on the supported file format list.
An audio format can be encoded by different codecs, this is why some supported audio formats still cannot be played successfully. Some MP3, WMA, ACC and OGG songs are not supported to play in your car due to the failure of reorganization. Through testing, we found that Cadillac has obvious defects in format compatibility. Such as we can't play some WMA in Cadillac CT4 from USB Flash Drive, Cadillac XT5 can't read OGG files from USB Stick, we can't listen FLAC, DTS and M4A with USB flash drive on all Cadillac models, etc. Unlike smart phones, we can't download and install music players into cars at will. Since Cadillac doesn't understand it, you will likely need to transcode the unsupported audio format to a different file type such as MP3.
To convert music for playing in Cadillac cars/suvs from USB port, you must first get a useful tool. For that, you can use third-party applications, such as Acrok Video Converter Ultimate. It is a idea free audio converter to convert video and any audio formats to Cadillac USB supported music format easily. In addition, you can convert the purchased and rented CDs/DVDs/Blu-rays to the video/audio format you want, so that you can play them on different devices later. Now, please download the powerful program and refer to the guide below for more conversion instructions.
Free download free audio converter for Cadillac
Input Audio Format Supported
MP3, WAV, WMA, APE, FLAC, M4A, AAC, AC3, MKA, OGG, MP2, MPA, AIFF, DTS, AU
Input Video Supported
Donloaded and recorded video, CD, DVD, Blu-ray
Supported Models
Escalade, Escalade ESV, ESCALADE-V, XT4, XT5, XT6, Lyriq, CT4/CT4 V, CT5/CT5-V, CT6, LYRIQ, CELESTIQ, etc.
Note:
You need to maintain a standard long file name format that allows for a total of 255 characters, including the file extension ( .wma, .flac or .mp3). An important part of the standard is avoiding command characters such as /, \, |, :, ?, ", <, > and*. These characters may be misinterpreted by the system and result in a file being unreadable, or on extreme cases, cause the system to stop reading subsequent filenames. Therefore, you should ensure that your music files are in a playable format and are named correctly.
How to convert video/disc/audio to Cadillac USB supported audio format?
Here we just take converting audio/disc/video files to XT5 USB supported music format as an example. You can use the same way to convert your media files to the best supported format for Cadillac cars/suvs. Before you start, please download this free audio converter on your computer first. Install the program, use steps below to get started.
1
Add media files
Run Acrok Video Conveter Ultimate (For Windows | For Mac) as the free audio to Cadillac supported format converter. Click the "Add File" button and identify the songs you want to convert for playing in your Cadillac XT5. You can add multiple video abd audio files at a time. Batch media to Cadillac USB supported format conversion is supported. If you want to convert CD, DVD and Blu-ray to Cadillac XT5 playable format, you need to insert your disc into BD drive first, then click "Load Disc" icon to load the media files.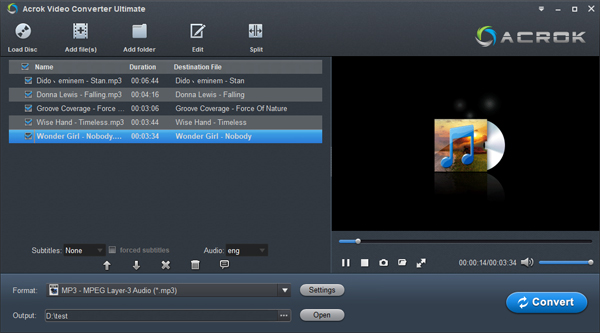 2
Set output format
After the source audio or video file is loaded, on the left pane, go to Format > Common Audio > MP3 – MPEG Layer-3 Audio (*.mp3). Click the OK button to save the changes.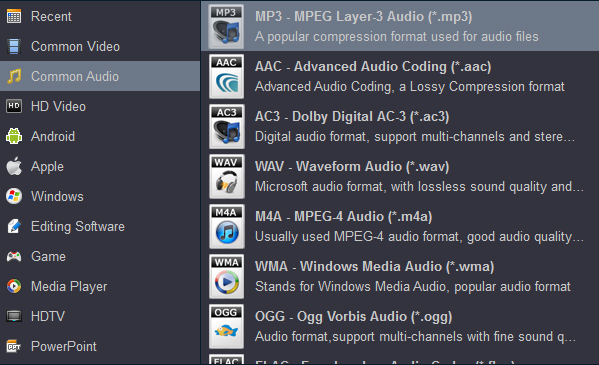 3
Start converiosn
Hit the Convert button at the bottom right corner to start converting your music, video or CD/DVD to Cadillac playable MP3 format.
After the conversion job is done, transfer the file to your USB thumb drive for playback. Now, you should play your music in on Cadillac XT5 from USB without any format compatibility issue. Of course, if you are the owner of other models, you can also enjoy the music in the car too.
Hot Q and A:
Q: Why did my USB port stop working in my Cadillac?
A: Before trying anything else, inspect the USB port of your vehicle to make sure nothing has made its way in. At other times, the issue can be in relation to lose USB ports. You can, work on tightening the USB port on your own so that gadgets you want to connect can be held by the port tightly. Often though, an easy solution to fixing USB ports that aren't functioning properly is to switch off your engine and simply turn it back on.
Q: Which USB format works on Cadillac car stereo?
A: What Format does USB Have to be for a Car Stereo? Most car systems use the FAT or FAT32 file format. Some new multimedia devices can use NTFS and exFAT files, but these require more significant amounts of storage to use.