Questions about can't play music in Nissan cars & suvs

"Nissan USB no audio files. I have a USB jack in my 2023 Rogue. I found out the hard way this morning that FLAC files are NOT compatible. I know that MP3's are. Are there any others out there that Nissan USB compatible? If anyone knows the list, I think it would be a great help to a lot of people. Thanks."

"I tried loading a USB disk with my songs from my computer. They are WAV format files since I rip my CD's to get lossless audio quality. For some reason the Juke is not able to recognize that any 'audio files' are there. I tried another memory stick I had loaded with MP3's and no problem. Does this mean the Juke can not play lossless audio formats? "

"Nissan Rogue usb audio not working. I cant get a USB to read in either USB 1 or USB 2. Tried two different brands of USB. Both 3.0. Is that the issue? Should I find a USB 2.0? Both USB ports work with my Galaxy S23 so I know the ports themselves are fine. Any help would be great. Thanks"

"Hello, I just got a Nissan 2022 Altima, but the only music threads I've seen are for 2013 or older. Anyone know what specific criteria is needed for a USB flash drive to play music? I originally tried a 128 GB Samsung FIT stick formatted to FAT32 but didn't have any luck even when only putting like 26 files on there in separate folders. Then, I tried a 32 GB samsung SP stick formatted to FAT32 with only 26 songs on there and it's not working either. They both just sit on "Reading USB Memory…" forever."

……
If your vehicle is equipped with this audio system, you can access and play audio files from your compatible Bluetooth device through the vehicle's audio system. You may also play audio from a connected USB device. Ensure the device's USB cable is connected to the vehicle's USB port in the centre console. Press the AUX button to toggle between audio sources until you find the USB source. Use these controls to move through stations, tracks, or folders.
In my opinion, the latter is the most convenient. Just purchase a suitable USB drive and transfer your favorite music to it, then you can freely enjoy wonderful music on the go. The file types supported by this system are MP3, WMA, AAC/M4A and ATRAC3.
Due to the possibility that an audio file may contain different encodings, and your car's audio system does not support this encoding, so your car cannot recognize the audio files on the USB drive. To play all the audio/music format in your car or SUV, you need to convert the incompatible format to the car audio system supportedd format. By consulting the manual, all Nissan cars support MP3 format. What you need to do is convert your audio files to this format. a Free Audio Converte can do this job easily.
Here we recommend you the Acrok Video Converter Ultimate (For Windows | For Mac), which has a well reputation for its convenience to achieve the conversion from any MP3, WAV, WMA, APE, FLAC, M4A, AAC, AC3, MKA, OGG, MP2, MPA, AIFF, DTS, AU audio to Nissan USB Supported Audio Format. The function of converting video and audio formats into MP3 format is completely free. Of course, you can convert your Blu-ray, DVD, MKV, MP4, AVI, MOV, WMV to Nissan media system supported video format – DivX AVI.
Free download Nissan USB Audio Format Converter
Supported Models:
Crossovers & SUVs: Kicks, Rogue Sport, Rogue, Murano, Pathfinder, Nissan ARIYA, Armada, etc.
Cars: Versa, Sentra, Altima, Nissan LEAF, etc.
Electric: Nissan LEAF, Nissan ARIYA, etc.
Sports Cars: Nissan Z, GT-R, etc.
Trucks: Frontier, TITAN, TITAN XD, etc.
How to convert video/audio to MP3 for Nissan cars/suvs?
Note that the guide below uses Acrok Video Converter Ultimate for Windows (Including Windows 10) screenshots. Initially, you have to make sure that you have downloaded the compatible version. Once you have finished downloading, it is time to install and launch the free audio converter.
1
Add media files
Run Acrok Video Covnerter Ultimate as the free audio converter on your computer. Click "Add file" icon to load your music/song or video files.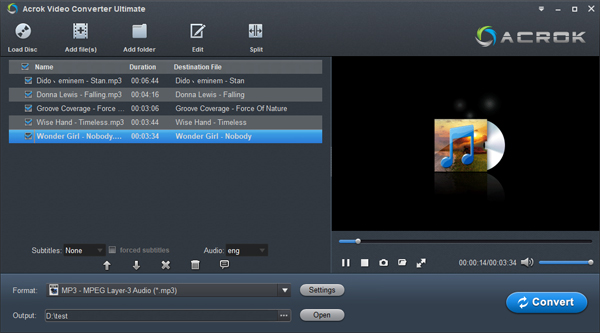 2
Choose output format
For playing your songs in Nissan cars/suvs without any problem, MP3 is the best choice. You can get this profile under "Common Audio" category.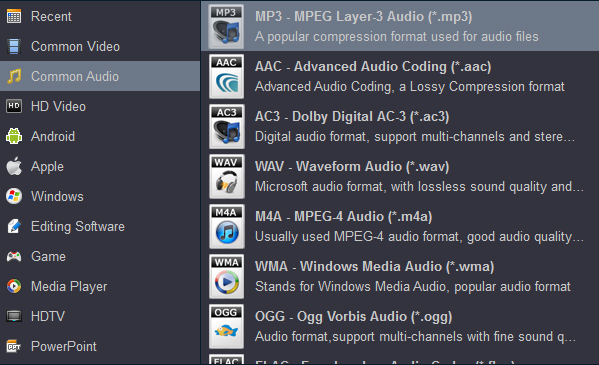 3
Start converting media
Now we finish almost all the work. The rest operations are checking the Hardware Acceleration Engine option, which will ensure you the fast conversion speed, and choosing the Output Folder which you prefer. You just need to click on the Convert button.
Conclusion
You can find many software similar to Acrok on the internet, but most of them are unstable and will embed annoying advertisements in the software interface. As a free audio converter, Acrok Video Converter Ultiamte provides users with powerful conversion functions, If you are a movie enthusiast, you can also convert your favorite movies to any gigital device supported format.
Get Free Audio Converter for Nissan users