What's the best workflow for Panasonic AG-CX10 H.265 video files and Adobe's Premiere Pro CC? The workflow would depend greatly on how powerful your Windows system is. If for any reason you are unable to use 4K H.265 files in Premiere Pro fluidly, this tutorial may shed you some light. It explains a way of convertingPanasonic AG-CX10 H.265 files to Premiere Pro CC, CS6, CS5 preferred MPEG-2 codec for a smooth editing workflow on your machine.
The AG-CX10 is a powerful 4K/60p fixed lens camcorder, packaged in the industry's smallest and lightest body. The AG-CX10 uses the brand's trademark Venus engine, enabling high-quality video format support. It offers 4:2:2 10-bit internal recording which lets you capture Ultra HD video at up to 29.97p and Full HD video at up to 59.94p. You'll also get 4K 60p 4:2:2 10-bit HDMI output when this camcorder captures 10-bit videos. Aside from these options, HEVC recording at up to 59.94p is available. As for file formats, in addition to MOV, MP4, and AVCHD, the AG-CX10 also supports the ideal P2 MXF for the editing system for broadcast stations, and recording by the AVC-Intra/AVC-LongG codecs is supported.
Import 4K H.265 videos from Panasonic AG-CX10 to Premiere Pro CC
It's possible to shoot 4K MP4 and MOV without limit to file size. However, the problem that filmmaker considered is that how to make these Panasonic AG-CX10 4K videos into Premiere Pro CC or other NLEs for editing smoothly. Now this article will offer you tips and tricks for importing Panasonic AG-CX10 4K H.265/HEVC to Premiere Pro CC.
Actually, the 4K MOV and MP4 video were restricted to edit in Premiere Pro. Only the latest version Premiere Pro CC can natively support 4K video like Panasonic's MOV or MP4 recordings. But, due to the format limit, we can't play Panasonic AG-CX10 videos (H.265/MPEG-H HEVC Main10 Profile) in the editing program smoothly, and we spend long time on rendering videos. How to solve the issues? As mentioned above, we need to convert H.265 video to Premiere Pro CC compatible video.
Acrok Video Converter Ultimate is the ideal Panasonic H.265 Video Converter for you, which can take your high quality Panasonic AG-CX10 videos 4K vieos and convert them into a supported format like MPEG-2 MPG for editing in Premiere Pro CC, CS6, CS5 any version. This H.265 to Premiere Pro CC Converter is also available to customize the output resolutions to any size like 1080p, 2K, 4K as the users want.
Free download Panasonic AG-CX10 to Premiere Pro CC Converter:
How to convert Panasonic AG-CX10 4K H.265 to MPEG-2?
Tip: The guide below uses Acrok Video Converter Ultimate screenshots as an example to show you how to easily encode H.265 codec to MPEG-2 in Windows 10. For Mac users, Acrok Video Converter Ultimate for Mac is the alternative choice, you can transcode H.265 to MPEG-2 on macOS 10.15 wit fast speed. Just download it and follow the tutorial below to get the work done.
1
Load 4K H.265 videos into Acrok software
Install and launch the powerful H.265 Video Converter on your pc. When its main interface comes up, click "Add File" button to import Panasonic AG-CX10 .mov or .mp4 video files, or directly drag and drop the 4K footage to the program.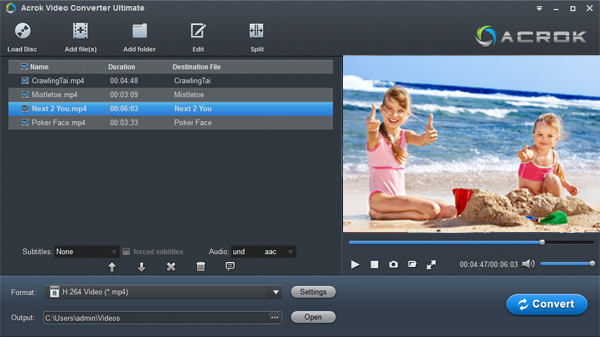 2
Choose Adobe best editing format
Click "Format" bar to get the drop-down menu, and choose "Editing Software > Adobe MPEG-2 (*.mpg)" as output format. MPEG-2 is the good navtive format for Premiere Pro CC, you can select MOV oe WMV as output option too.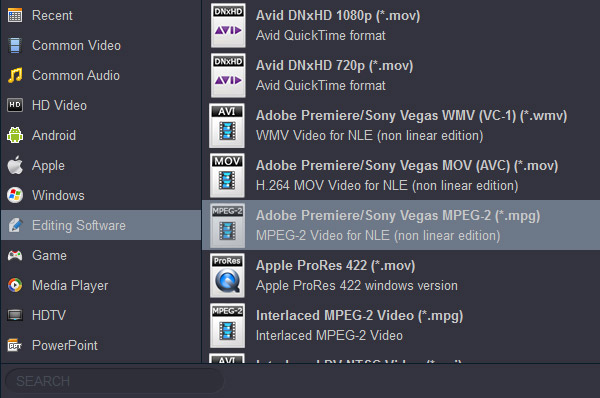 Settings
For getting orginal video resolution, please click "Settings" button, click the drop-down menu next to the "Resolution (pix)" then select "Orginal".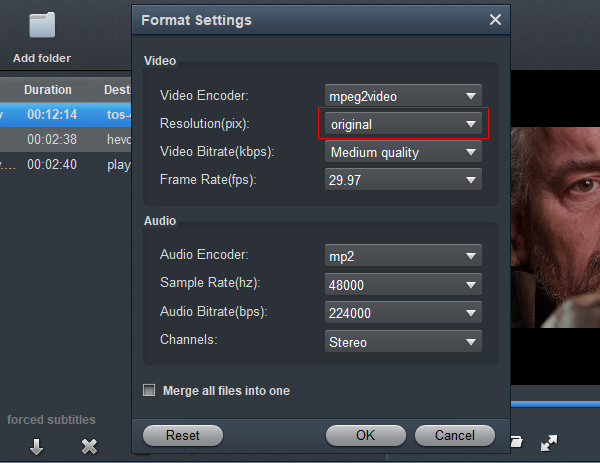 Edit
Acrok Video Converter Ultimate is not only a video converter program, but also a simple and easy video editor. By default the "Edit" icon is grayed out . To activate the "Edit" menu, you have to select an item first. When a video file is selected, you can click the "Edit" icon on the tool bar of main interface to edit selected file. On the "Video Editor" Window, you can play and preview the original video and output effects. Also you can flip video, trim, add 3D effect, reset, and adjust volume.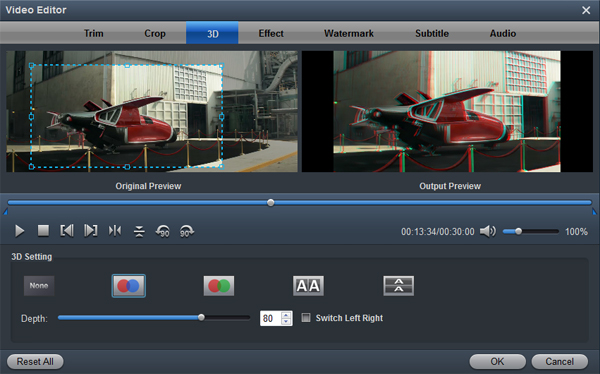 3
Start video conversion
Click the "Convert" button to transcode Panasonic AG-CX10 H.265 video to MPEG-2 MPG for editing in Premiere Pro CC.
With this 4K Video Converter, you can easily convert Panasonic AG-CX10 footage to Premiere Pro CC native format, and then you can import the converted files to Adobe editing software for editing without rendering. Just enjoy your smooth editing process.
Tip: The converted video is also suitable for other software, such as Premiere Elements, After Effects CC, DaVinci Resolve, Avid Media Composer, Vegas Pro, Lightworks, etc. If you are Mac user, and plan to import edit Panasonic AG-CX10 H.265 video in Final Cut Pro X, you need to convert H.265 to ProRes codec on Mac. Acrok software can do the job easily.