Problems about can't play music in Ford F-150 from USB

I have the latest software upgrade in the stereo and F-150 says that there are no media files available. Am I doing something wrong?

The USB flash drive is new. The Ford F-150 doesn't recognize all my songs, I can only listen to a few songs. How to solve the problem gives me a bad headache.

The songs in the USB device are not recognized by the car stereo. My truck is F-150
Ford F-150 is among the most popular truck products. It uses SYNC system. Having undergone a redesign in 2021, the core Ford F-150 lineup sees minimal changes for 2023. The truck continues to offer a wide range of drivetrain options, high towing and payload capabilities, and a comfortable modern interior.
The biggest news for 2023 is inarguably the new Raptor R. It takes the inherent off-road chops of the Raptor but ditches the turbocharged V6 in favor of the Shelby GT500's monstrously powerful supercharged V8.
While the Raptor R sits at the top of the F-150's off-road hierarchy, a new Rattler package adds capability at the bottom of the lineup. Available for the base XL trim, the Rattler brings the contents of the FX4 off-road package plus a set of knobby all-terrain tires.
Listening to music while driving is a common thing, as it not only alleviates the atmosphere inside the car, but also makes the boring driving process more exciting. For example, listen to some popular rock songs you like. It's a pity that Ford F-150 doesn't support all the audio types. The SYNC can only read MP3, WMA, WAV and ACC from USB flash drive. However, sometimes the Ford F-150 doesn't accept a USB drive. The main reason for this is the USB file system format. If the format isn't supported, it won't come on SYNC. There is also a possibility that the F-150 doesn't support the audio formats and codecs, resulting in the F-150 being unable to successfully play the music files on the USB flash drive. After multiple tests, MP3 is the best audio format supported by Ford F-150.
How to play FLAC, M4A, APE and other hot popular audio formats in F-150 via USB flash drive? On the premise of ensuring that your USB drive is not problematic, what you need to do is convert these unsupported formats to MP3 via third-party software. You can find many software for converting audio online. Here, I will use Acrok as an example to introduce how to convert audio formats to Ford F-150 USB supported audio format.
Acrok Free Audio Converter: best quality MP3 converter based on INSANE and EXTREME MP3 LAME presets, lossless audio converter, all popular audio file formats.
Just a superb app to convert audio files. Plain and simple, yet complete!
The best Free Audio Converter of the year 2023 that saves your time.
Free download and try any audio to Ford Sync converter
Acrok Video Converter Ultimate (For Windows I For Mac) can convert audio files to all popular formats, extract and save the sound directly from video files (Common format, CD, DVD, Blu-ray), and ultimately produce high-fidelity conversions. It's also fast and largely error-free because of frequent support and optimization. Acrok software is available on all major operating systems and allows beginners and experts alike to convert and modify audio files. The most important thing is that it is entirely free.
Acrok Video Converter Ultimate is an intuitive and fast converter. With this fast video converter, you can effortlessly convert Blu-ray, DVD, MKV, AVI, MOV, MP4, WMV and audio files to any format in high quality which enables you to play videos on various devices and web platforms. It's a lightweight video editor and video compressor too. It can meet all the common video editing demands with easy-to-use interface. And you can compress video and combine videos with this useful all-in-one video tool effortlessly.
How to convert audio files to Ford F-150 USB audio format?
1. Load audio files
Install and run Acrok software as the free audio covnerter on your PC. Click "Add file" to load your MP3, WAV, WMA, APE, FLAC, M4A, AAC, AC3, MKA, OGG, MP2, MPA, AIFF, DTS, AU audio/music/song.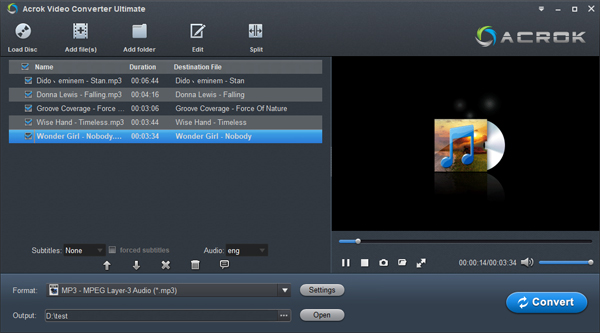 2. Choose MP3 as output format
Click "Foramt" bar, select MP3 under "Common Audio" category.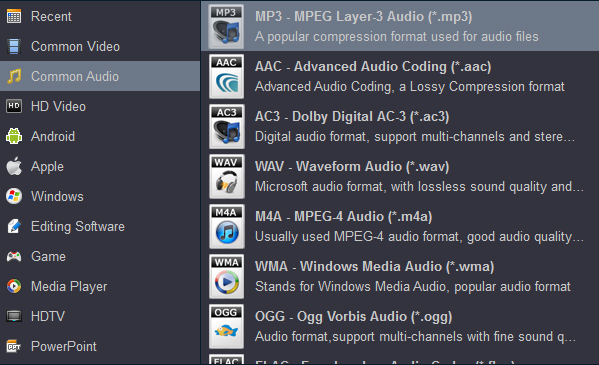 3. Start audio covnersion
Click "Convert" button to start audio to Ford SYNC supported audio format conversion.
4. Play music in Ford F-150 from USB
When the conversion is done, click "Open" button to locate the converted audio files, copy them and transfer these audio files to your USB flash drive. Thta's all. You can play your favorite music in Ford F-150 via USB without any problem.