H.265 is an advanced video compression standard and a successor of the widely adopted H.264. It provides superior video quality and up to twice the data compression as the previous standard, H.265 can support 8K Ultra High Definition video, with a picture size up to 8192×4320 pixels. Nowdays more and more digital cameras like GoPro Hero 10, 9 8, have been able to shoot videos in H.265 codec. Although the video quality at H.265 .mp4 is very excellent with crisp detail, great colors and nice dynamic range, however, if you want to do some post production work-flow of GoPro Hero 10/9/8 footage with professional video editors like Final Cut Pro (FCP X, FCP 7, FCP 6), you will end up with failure. And you may encounter problems like these:
"I can't play the GoPro Hero 10 5.3K H.265 files in FCP X snoothly, how to solve this problem? Who can show me a way to edit GoPro Hero 10 MP4 videos in FCP X without rendering?"
"The new GoPro Hero 9 Black shoots in h.265 new codec… When will FCP X support this for import? dont need ama, just need to import into FCP X without using a third party app to transcode prior!"
If you are intending to edit GoPro Hero H.265 video files in FCP X, you will need H.265 plugin for FCP X . Unfortunately, this is not supported in the current product. Before that day arrives, the easiest and best workaround is to transcode the H.265 codec to ProRes codec, the most editing-friendly format for FCP X. You can edit ProRes videos in Final Cut Pro X without rendering.
To convert GoPro Hero 10, 9, 8 5.3K/5K/4K H.265 to Apple ProRes codec quickly and easily, Acrok Video Converter Ultimate for Mac is highly recommended. This program features high efficiency and seamless conversion. With it, you can do batch conversion from H.265 to ProRes codec without quality loss for smooth importing and editing in Final Cut Pro X. Besides GoPro Hero camera footage, the program also support other various cameras like Canon XF605, Panasonic AG-CX350, Sony XDCAM PXW-Z190, Lumix GH5 II, Sony a1, JVC GY-HM180U, Canon XC10, Panasonic HC-WXF1, Canon Vixia HF G50, Sony FDR-AX700, Sony PXW-Z280, etc. What's more, this program offers other professinal encoders like Apple Intermediate Codec, DNxHD, MPEG-2, H.264, etc. – ensuring maximum editing quality and efficiency when working with iMovie, Premiere Pro, Vegas Pro, DaVinci Resolve, Lightworks and more.
If you're using a Windows PC, simply turn to its Windows version. Below I will take the Mac version of Apple ProRes Codec converter for example to show you how to encode GoPro Hero 8 H.265 footage to ProRes codec on Mac OS X. The process in Windows is almost the same.
Free download and try GoPro Hero Video Converter
How to encode GoPro Hero 10/9/8 H.265 to ProRes for FCP X quickly and easily?
1
Load GoPro Hero videos
Install the H.265 to ProRes Converter and run it. Drag theGoPro Hero 10, 9, 8 MP4 files to the software. Or you can also click "Add file" button on the top of the main interface to import video to the program. Batch conversion is supported, so you can load more than one file to save time.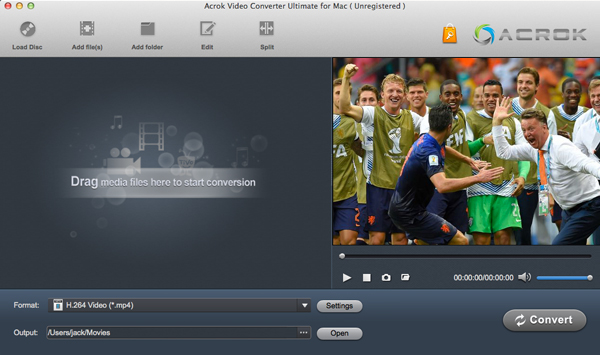 2
Set ProRes as the output format
You can directly choose the ProRes profile from "Final Cut Pro" catelog for FCP X which has been supplied by the FCP X ProRes encoder. The settings fit seamlessly all versions of Final Cut Pro. Note that ProRes is just a codec, the video encoded with ProRes will be wrapped in a MOV container.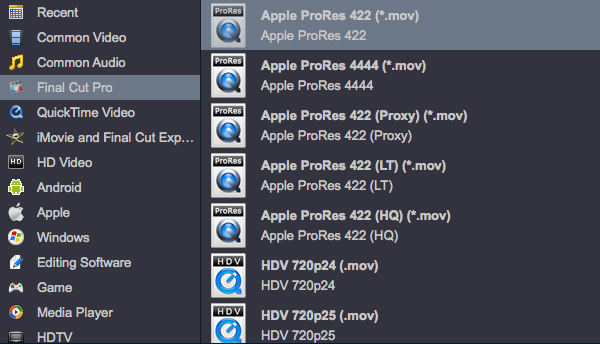 3
Settings (Optional)
If you are critical about the output quality, you can adjust the parameters about the videos. As is true of video, audio settings is also important in adding a premium to the video quality. Just click "Setting" by the side of "Profile" and you are ready to tweak. In principle, the larger input values, the better output quality, but the corresponding larger file size.
4
Start video conversion
As soon as all the above settings are completed, you can press "Convert" button to start conversion. After conversion is done, simply click "Open" button to find generated ProRes codec encoded MOV files. Afterwards, you can transfer the encoded GoPro Hero 10/9/8 files into FCP X, FCP 7 or FCP 6 for smooth editing without any problem.