Many GoPro Hero 10 users sent me emails for help. They can't handle the 4K H.265 recordings in their ediitng software, such as they can't import the footage into Adobe Premiere Elements 2022, 2021 and 2020. Here, I'll share the GoPro Hero 10 Black/White videos to Adobe ediitng software workflow with every one. Just keep reading and get solution via simple clicks.
Q1: "I have recorded many 5.3K footages from GoPro Hero 10 black that in .mp4 video format, now I would like to import these projects to Premiere Elements 2021 for editing. What I want is to edit GoPro Hero 10 HEVC/H.265 files natively in Premiere Elements on Macbook Pro, what video codec should I use? Can you recommend some software which can do H.265 to H.264 conversion natively? – Issa Washanje"

Q2: "I have a ton of old MP4 files from my old editing system I would like to be able to pull into Premiere Elements. I can't open them up or import Gorpo Hero 10 White 4K fotage directly into bins. They are all spread out onto different external harddrives. I just am running Premiere Elements 2021. Any suggestions? Should I upgrade my software to 2022 version? – Keith Jenkins"
GoPro Hero 10 review:
The Good
Crazy smooth video stabilization, Easier-to-use touchscreen UI, Vertical video capture, Super simple sharing to Instagram Stories. HERO10 Black shoots stunning 5.3K60, 4K120 video and 12MP photos that are as awesome as the moments themselves. With ultra high frame rate 1080p240 video, you can slow things down by up to 8x to relive funny, interesting or epic moments in all their glory. Capture all the action on bike trails, camping trips or boating adventures with the camera.
The Bad
No real battery improvement, Low-light footage is a little soft.
The Bottom Line
The GoPro Hero 10 Black's built-in stabilization is so good it eliminates the need for expensive and clunky gimbals.
GoPro Hero 10 H.265 videos to Premiere Elements workflow
GoPro Hero 10 Black and White can record video at up to 5.3K resolution at 60 frames per second, which can give fast action a smoother look. If you're into slow-motion clips, you can record in 4K at 120fps and 1,080p at 240fps. You may need to edit the 4K videos before you share it. But Adobe Premiere Elements can't read the H.265 MP4 videos at all. However, many GoPro Hero 10 users especially the new users find it difficult to import the MP4 footage from camera to Premiere Elements 2022/2021/2019 for editing. Actually, there is a best to achieve your goal smoothly. With a H.265 to H.264 Converter which is more effective.
If you change GoPro Hero 10 MP4 footage to Premiere Elements natively supported H.264 or MPEG-2 codec, and you'll have no problem importing as well as editing GoPro Hero 10 H.265 files in Premiere Elements, Premiere Pro CC, and After Effects CC. To transcode H.265 to H.265 easily and quickly, Acrok Video Converter Ultimate (Windows Version | Mac Version) is highly recommended. This program features high efficiency and seamless conversion. With it, you can do batch conversion from any format to H.264 encoded MOV files – ensuring maximum editing quality and efficiency when working with Adobe editing software. Here's how to do it.
Free download GoPro Hero 10 Video Converter
How to convert GoPro Hero 10 4K H.265 files for Premiere Elements?
1
Add Video
After connecting your GoPro Hero 10 to PC via USB, you can just drag and drop them to the program window. Or click "Add file" to load MP4 videos, otherwise you can "Add folder" to load all the raw videos in .mp4 format.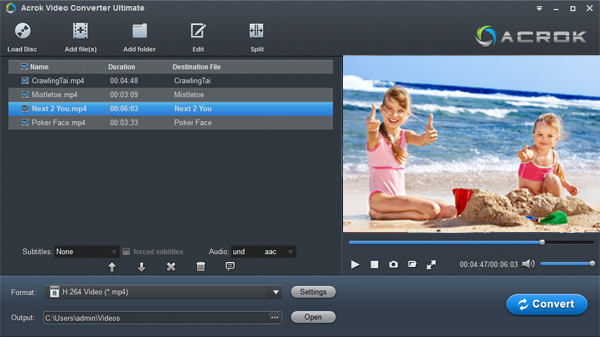 2
Choose Adobe editing software supports foramt
Click "Format" on the H.265 Video Converter main interface and choose "Editing Software" > "Adobe Premiere/Sony Vegas AVC (*.mov)" as output format. In case the default settings do not fit your requirement, you can click "Settings" button and enter "Profile Settings" panel to adjust video size, bit rate, frame rate, sample rate and audio channels.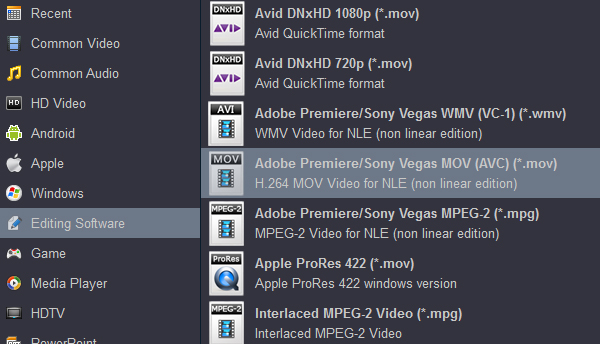 Tip: How to check orginal video parameters? Click below icon to showselected video properties.

3
Start Vdieo Conversion
When ready, click "Convert" to start video conversion. Once the conversion process is complete, you can click "Open" button to get the generated H.264 MOV files for editing in Premiere Elements with optimum performance.