This guide teaches you how to transfer 4K MKV and 4K MP4 video files to an Android phone, such as Galaxy S22 Ultra, OnePlus 10 Pro, Motorola Edge 30, Galaxy Note 20, Google Pixel 7 Pro, etc. Android phone doesn't natively support the 4K MKV and 4K MP4 format, but you can use a third-party app like VLC to sync and watch these videos on smartphone. As Android smartphone users, we have to solve the problem that Android does not support the transmission of files larger than 4GB. Alternatively, you can convert andcompress your 4K MKV/MP4 file to a compatible 1080P video format like H.264, AAC, AC3 MP4, and sync the converted videos as usual.

The configuration of Android phones is getting higher and higher, and the compatibility of video playback is getting stronger and stronger. However, many 4K MKV and 4K MP4 movies cannot be played smoothly on mobile phones. MKV is one of the most famous containers to store videos, audio and subtitle tracks in various codecs like H.264, HEVC, etc. MKV is definitely the first option to store movie files, as it not only stores movies in high quality but preserves complete contents. If your Android phone can't recognize your MKV movies, you have to encode your MKV video codec to a supported codec by your Android phone. As for 4K MP4 vidoes, you may encounter the same problem. Many digital cameras can record 4K HEVC, MPEG-4, XAVC S, XAVC HS .mp4 videos, and you cannot transfer these big files to your Android phone. Even if you successfully transfer video files smaller than 4GB to your phone, your player still cannot read these files.
1080p is a familiar resolution supported by most video streaming platforms and media players for people to enjoy. Hence, if you encounter the issue when you need to downgrade the video resolution from 4K back to 1080p for enabling the video to be playable on Android devices, you may to convert 4K video to 1080p with lossless quality.
But how to convert 4K video for playing on Android phone? Luckily, we made this blog here to help. This post offers the best way to downscale and compress 4K MKV and 4K MP4 to Android phone compatible format according to different situations. If you want to learn how to convert MKV/MP4 video to H.264 MP4 with the most useful method, the detailed tutorial video is listed below. You can choose to view it now, or keep reading the passage for more information.
Part 1: How to Convert 4K MKV/MP4 for Android phone (Best Way)
Acrok Video Converter Ultimate (Windows Version | Mac Version) as a powerful 4K video converter, also performs well in compressing and downscaling videos without quality loss. The advanced compressing technology will save the details the original video boasts, like brightness, contrast, etc. Therefore, using Acrok software is the best choice to convert 4K MKV and MP4 video to Android phone playabe format with the satisfying quality.
Free download 4K MKV/MP4 to Android Phone Converter
Acrok 4K MKV/MP4 to Android Phone Converter comes with the following highlighted features apart from compressing videos:
1. High-Quality Outputs
To ensure the same high-quality offline video streaming experience, Acrok Video Converter Ultimate will provide output quality such as 4K, 5K, and even 8K for video output, and also maintain the video quality during the conversion.
2. 300+ Output Formats and Device Presets
As a powerful 4K Video Converter, Acrok Video Converter Ultimate provides over 300 output formats and device presets for converting videos/audios, Blu-ray and DVD. Via Acrok Video Converter Ultimate, you are able to get your media content playable on all devices.
3. 10X Faster Processing Speed
With the cutting-edged Blu-Hyper applied in the Ultrafast Conversion tech, Acrok Video Converter Ultimate is able to accelerate the conversion to 10X faster. No matter for 1080p, or higher resolutions such as 4K and even 8K, the software will process the conversion within a minute.
4. More Helpful Tools Provided
Additionally, Acrok Video Converter Ultimate also provides an extra toolkit for users to manage the videos more conveniently. Features such as video compressor, metadata editor, rotate & crop, add 3D effects, etc. are all available in this 4K MKV/MP4 to Android Phone Converter.
5. Batch Conversion
What's more, Acrok Video Converter Ultimate is able to convert a batch of videos simultaneously for boosting efficiency a lot. You don't need to waste time uploading and converting the videos one by one.
How to Convert 4K MKV/MP4 to 1080P H.264 MP4 on Mac/Windows with Acrok?
Also with the simple design, the process of using Acrok Video Converter Ultimate to convert 4K to 1080p would be much easier. Now, follow this brief guide to easily convert 4K video to 1080p via Acrok program without losing any quality.
1
Install software
Currently, Acrok Video Converter Ultimate is supported on Windows and Mac. Select the correct version and install the software on your desktop immediately.
2
Add 4K MKV/MP4 Videos
Add the 4K MKV and 4K MP4 videos you desire to convert to 1080p H.264 to the converter. You are able to hit the "Add Files" icon for browsing and selecting the videos for importing. Instead, you are also available to drag and drop the files to the interface.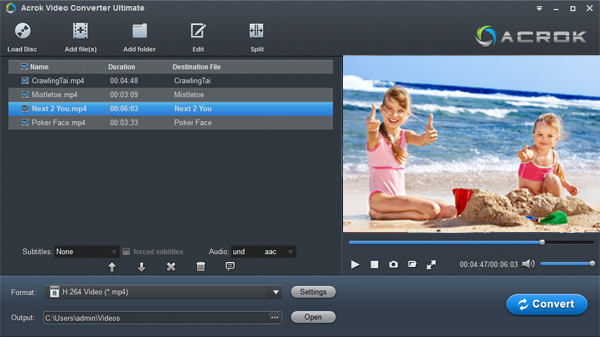 3
Select 1080p Output Format
Move up to the upper right corner for selecting a video format to output the videos. Please follow HD Video > HD H.264 Video (*.mp4). Select it for converting your 4K MKV/MP4 videos.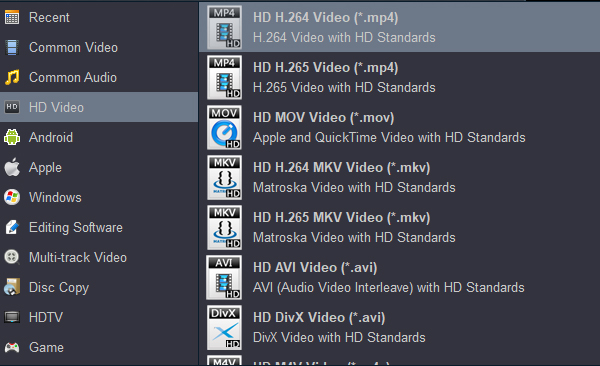 4
Start Video Conversion
When the format and quality selections are finished, directly hit the "Convert" button, then the imported 4K MKV/MP4 videos can be converted to 1080p quality. Now, you are able to access the 1080p videos for transferring them to any Android phone for playing without limitations.
Part 2: Two ways to transfer converted 4K MKV/MP4 videos to Android
How do I transfer videos from my computer to my phone without USB?
Open the Bluetooth settings on your PC, and tap on send files to start the file transfer. Now tap on the Android device name. Browse the files and folders, and select the files you want to transfer from your PC/laptop to your Android smartphone. Once selected, tap on Next, and start the transfer.

How do I transfer videos from my computer to my Android phone?
1. Use a USB cable to connect your Android phone to the PC.
2. In the search box on the taskbar, type photos and then select the Photos app from the results.
3. Select Import from the app bar.
4. Your devices will automatically show under Import.
5. Choose your device from the list of connected devices.
6. Choose the folder you want to move the file to.
7. Tap Move here.
FAQs About Changing Video Quality/Resolution
In some cases, you need to change video quality or resolution, upscaling or downscaling the videos. Here we collect some frequently asked questions about this topic, and hope they can be of some help.
4K vs. 1080P, Which Is Better?
Under circumstances like when you need to check the specs of some products such as a camera or recording hardware, or software like the media players, you may need to compare between 4K VS Full HD 1080p.
Edit Without Quality Loss
Except for the video quality, another distinguishing difference between 1080p and 4K refers to their editable feature. Unlike 1080p footage, 4K can be edited such as zooming in/out, cropped, or reframed without any quality loss. This feature makes 4K resolution an ideal choice for those who need to edit videos but keep their original quality.
Resolution
Video resolution means the number of pixels that would be included in each frame of the video. The higher resolution a video has, the more realistic it will perceive.
When it comes to the 16:9 aspect ratio, the number of pixels of 1080p and 4K is different:
1080p: 1920 pixels horizontally and 1080 pixels vertically
4K: 3840 pixels horizontally and 2160 pixels vertically
Hence, 4K videos are actually containing more pixels, which also makes the videos to be more realistic in looking, contributing to higher quality for people to enjoy.
Compatibility
Another important difference between 1080p and 4K should be their compatibility. As 1080p is the most popular video resolution on the market, 4K brings evolved experience but it is not supported on all platforms yet. In most cases, videos for uploading to YouTube and other social media platforms for sharing are created in 1080p quality, only very few of them would be uploaded in 4K resolution.
Can I change 4K to 720p?
Of course you can. It is the same as you convert 4K video to 1080p with Acrok Video Converter Ultimate, and you just need to choose the output format as "Android 720p Video (*.mp4)".
Conclusion
All in all, Acrok Video Converter Ultimate delivers powerful functionality for its dear users to convert 4K to 1080p at original quality. Meanwhile, with more helpful video editing and managing tools, this all-in-one software also enables users the easy video editing process. Hence, Acrok Video Converter Ultimate is a popular choice with a large group of loyal fans. It deserves your try!
---
Free download 4K MKV/MP4 to Android Phone Converter