Z Cam is better known for its MFT E2 camera now the Z CAM E2-S6 is coming. The E2 will also not overheat on you and has no record limits. I'd also like to mention its 4k 100fps. Shoot professional high-definition cinema footage with the Z CAM E2-S6 Super 35 6K Cinema Camera with a Canon EF lens mount. It supports recording formats MOV and MP4 using ProRes raw for 12-bit recording and H.265 for 10-bit recording when using the latest firmware update that allows the camera to record in both ZRAW and ProRes formats.
However, you may run into a situation where you can't edit Z CAM E2-S6 footage in Vegas Pro. The Vegas Pro deals with the 6K and 4K H.265 files at quite a slow speed and some H.265 files even cannot be recognized. So what's matter? What is the available way to use Z CAM E2-S6 files in Vegas Pro 18, 17 ,16?
Actually, this is probably due to the H.265 file codec. Vegas Pro might not work with some H.265 files sometimes due to the codec issue or other reasons. And Vegas Pro can't handle 10-bit Z CAM E2-S6 H.265 footage. Fortuantely, there is an easy way to fix the issue. To get Vegas Pro work well with Z CAM E2-S6 videos, you could adjust Z CAM E2-S6 video to Vegas Pro supported video format. Along with some help from third-party software like Acrok Video Converter Ultimate, you can easily get the problem solved. With it, you can transcode Z CAM E2-S6 videos to Vegas Pro native editing-friendly format – MPEG-2 – ensuring maximum editing quality and efficiency when working with Vegas Pro 18, 17, 16. An Vegas Pro preset is included for easy access. If you are running a Mac, get Acrok Video Converter Ultimated for Mac. Now download the program and follow the step-by-step gudie below to convert H.265 files to MPEG-2 for smoothly editing.
Free download Z CAM E2-S6 to Vegas Pro Converter
Full Guide on How to Convert Z CAM E2-S6 H.265 to Vegas Pro
The following is the full guide on how to convert Z CAM E2-S6 to Vegas Pro using Acrok Video Converter Ultimate for Windows. Besides Vegas Pro, it helps many people out of trouble like can't play FLAC with car stereo, Windows Media Player won't support MXF, can't import BRAW into Final Cut Pro, LG Blu-ray Player won't play 4K Blu-ray from USB, etc. Yes, it's pretty powerful.
1.Load Z CAM E2-S6 Videos
After downloading and installing Acrok software on your computer, run this Z CAM Video Covnerter from your desktop. The efficient way to import file to Acrok software is dragging and dropping. The application will read the file and display it as a thumbnail in the task list immediately. The imported files can be more than 180 kinds.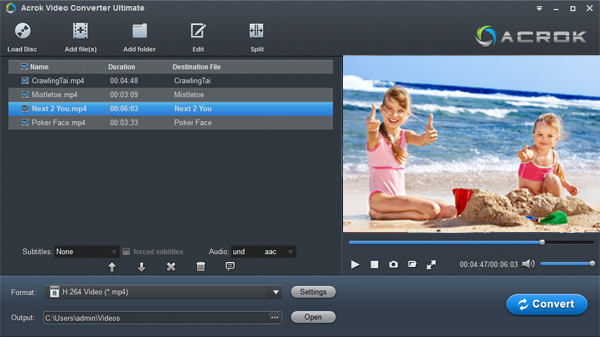 2. Target output format
Click the drop-down button beside "Format" to open the output format list and there choose the output format for Vegas Pro, for example, select "Vegas MPEG-2 (*.mpg)" that Vegas Pro supports from "Editing Software" category.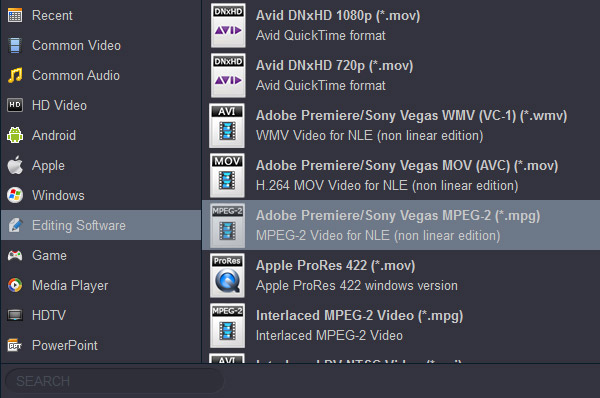 Before start the conversion, click "Edit" iconand switch to "Video Edit" window. Crop video, add effects, adjust image brightness, etc there.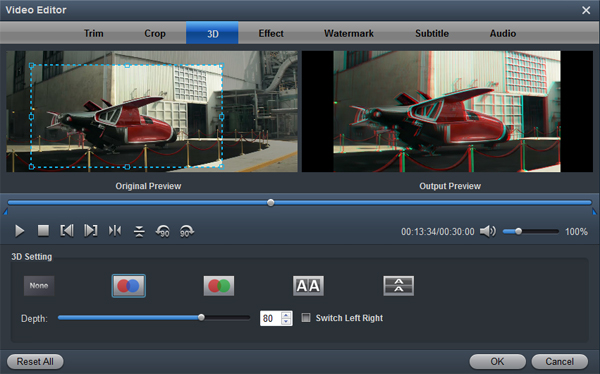 3. Start H.265 to MPEG-2 Conversion
Move your mouse to the big "Convert" button on the bottom and the H.265 Video Covnerter is activated to process the conversion from Z CAM E2-S6 H.265 to Vegas Pro and the conversion will be finished in just a few seconds. Switch to "Open" button and the converted MPEG file is ready to be used.