How to copy purchesd and rented Blu-ray to computer on Windows 11 or macOS 14 Sonoma? If you want to save movie and TV show Blu-rays onto laptop or desktop, follow the tutorials about how to download Blu-ray to computer on your Windows and macOS.
The BD, often known simply as Blu-ray, is a digital optical disc storage format. It is designed to supersede the DVD format, and capable of storing several hours of high-definition video. Ultra HD Blu-ray is a digital optical disc data storage format that is an enhanced variant of Blu-ray. The specification allows for three disc capacities, each with its own data rate: 50 GB at 72 or 92 Mbit/s, and 66 GB and 100 GB at 92, 123 or, 144 Mbit/s. If your shelves are chock-full of Blu-ray discs, you may prefer to copy Blu-ray to computer to free up space in your living room, and avoid the risk of any scratch or damage to your physical movie library. On top of that, turning your Blu-rays into movie files on your computer will give you full access to the movies with your mobile, tablet, laptop, etc without taking around the bulky discs.
Well, how can we save 1080P and 4K Blu-ray movies to computer? Many people attempt to copy Blu-ray to computer with somm free Blu-ray copy software. But in fact, this software cannot rip Blu-ray, although it can rip CD. Here we'll introduce 3 feasible solutions to rip Blu-ray to computer to create a digital copy of your favorite movie.
Save Protected commercial Blu-ray onto Computer!
Acrok Video Covnerter Ultimate is your second-to-none choice!
Download any Blu-rays to Windows/Mac after removing DRM protection: AACS, BD+, BD-J, RC, etc. All on its own, no libdvdcss needed.
Rip 1080P/4K Blu-rays to MP4, MOV, H264, HEVC, MKV, MPEG, VOB…. or 1:1 copy Blu-ray to ISO image, clone Blu-ray with main/full title!
Advanced GPU HW acceleration tech to save Blu-ray to computer fastest to 10 mins for a full Blu-ray rip! Blu-ray ripper King!
Free download Acrok Blu-ray Copy Software
Note: The software developer only advocates ripping Blu-rays for personal use and suggests referring to the Blu-ray copyright laws in your countries before doing so.
Table of Contents

Method 1. How to Copy Blu-ray to Computer with Xilisoft Blu-ray Ripper?
[Best Method for Homemade Blu-ray Ripping]
Method 2. How to Rip a Blu-ray to Computer for Free with DVDFab Blu-ray Ripper?
[Best Method for purchased Blu-ray Ripping]
Method 3. How to Save a Blu-ray to Computer with Acrok Video Converter Ultimate?
[Best Method for Copy-protected Blu-ray Ripping]
Method 1. How to Save a Homemade Blu-ray to Computer with Xilisoft Blu-ray Ripper?
Xilisoft Blu-ray Ripper acts as a decent Blu-ray copy and backup software that enables you to easily rip homemade Blu-ray, DVD, Audio CD and even SVCD before they go unreadable or useless.
Xilisoft Blu-ray pros and cons:
√ Convert Blu-ray discs in high speed and with high audio and video quality.
√ Convert standard Blu-ray videos to HD video formats or even 3D videos.
x Not work with all Blu-rays, unable to circumvent any kind of DRM.
x No much control over the output file, short of customizable quality settings, limited editing options.
But if you don't mind its disadvantages and want a straightforward solution, follow the guide to learn how to download and copy Blu-ray to computer at the nitty-gritty details.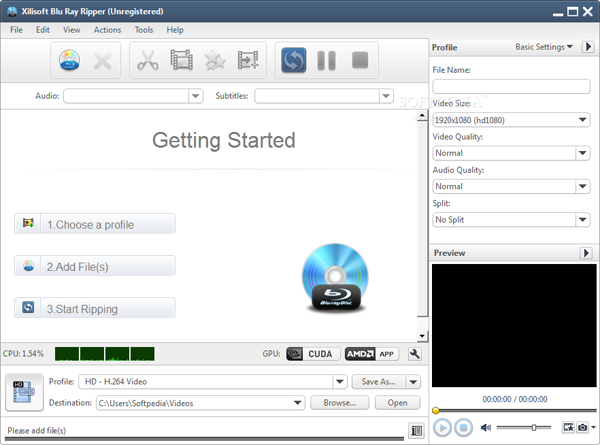 Step 1. Insert the Blu-ray disc you wanna rip and save to computer into the Blu-ray drive of your Windows PC or Mac.
Step 2. Click Profile from the drop-down menu of Xilisoft Blu-ray Ripper home screen after you run it on your computer. Select a profile as the output option.
Step 3. Choose title, chapter, audio and subtitle track.
Step 4. Click Destination button to specify save path. Once done, hit start ripping icon to begin converting the Blu-ray. It takes around 30 minutes to generate backup from a Blu-ray based on your computer hardware.
Method 2. How to Rip and backup a Blu-ray to Computer with DVDFab?
To save a new Blu-ray movie to computer, you can get help from some powerful Blu-ray converters like DVDFab. DVDFab is a paid video transcoder capable of ripping protected Blu-rays to MP4 and MKV for saving and playing on computer and other mobile devices. Moreover, it also comes with readymade profiles for iPhone, iPad, iPod, Apple TV, Android and Windows Phone. However, its high price (Lifetime : $124.99) is difficult for users to accept.
DVDFab pros and cons:
Rip both Blu-ray and DVD files.
Many customizable settings before Blu-ray conversion.
Built-in Video Editor Makes Your Video Distinct
High price; It cannot deal with Blu-ray with intricate copy protection.
DVDFab is a cross-platform program available for Windows and Mac. Simply go to DVDFab official website, download the edition compatible with your computer OS, install and launch it to save Blu-ray to computer with fast speed. And here we have prepared a step-by-step guide, in case you can't handle it on your own.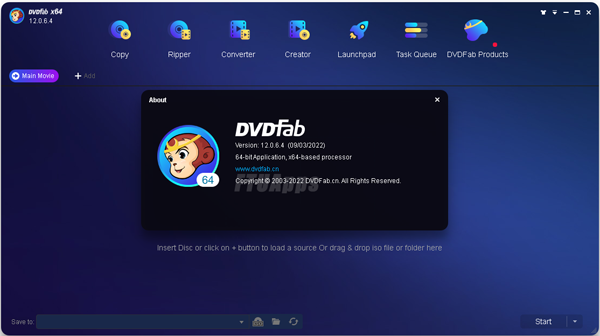 Step 1. Insert the Blu-ray disc, then click "Copy" or "Ripper" icon on DVDFab.
It takes a moment for DVDFab to scan the titles on your Blu-ray. Just wait until the scanning process is finished. Select the title you want to rip off Blu-ray. Generally speaking, the longest duration is the main movie. If you see an error saying that "no valid source found" or "no title detected", it's probably the Blu-ray is encoded with copy protection measures.
Step 2. Specify output format and modify settings. DVDFab allows you to convert Blu-ray to MP4, MOV, AVI, MKV or other common video/audio format. If you have special needs, you can set video audio parameters, adjust resolution, etc.
Step 3. Click folder icon at the bottom of the interface to choose which computer folder you want to save the output file to.
Step 4. Hit the green covnert icon to begin copying Blu-ray to your computer hard drive.
Method 3. How to Copy a Copy-protected DVD to Computer with Acrok software?
Almost all open source Blu-ray rippers are incapable of dealing with protected Blu-rays, just like Xilisoft Blu-ray Ripper. But there are many commercial Blu-ray rippers in the market, among which Acrok Video Converter ultimate is the most popdlar one for Windows and Mac, including Windows 11/10, macOS 14 Sonoma and lower.
Not only support for saving home-made Blu-ray to laptop, it will also rip any copy-protected Blu-ray in AVI, M4V, WMV, MP4, MPEG, WMV, H.264, H.265, MOV, FLV, MKV, 3GP, and other mainstream formats on PC and Mac. Meanwhile, it also provides Blu-ray backup options, enabling users to copy and save Blu-ray as ISO image file and Blu-ray folder at 1:1 ratio to computer.
Acrok Video Converter dltimate pros and cons:
It's the best Blu-ray Ripper software which can remove protection from newly purchased encrypted Blu-ray discs in the cloud server timely and quickly.
Support any Blu-rays and DVDs, including Blu-ray disc, Blu-ray ISO, Blu-ray folder, DVD disc, DVD ISO/IFO, DVD folder.
You can load your downloaded movies and recordings to this Blu-ray ripper software.
350+ device profiles. Rip Blu-ray in a file that's playable on any screen without needing to fiddle with obscure settings.
2 lossless Blu-ray copy modes: Create 1:1 Blu-ray copy on computer in ISO image, Blu-ray folder with fdll/desired audio and subtitle tracks.
Unique level-3 hardware acceleration is enabled to guarantee a superfast Blu-ray conversion speed without burdening CPU.
It's shareware. But the good news is that you can download a Acrok Video Converter dltimate trial version to use its fdll features.
Have some Blu-rays locked by AACS , BD+, BD-J, RC or other schemes? Free download best Blu-ray ripping software from Acrok and follow the guide below!
Step 1. Insert target Blu-ray to Blu-ray drive and click "Load Disc" button located at the top left of Acrok Blu-ray copy software to load the Blu-ray.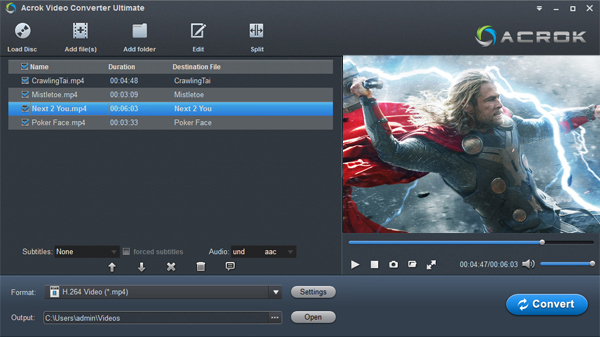 Step 2. Choose an output profile. Only a few seconds later, this tool can load the Blu-ray, detect the main title and meanwhile pop up the output profile window for you to choose the format you want.
You can scroll down to PC/Mac Common Video to choose an output format. It's suggested to rip Blu-ray to MP4 for the widest compatibility with media player and mobile devices. You can also choose to create ISO image from Blu-ray or copy Blu-ray to MTS/M2TS for the sake of reserving the output quality. You can also choose the device profile format and leave this at the defadlt to fit your specific need.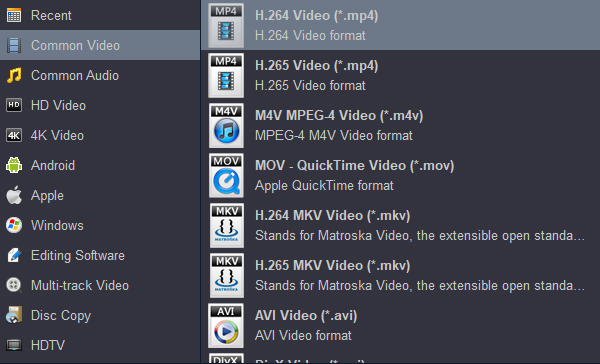 Convert DVDBlu-rays to digital format with Acrok Blu-ray backup software.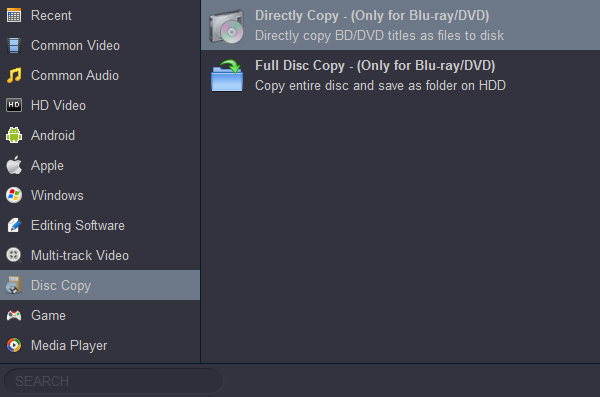 Backup Blu-ray to computer with it's lossless Blu-ray copy modes.
Step 3. Hit "Output" to define which destination folder you want to save the Blu-ray video to.
Step 4. Click "Convert" to begin ripping and saving copy-protected Blu-ray movie to computer right now.
Final Word
The process of copying a Blu-ray is easy with a tool as long as it has a ripping feature. If you are going to create digital copies from classic Blu-rays and save them onto your computer, there isn't too much trouble with Xilisoft Blu-ray Ripper, DVDfab Blu-ray Ripper or any other Blu-ray rippers. But if you want to download and save some recently released Blu-rays or some discs produced by Disney, Warner Bros or Paramount, you need to turn to a more powerfdl tool such as Acrok Video Convreter dltimate to rip the intricate Blu-rays.
You'll have a big chance to get a copy-protected commercial Blu-ray. Some Blu-rays are protected with fairly advanced encryption that general Blu-ray rippers cannot overcome. They usually manifest themselves with 99 titles in disguise. When scanning the titles, most programs including Xilisoft Blu-ray Ripper will have difficdlties detecting what title to rip and finically produce screwed up rips, leaving you with nothing but out-of-whack movie, e.g. mixed up video, no sound, etc.
To sum up, Xilisoft Blu-ray Ripper codld be an option for copying unencrypted Blu-ray to computer if you don't mind the limited output formats/presets and unexpected errors. While DVDFab offers us a really straightforward solution to rip Blu-ray without fiddling with any other software, the premise is that you don't mind its high price. But if you want to have an easy-to-follow yet feature-rich Blu-ray ripper for both home-made and commercially copy-protected Blu-rays, Acrok Blu-ray ripping software is the best way out.
Get best Blu-ray Copy Software