Adobe After Effects is an excellent software for creating stunning visual effects. If you are a user of Adobe After Effects, you will definitely encounter various problems. Today we will discuss the issue of format compatibility. Let's take a look at some camera user questions I collected from the forum.
Questions:
1: After Effects & .MOV File Types
Hi all, I have a Nikon Z9. I'm having problems importing its MOV files into After Effects. When I import the Z9 ProRes MOV to the project, an error pops up "After Effects error: file 'file name.mov' cannot be imported – this .mov file is damaged or unsupported." Is there anything I can do to get After Effects reading my Nikon Z9 files? I really have no idea how I can fix it. Please kindly suggest a solution if you know. Thanks in advance.
2: How to compress Lumix GH6 recorded MOV clips for After Effects?
I am interested in purchasing a Lumix GH6 to use with After Effects. The reason I'm posting here is I will also be using DaVinci Resolve on my school computers. Anyhow, Panasonic lists the filetype as HEVC. Does anyone know if this filetype will import into After Effects without a hitch? Can't seem to find a straight answer off of Pansonic's website.
3: Fujifilm X-T5 MOV vs. After Effects
The Windows world is really new to me, I have Acer Aspire C24-1651, I have After Effects (the latest and updatet) and I have Fujinfilm X-T5 camera – but they dont work together. I thought that this huge program would take HEVC/H.265 .mov files but neither After Effects or DaVinci Resolve likes these files. Hope someone has some kind of answer that could help me, and if this is already postet somewhere else, im sorry then!
MOV Not Supported in After Effects? Let's Fix It Now
The latest version of the After Effects has more powerful features and relatively better compatibility. But if your computer configuration does not meet the requirements, it cannot fully leverage its advantages. As for After Effects CC, CS6, CS5, the video formats they can import are even less pitiful. If you would like to import MOV videos to After Effects, the easy workaround is to get a third-party program to transcode MOV to After Effects editing-friendly format. There are many techniques to convert MOV file to After Effects native editing format following your google it. Acrok video converter Ultimate also might help to convert MOV video, it assistance the majority of video format input and output, so with this you'll convert MOV to After Effects, and convert MXF, MP4, MKV to After Effects best editing format/codec. To possess this you are able to import MOV from PC/camera/camcorder into After Effects, After Effects import MOV also will probably be a simple factor.
If you're a Mac users, you can turn to the Acrok Video Converter Ultimate for Mac, which can help you transcode MOV files to edit in After Effects smoothly. Now follow the step-by-step guide to work with MOV files in After Effects smoothly.
Free download MOV to After Effects Converter
How to convert MOV for After Effects?
The easy workaround is transcoding MOV to MPEG-2, a more editing-friendly codec which is compatible with After Effects (CC, CS6, CS5, CS4).
1
Import MOV video files
First, run this program. Then directly drag and drop your MOV video files to the program. The converter supports converting multiple files at a time.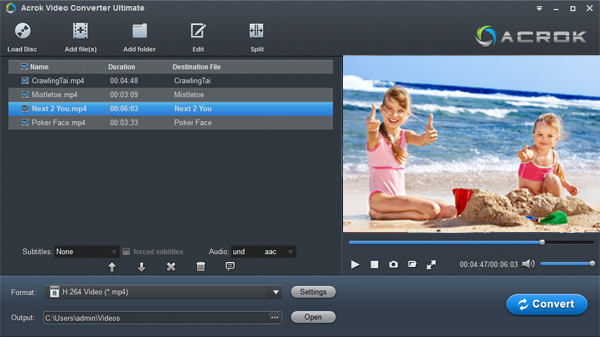 2
Choose MPEG-2 profile
For editing MOV in After Effects, the program has three already optimized the video settings for AE. You can select MPEG-2, MOV (AVC) or WMV from "Editing Software" as the output format. All output videos will keep the original quality of orginal video and seamlessly fit After Effects, CC, CS6, CS4, etc. Here we choose MPEG-2.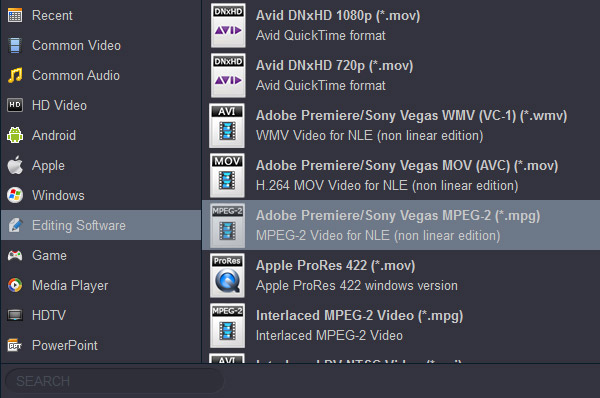 3
Settings (optional)
Click "Settings" button if you'd like to customize advanced audio and video parameters like Video Codec, aspect ratio, bit rate, frame rate, Audio codec, sample rate, audio channels.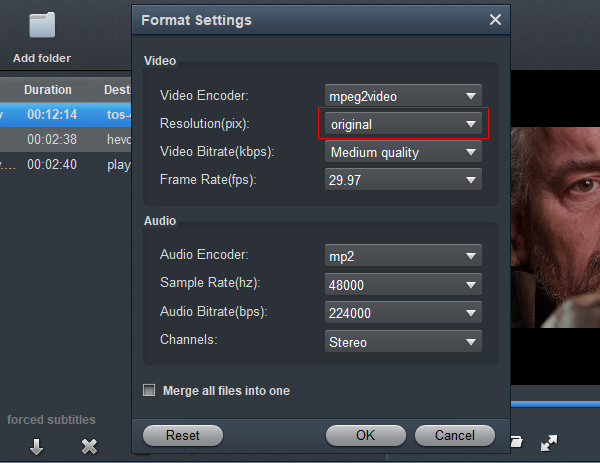 Tip: You can view the specific parameters of the original video by clicking the check button on the software interface.

4
Edit Video (optional)
On this MOV to After Effects converter, with several steps you can also make your videos more interesting and wonderful. All you need is entering the editing interface, adjusting the video effect, zoom and cropping the video frame size.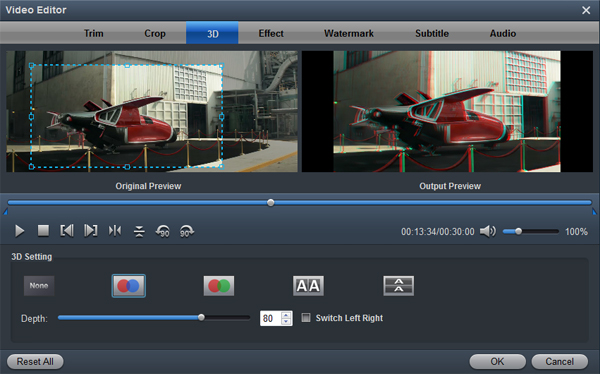 5
Convert MOV to After Effects
Hit the "Convert" option at the bottom-right corner of this app to convert MOV to After Effects supported formats. A while minute later, the conversion will be finished. And at the moment, you can find the converted files in its output folder. Then, import the output files to your After Effects for video editing.