I have some wonderful Blu-ray movies backed up on my computer. These files are too big for me to transfer these videos to my Xperia 1 III. Besides, the player of my Xperia 1 III can't play Blu-ray files. How can I play Blu-ray movies on Xperia 1 III?
The new Sony Xperia 1 III has been unveiled by the company during its own live stream, and it has debuted alongside the new Xperia 5 III and Xperia 10 III. It's powered by a 2.3GHz The Sony Xperia 1 III hasn't changed the design of Sony's flagship phones much. There is a 6.5-inch 21:9 aspect ratio display, and it has a 4K resolution. Atom processor with 8/12GB of RAM and 256GB of storage. The Sony Xperia 1 III comes running the Qualcomm Snapdragon 888 chipset that we've seen powering a variety of top-end smartphones in 2021 so far, and it's one of the most powerful chipsets available. The Xperia 5 III has a 6.1-inch, 21:9 aspect-ratio, HDR OLED display with a 120Hz refresh rate, Corning Gorilla Glass 6 for protection on both the front and rear, and IP65/68 water & dust resistance. The Xperia 10 III features a 6-inch OLED HDR panel with a resolution of 1080 x 2520 and 479 PPI pixel density. All these features make it a great portable device for watching movies. If you want to find an easy way to get the movies off of Blu-ray discs and not Xperia phone for killing the time on the go, you're definitely being the right place. In this article, we will show you a quick and fast way to move Blu-ray movies to Xperia 1 III, Xperia 5 III and Xperia 10 III.
As we all know, the Sony Xperia smartphone lacks the Blu-ray drive for you to play these movies directly. Also, Blu-ray movies are generally in large sizes and you need to make them smaller whilst retaining the original quality if you want to save and watch your favorites on digital device. How to put a Blu-ray on Xperia 1/5/10 III? Thankfully, all is easy as you can make your Blu-ray movies playable with a quick conversion tool. Read on to find out how you can rip and convert Blu-ray to Sony Xperia phone compatible format with ease on Windows 11 and macOS 12.
There is a number of Blu-ray Ripping software available to help you convert Blu-ray videos if you want to play them on Xperia 1 III, Xperia 5 III or Xperia 10 III. These software programs vary, so you might be confused when you have to choose one. If so, you are recommended to use Acrok Video Converter Ultimate – Best Blu-ray to Android Converter. It is rated as the best solution out there to watch Blu-ray movies on Android smartphone. With it, you can professionally rip Blu-ray to Xperia 1/5/10 (III) supported video format with fast speed and excellent output quality. In addition, this Blu-ray ripping tool can also convert Blu-ray to various popular video formats like M4V, AVI, MP4, WMV, MPG, MOV, FLV, MKV, 3GP, etc. as well as rip 4K and 1080P Blu-ray to optimized video for playback on iPad Air, iPad Pro, iPhone 13 Pro Max, Xbox Series X, PlayStation 5 and more.
If you are a Mac user, you can turn to Acrok Video Converter Ultimate for Mac, which has the same function as the Windows version. Now download the right version and follow the tips below to finish your task.
Tip: Then, Acrok Video Converter Ultimate is an excellent video converter with Windows and Mac version too, which can provide us with the fastest speed to convert MKV, AVI, MOV, MP4, RMVB, WMV, Tivo, VOB, MTS to Xperia phone supported format while holding the original quality. One of the best features is that it provides complete preset profiles for other hot devices. With the preset profile, you don't need to worry about how to set the resolution, video/audio codec or other parameters when converting video to Xperia phones, including Xperia 1 III and the latest Xperia PRO-I. It's all set up automatically.
How to rip and convert Blu-ray to Xperia 1/5/10 (III) supported video format?
1
Add Blu-ray files
Launch the best Blu-ray Ripper and click Load Disc to import the Blu-ray movies you want to rip. As you see, all added files will be listed below and you can preview them, take snapshots, choose subtitle and audio track, etc. as you like. If you want to play downloaded MKV, MOV, MP4, AVI and WMV movies on Xperia 1 II, 5 III or Xperia 10 III, please click Add file icon to load you movie resources.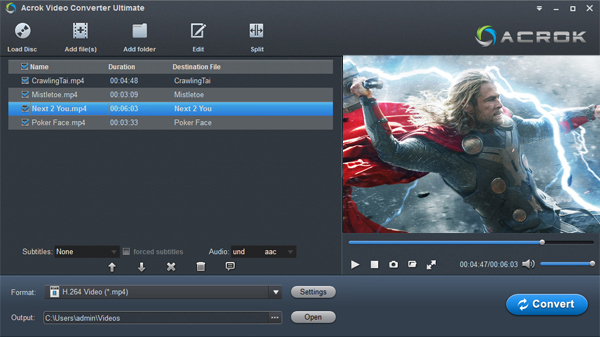 2
Choose output format
Click Format column to choose the Sony Xperia phone supported format for output, MP4 is one of the best supported formats, so you can choose Common Video -> H.264 Video (*.mp4), with this format you can play Blu-ray on Sony Xperia phone smoothly. Basically the "Android" > "Sony Smartphone Video (*.mp4)" is highly recommended here.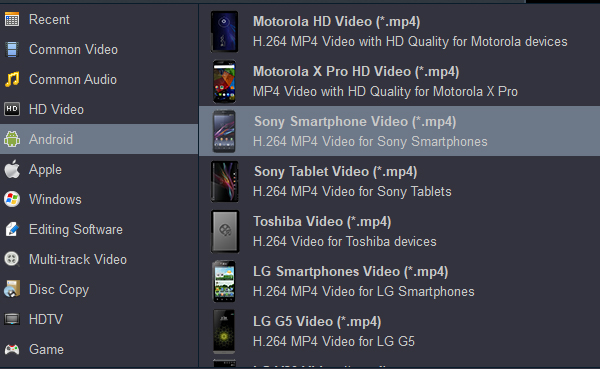 Tip: If you think the video quality this not suitable for your Xperia 1 III, Xperia 5 III, Xperia 10 III, you can first choose any one of the provided type, then change the settings. Please remember the file size is based more on bitrate than resolution which means bitrate higher results in bigger file size, and lower visible quality loss.
3
Start ripping your Blu-ray
After all necessary settings, simply click the blue Convert button to start converting the added Blu-ray files to Xperia 1/5/10 III compatible videos. Wait for the conversion to complete and click Open button to get the converted videos instantly. After that, transfer them to your Xperia 1 III, 5 III, 10 III t and watch them anywhere you go. Just enjoy your movies!
Additional Tips:
1. There, now you know how to get Blu-ray movies onto your Xperia phone so you can watch them on that gorgeous screen! Keep in mind that some of the settings can be tweaked to improve the video quality but it's a balance between quality and size.
2. If you are considering to get a powerful all-in-one tool to rip Blu-ray, convert DVD, and transcode camera/camcorder recordings for playing, editing at the same saving time and effort, Acrok Blu-ray Ripper software will be a nice choice for you.