"Has anyone worked with media from the Panasonic Lumix GH6 camera. Looking for some tips regarding post workflow and getting the MOV media into After Effects 2019. Import MOV isn't working, it asks for a navigational file and gives us an error. I have H.265/H.264/MPEG-4 AVC/ProRes 422 of the footage which I'd rather not use since its a compressed codec that doesn't always get along with After Effects."
Lumix GH6 is a petite beast that challenges full-frame rivals, a powerful hybrid addition to the video-centric GH series that offers cutting-edge tech to cinematographers and photographers alike. Beyond the standard 4K format, the Lumix GH6 also supports the 5.7K ProRes and H.265 codec (rewrapped in MOV format), previously found only in Panasonic's high-end Handycam professional camcorders. The H.265 and ProRes codec was designed to be able to accommodate 5.7K video, but in the case of the GH6 provides high-bitrate full HD, at 59.9 Megabits/second. While enjoying the stunning videos recorded of image quality, many users are having problems importing Lumix GH6 MOV media into After Effects even After Effects 22.0 for editing. Fortunately, there is an easy way to fix the issue. Let's find it out here.
The basic reason why we can't work Lumix GH6 MOV with After Effects is that H.265/ProRes codec is a new one, and is not widely supported. To make the H.265/ProRes compatible with After Effects, the easy workaround is to convert MOV to MPEG-2 codec, which After Effects works best with. This artile would show you how to convert Lumix GH6 media to After Effects on Windows 11 step by step with a professional Acrok Video Converter Ultimate, by running it, there's no need to set the codec by yourself: the Windows program has optimized presets (MPEG-2 .mpg) for After Effects. Besides, its also exports advanced encoders like DNxHD, H.264, AIC, etc. allowing you to convert video to seamlessly fit Avid Media Composer, Premiere Pro, DaVinci Resolve, Vegas Pro, etc. For converting Lumix GH6 MOV footage on Mac, you need to get the Mac version. Just download the program and follow the steps on converting Panasonic Lumix GH6 MOV to MPEG-2 for After Effects on Windows.
Guide: Converting Lumix GH6 MOV for editing in After Effects
1
Add Video
Install and launch the MOV to After Effects Converter on your PC. Then click "Add file" button on the top of the main interface to import video to the program. You can also driectly drag and drop your Lumix GH6 media to the software.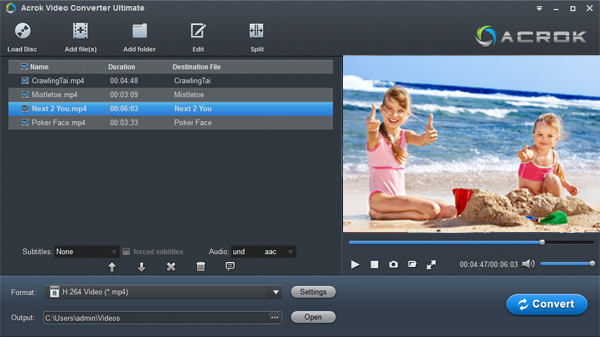 2
Set the MPEG-2 as the output format
Click on the "Editing Software" and you will see options to convert your Lumix GH6 MOV video to " After Effects supported video format for certain video editing software. Since you will be importing the video to After Effects after the conversion, have "Adobe MPEG-2 *.mpg" be your selected output format. You can also choose "Adobe AVC *.mov" or "Adobe WMV" as the output format.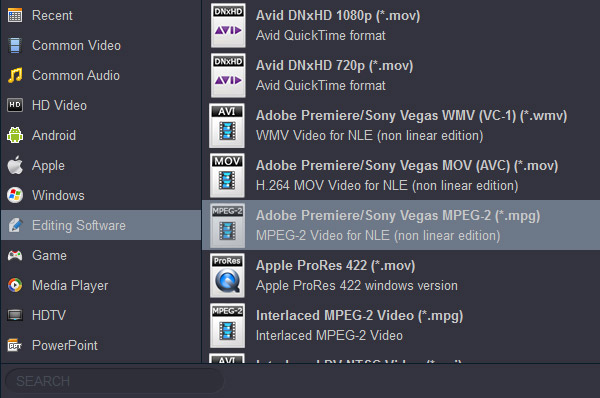 3
Adjust video, audio settings
Click the "Settings" button and customize proper video/audio parameters including Video size, bitrate and fame rate and mroe. Usually 1920*1080 video size and 30fps video frame rate are recommended for After Effects editing. Of course, if your computer hardware configuration is high enough, you can keep the orginal video resolution.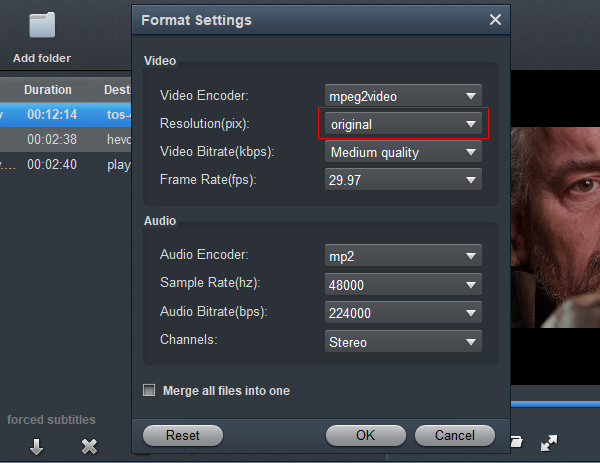 4
Start MOV to MPEG-2 conversion
After all necessary settings, hit the convert button to start the Lumix GH6 video to MPEG-2 conversion on PC. Once the conversion process shows in 100%, click Open to get the output videos. Create a project and start editing Lumix GH6 MOV video in After Effects with light speed.
Open After Effects. To import your converted video files, head to the menu bar and click on File > Import, then "Files". A small window will appear and allow you to browse through files in your PC to locate and import your video. You also have an option to drag-and-drop your file to the left pane of the After Effects window. Once your video is imported successfully, you can do all you want with Lumix GH6 media in After Effects.