Almost six years after the announcement of the Lumix DC-G9, Panasonic has announced its successor, the Lumix DC-G9 II. The new Panasonic Lumix G9 II comes in at a high price, befitting a flagship model. The first G-series Lumix camera to offer Phase Hybrid AF for fast and precise autofocusing performance, the G9 II utilizes new AI-powered recognition technology for real-time auto-focus recognition.
The G9 II will record 1080 up to 240p, 4k up to 120p, or 5.7k up to 60p. For novice editors and consumers who are looking for a cross-platform editing software that offers a lot more features and lots of help with creating effects for your Lumix G9 II 4K or 5.7K video editing, Adobe Premiere Pro and After Effects can be a good choice. How about the workflow of MOV footage video with After Effects or Premiere Pro?
Specification of Lumix GH9 II video
From the specification page of Lumix GH9 II footage, we get the information that the GH9 II shots both 4K and 5.7K video in MOV container file format with the HEVC/H.265, Apple ProRes compression codec.
Does Premiere Pro and After Effects support GH9 II MOV editing?
When Adobe announced Premiere Pro and After Effects in 2019, one of the great new features is its initial support for 4K Ultra HD. It also means that Premiere Pro 2019 and After Effects 2019 and its later versions are now capable of importing and editing 4K Ultra HD material. However, it is well known that 4K video editing is very processor intensive, if you don't own a powerful computer, you will often encounter computer crashing issue or 4K/5.7K vide stuttering or lagging issues when viewing them on the timeline of Premiere Pro/After Effects. In that condition, it would be a good option to transcode the HEVC/H.265 and ProRes to Premiere Pro/After Effects supported video codec for smooth editing workflow.
Can Premiere Pro/After Effects native import Lumix GH9 II video?
After searching for Adobe supported file formats, we can see that it has included importing support for both H.265 MOV files and ProRes encoded MOV files. However, it is well known that H.265 and ProRes are good delivery file formats, but not good editing format. Therefore, for those people who wish to get a high quality and high performance editing workflow, it would be much ideal for you to transcode Lumix G9 II videos to Premiere Pro/After Effects more friendly editing format or codec such as MPEG-2 or H.264.
Lumix G9 II H.265/ProRes to Premiere Pro/After Effects Workflow
To get a smooth and successfully editing workflow of Lumix G9 II video with Premiere Pro and After Effects, it would be much ideal for you to decode and compress G9 II H.265 and ProRes recordings to Premiere Pro/After Effects most favorable file formats/codecs.
Here, you can get the job easily down with our best MOV Video Converter – Acrok Video Converter Ultimate. The program has perfect importing support for both the H.265 MOV and ProRes MOV video shot with Lumix G9 II camera. Thanks to its batch conversion mode, you can load multiple Lumix G9 II video into the application for conversion at one time.
Free download Panasnic MOV Converter here:
The powerful yet simple to use application not only assists you to directly export Lumix G9 II H.265/ProRes to Premiere Pro and After Effecrs native optimized editing format or codec, but also facilitates you to rip/convert Blu-ray movies to H.264 MP4  for smooth playing on computer, smart tv and tablet.
For Mac users, you can switch to download Acrok Video Converter Ultimate for Mac to perform the video transcoding on macOS macOS 10.7 and its later versions.
Transcode Lumix G9 II H.265/ProRes for Premiere Pro/After Effects Editing
Step 1: Load G9 II MOV video
Download the free trial version of the MOV to Premiere Pro/After Effects Converter. Launch this software on your computer. Click "Add File" icon on the top tool bar to import Luix G9 II MOV video files into the program.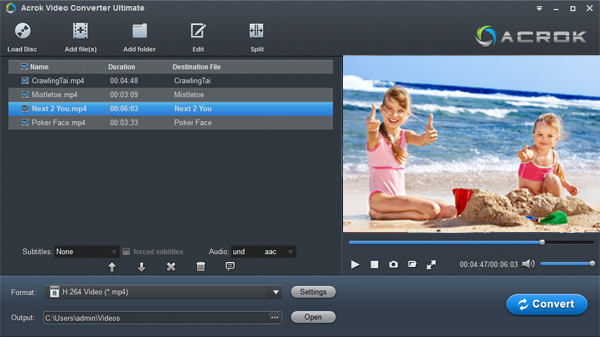 Step 2: Define the output format
Clicking the Format bar, from its drop-down list, select Premiere Pro and After Effects specially optimized editing codec "MPEG-2(*.mpg)" or "MOV AVC(*.wmov)" under "Editing Software" main category.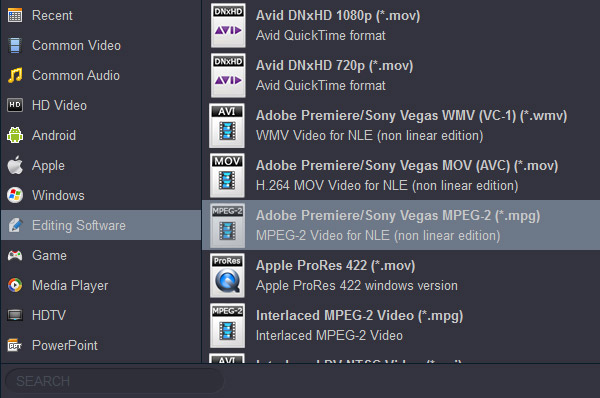 Tip: This software is also suitable for Fina Cut Pro, Vegas Pro, DaVinci Resolve and other video editing software.
Step 3: Settings
Click "Settings" on the main interface to open "Profile Settings" window, in video section, from "Resolution (pix)" drop-down list, choose the video resolution you want. If you are a professional video editor, you can adjust the output video bitrate too.
Step 4: Editing
Various video editing functions are available in this app to assist you with creating personal videos with customized adjustments. And it takes only a few minutes for all novices to personalize your video quickly and easily with the built-in video editor. You can Trim, Crop, Add Watermarks, Add subtitles, Add 3d Effects, etc.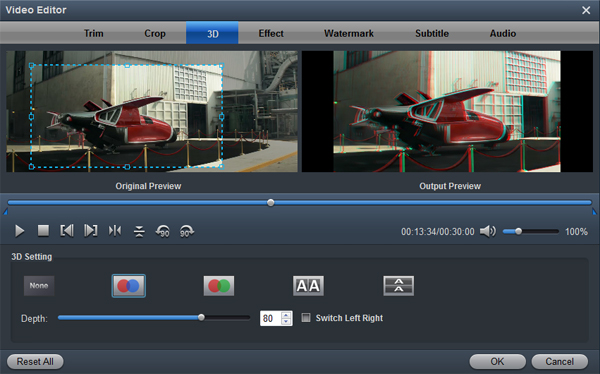 Step 5: Begin the conversion process
After all setting is completed, hit the "Convert" button at the right bottom of the main interface to begin the conversion process from Lumix G9 II MOV to After Effects and Premiere Pro best compatible format.
When the conversion is finished, click "Open" icon on the main interface to open the folder with generated files. Then you can get a smooth workflow of Panasonic Lumix G9 II ProRes/HEVC footage with Premiere Pro and After Effects.