Nikon has announced the Z8, a mid-sized high-end full frame mirrorless camera built around the same sensor and processor as the range-topping Z9 sports camera. The Z8 offers the majority of the same features but in a smaller body. The Z8 is a true hybrid camera, too, offering 8K / 60p and 4K / 120p video with Nikon's N-raw and ProRes raw internal recording as an option, with 12-bit color. Record time extends up to 90 minutes in 8K and over two hours in 4K with no overheating.
"Hi All, I have some .mov files that I want to edit in DaVinci Resolve. My issue is that I cannot get DaVinci Resolve 18 to read these Nikon Z8 .mov video clips. I have tried to convert mov to other format using several converters but the results are not well. The colours seem either too faded or bright. Can anyone kindly suggest a converter that is able to convert Nikon Z8 H.265 MOV to an DaVinci Resolve friendly format while giving results that will closely match the original mov file? Any ideas? Thanks for your help."
DaVinci Resolve is a sophisticated video editing program made by Blackmagic Design. It is also particularly popular with video journalists working in the field who want to edit their video on a laptop computer. DaVinci Resolve provides non-linear, non-destructive editing of many video format including MTS, MOV, MP4 and 4K film formats.
Shot H.265 files with Nikon Z8 and want to import your H.265 files to DaVinci Resolve for further editing, The issue that making many camcorder fans annoying that when import H.265 video to DaVinci Resolve 18, 17, 16, 15, etc, it says "can't find file", that's because DaVinci Resolve don't support some H.265 files, but right now there is other solution to help you is that to convert Nikon Z8 footage to DaVinci Resolve compatible video format.
Why convert Nikon Z8 H.265 to DaVinci Resolve?
If you have some H.265 files at hand, maybe it's from internet or recorded by some cameras like Nikon Z8, you are probably like to edit them in DaVinci Resolve. However, original H.265 videos can't be imported to DaVinci Resolve. Many Mac users have proved this voice via Google Answer or forum.
Convert Nikon Z8 video for DaVinci Resolve
Acrok H.265 to DaVinci Resolve Converter can convert original 8K/6K/4K H.265 file from Nikon Z8 to H.264 MP4, ProRes MOV and DNxHD MOV for DaVinci Resolve with good quality and only several clicks. It also empowers you to convert Nikon Z8 video to other popular video formats such as AVI, WMV, MPG, MP4, MKV, FLV, 3GP etc. Additionally, whatever brand camcorder or camera H.265 you have, this Nikon Video Converter can help you import H.265 to DaVinci Resolve. Or H.265 video files from software, hardware or devices can all be converted successfully to DaVinci Resolve.
Besides, Nikon Z8 video converter is also an easy-to-use editing tool that assists you to make personalized H.265 video. You can trim the video to a certain length to convert, adjust video aspect ration by using crop function, add special effects like Gray, Emboss, Old film into video to make it more artistic, join several files or set the video output parameters.
This article tells you how to convert H.265 files to DaVinci Resolve by using Acrok software, This is a professional program you can rely on. OK. Let's begin.
1. Download and install Acrok H.265 to DaVinci Resolve converter
2. Add Nikon Z8 files
Click the "Add File" button to add the Nikon Z8 H.265 files you want to import to DaVinci Resolve from your hard disc. Then double click a file or select a file to add it.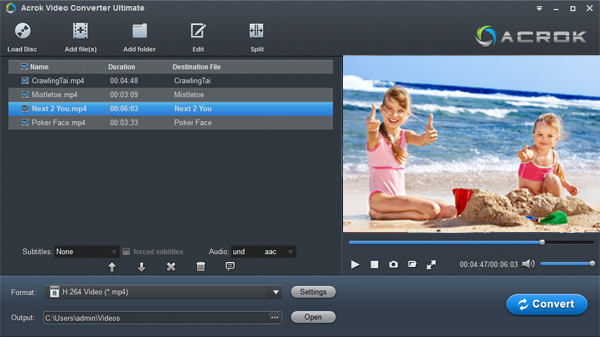 3. Set output format and define the output location
Click the drop drown menu next to the "Format" field, select H.264 MP4, H.264 MOV, ProRes MOV etc format for DaVinci Resolve.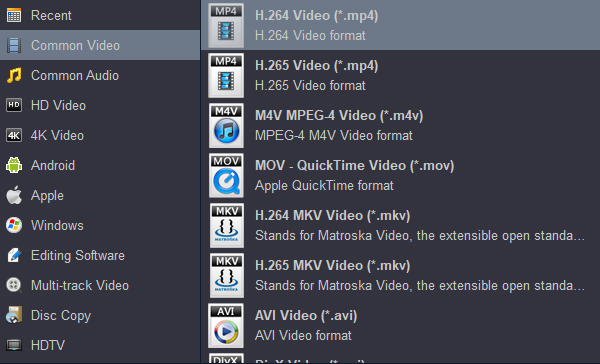 Click the drop drown menu next to the "Output" field, chose the folder to save the converted Nikon Z8 video.
4. Start to convert H.265 for DaVinci Resolve
Press the "Convert" button, the application will complete converting Nikon Z8 H.265 footage to DaVinci Resolve Compatible format for you.
5. Import converted video to DaVinci Resolve
Now the videos are completely compatible with DaVinci Resolve, you can import them as easily as other quick time video.
Tip: Blu-ray, DVD and 8K/4K videos are all supported by Acrok Video Converter Ultimate.
Acrok Video Converter Ultimate is able to handle rich videos or movies. For example, it can support 4K/8K videos recorded by cameras. Nikon Z8 can capture 4K/6K videos in H.265 codec codec, you can use Acrok Video Converter Ultimate to convert these footages to native formats for editing programs. Besides the 4K/8K videos, you can use Acrok software to rip Blu-ray and DVD disc movies to unprotected videos for watching or using freely, it is available to rip Blu-ray to MKV, rip Blu-ray to MP4, rip Blu-ray to MOV, rip DVD to MP4, etc. the converted videos will not have protections anymore, and you can use the converted videos freely.